Learn how to turn off Raise to Wake, an iPhone feature that is on by default that activates your phone when you pick it up.
By

Conner Carey
Updated 02/02/2023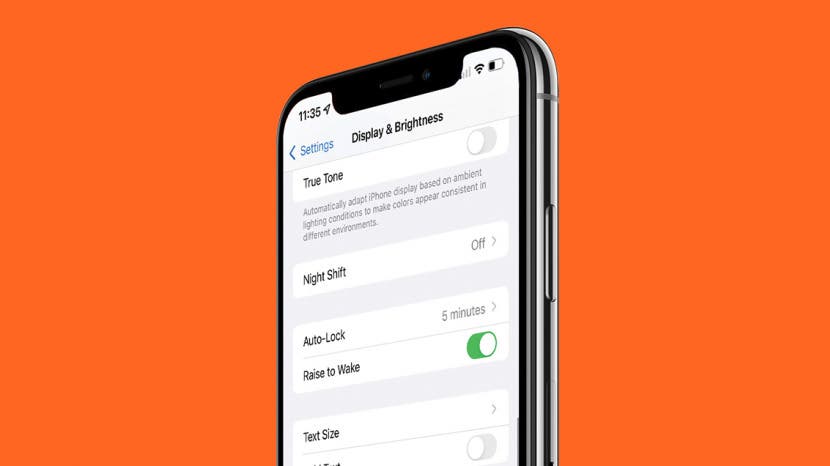 * This post is part of iPhone Life's Tip of the Day newsletter. Sign Up. *
Are you wondering, "Why does my iPhone screen turn on when I pick it up?" Meet Raise to Wake on iPhone! This feature was introduced during the iOS 10 update and has been the default on iPhones ever since. I will tell you more about this feature and explain how to disable Raise to Wake and why you might want it off.
Related: How to Use iPhones with No Home Button
Jump To:
What Is Raise to Wake on iPhone?
Raise to Wake is a feature that was originally used on the Apple Watch, which made a lot of sense — you lift your wrist because you're probably trying to check the time. Since the release iOS 10 several years ago, the same Raise to Wake feature has been available on iPhones. It simply illuminates the screen so you can see your notifications without tapping the screen or pushing any buttons. 
Personally, I've loved the raise to wake feature on iPhone so far. It makes it easy to see my notifications and change the song I'm listening to. However, if you pick up your phone a lot, it might cut into your battery life. If you prefer to disable Raise to Wake, you can do so in a few simple steps.
How to Turn Off Raise to Wake on iPhone
Here is how to turn this Raise to Wake function off and on. To learn more iPhone tricks, sign up for our free Tip of the Day newsletter.
Open Settings.


 
Tap Display & Brightness.


 
Toggle Raise to Wake off (gray) or on (green). 


Now you know how to iPhone Raise to Wake works and how you can turn it off and back on as needed. Although this is a helpful feature, it can drain battery life and be distracting. Since it's so easy to toggle Raise to Wake on and off, you can try both and see what works best for you.