By

Susan Misuraca
Updated 01/12/2022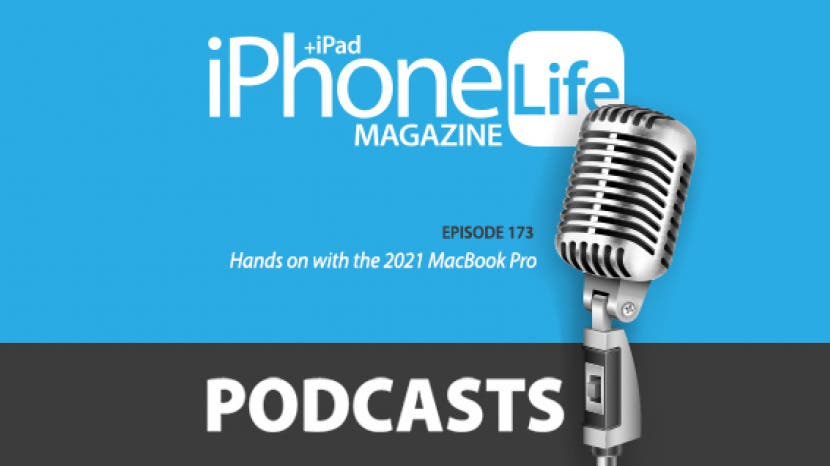 In the 173rd episode, David shares his impressions of the brand-new 2021 MacBook Pro, packing the M1 Max chip with 64 GB of memory. Stick around to hear about Donna's Apple Watch texting challenge and why she's determined to master the full-screen keyboard on the Series 7.
Click here to listen and subscribe. If you like what you hear, be sure to leave a review. And remember to tune in every other week to hear our editors share with you the latest Apple news, best apps, iPhone tricks, and coolest accessories.
Limited time offer! Claim 50% off your subscription to iPhone Life Insider when you visit iPhoneLife.com/PodcastDiscount.

Discover your iPhone's hidden features
Get one daily tip each day (with screenshots and clear instructions) so you can master your iPhone in just one minute a day.
This episode was brought to you by:
Effortlessly set up and manage all of your Apple devices with Jamf Now! This cloud-based device management software allows you to remotely configure the devices your team uses on a daily basis (such as iPads, iPhones, Mac computers, and others), giving you the ability to set up new equipment, add apps, manage security features, and much more. With Jamf Now, one person can do in a day what would take a small team of people a week. Start with three devices for free and add more for just $2 per device, paid monthly.
Let's face it; Apple's Calendar app is basically a to-do list and not a great one at that. If you're going to keep living your best life, you need an app with the power and tools to help you stay on top of everything. Informant 5 is the best calendar app and task manager for iOS, and it happens to be free! Manage projects with tasks and notes, sync your calendar among all your devices, get a user-friendly 30-day calendar view, and much more.
Questions of the week:
What do you think of Apple's new Shared with Me feature introduced with iOS 15? Let us know at podcast@iphonelife.com.
Articles mentioned in this episode:
Products mentioned in this episode:
Useful links: