By

Jim Karpen
Updated 02/24/2015
Master your iPhone in one minute a day: Sign up here to get our FREE Tip of the Day delivered right to your inbox.
Often when you're searching the web for some particular bit of information, your search pulls up a long page of text. But you then have no idea where on that page to find the information you're looking for. The next step is to search within the page. The way to do that on iOS devices is simple, but not obvious.
To search within a page, type the search term into Safari's search bar. Let's say I wanted to search for the word "camera" in this blog post to see what the author says about the iPad Air 2 and iPad mini 3 cameras. However, instead of showing search results within the page, it immediately shows Google Search suggestions for the web in general, as this screen shot shows.
In order to search within the page, simply scroll down to the bottom of the Google Search suggestions, where you'll see it says "On This Page." 
Tap where it says "Find 'camera,' " and it will find all the occurrences of the word "camera" on the page. Notice that it shows the first instance by highlighting it in yellow. And also notice that at the lower left, it tells you that it found four matches for the term. You can view the other matches simply by tapping the left and right arrows.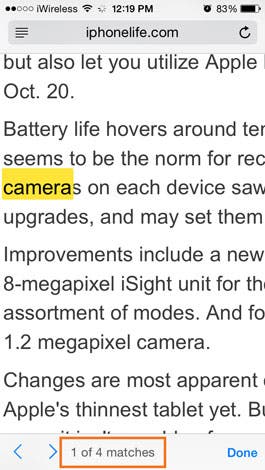 I use the find-within-a-page feature all the time on both my desktop computer and on my iPad.