By

Leanne Hays
Mon, 04/30/2018
2018 marks the 50th anniversary of the US Open tennis tournament, and Apple TV owners can catch all the action in high definition without a cable subscription. To accomplish this, you'll need to know the US Open TV schedule for 2018 and which online streaming services offer the best coverage from those networks. Let's get started learning how to live stream the 2018 US Open to our Apple TVs in advance of the tournament.
Related: 10 Best Tennis Apps for Tennis Enthusiasts
When is the 2018 US Open Happening?
The US Open takes place over the course of two weeks: August 27 through September 9 this year. The matches are already scheduled, so we know what times to tune in even though the players haven't been entered yet. The play schedule for the US Open Qualifying Tournament, August 21–24, will be posted here on Monday, August 20. 
US Open TV Schedule 2018?
Excellent news! All of the US Open games will be broadcast on ESPN, so be sure to have your live stream up and going well before then so you don't miss any matches! All you need to do is find a streaming service or app that offers access to ESPN, and you'll be able to catch every bit of the US Tennis Open 2018 coverage.

Discover your iPhone's hidden features
Get a daily tip (with screenshots and clear instructions) so you can master your iPhone in just one minute a day.
Stream the US Tennis Open with ESPN+
Compatibility: iPhone, iPad, and fourth-generation Apple TV.
Cost: Seven-day free trial, then $4.99 a month or $49 a year.
Pros: Up to five simultaneous streams on one subscription. 
Con: Some events and games subject to blackout.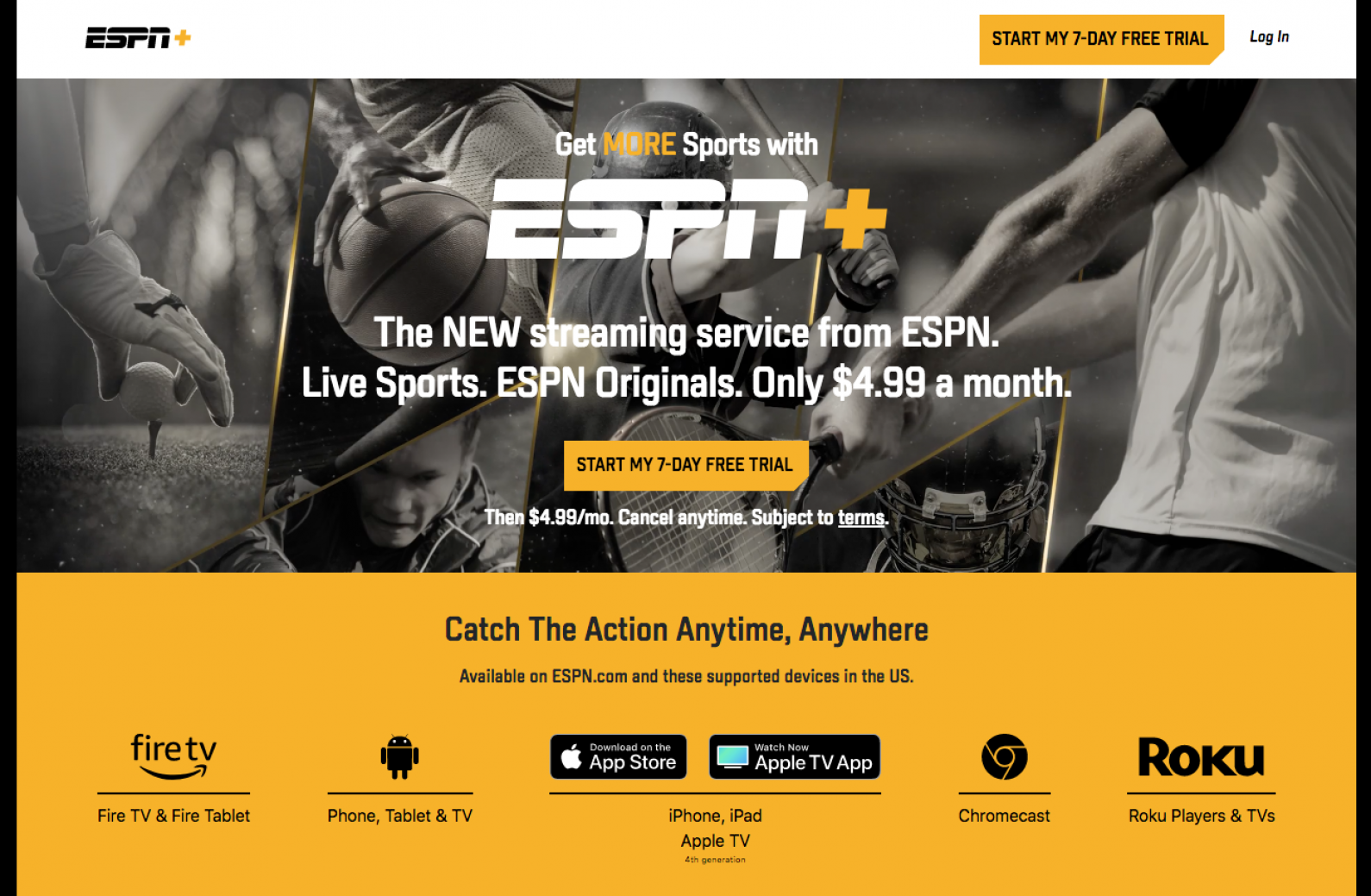 I'm very excited about this one; ESPN finally, finally has a live-streaming service, called ESPN+. With one subscription you can catch all the US Open matches. Just double check that you aren't in a blackout area first.
Stream the US Tennis Open 2018 on DirecTV Now

Compatibility: fourth-generation Apple TV.
Cost: First three months for $10 a month, $35 per month thereafter.
Pros: Streaming included for AT&T Wireless Customers.
Cons: Some event access blocked for smartphones.
DirecTV Now is DirecTV's streaming offering, and I was super excited to find that its lowest cost plan includes ESPN. Ten dollars a month for the first three months is a great deal for all the channels you'll be able to watch, and if you decide after that time that the plan isn't worth $35 a month to you, you can cancel your subscription. If you choose to go with this option, here's a tutorial on how to set up DirecTV Now on your Apple TV.
2018 US Open Live Stream with Sling TV 
Compatibility: fourth-generation Apple TV.
Cost: Sling TV Orange Plan, $20 per month, Blue Plan, $25 per month, Orange and Blue, $40 per month.
Pros: Seven-day free trial period with no commitment.
Con: Channel availability varies by region.
Sling TV is an à la carte tv-streaming service that allows viewers to pay far less than a cable subscription would cost. Customers can choose Sling Orange, Sling Blue, or both. As an added bonus, Sling offers a Cloud DVR option for $5 a month. This way you can record the US Open matches and watch them later if you have work or family plans to accommodate. Sling Orange, at $20 a month, includes ESPN, but offerings vary from region to region. Make sure ESPN is available in your area. 
Here are step-by-step instructions to help you find and install the Sling TV app on your Apple TV. 
Watch the US Open 2018 on Apple TV with PlayStation Vue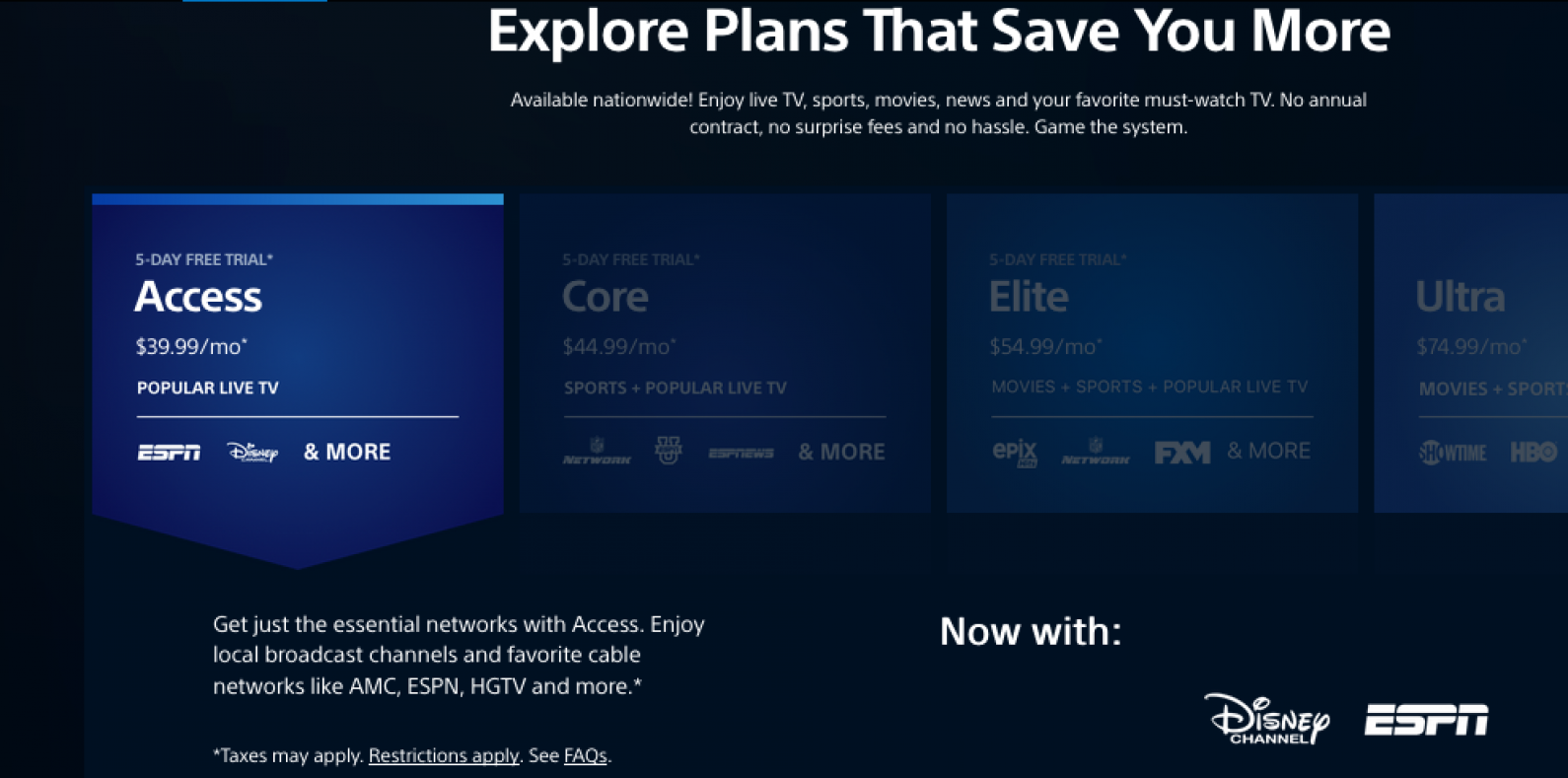 Compatability: fourth-generation Apple TV running tvOS 10.0 and up.
Cost: Five-day free trial, then $39.99 per month.
Pros: Stream on up to five devices at once.
Cons: Some channels are restricted outside of your home network, not all events are available to view on your iPhone.
You don't need a PlayStation to subscribe to PlayStation Vue, a live-streaming TV service that includes cloud DVR and the ability to stream on five devices at once. The least expensive package, Access, includes ESPN and rings in at $39.99 a month.
Click here to learn all about setting PlayStation Vue up on your Apple TV.
Watch & Replay the US Tennis Open 2018 with Hulu Live on Your Apple TV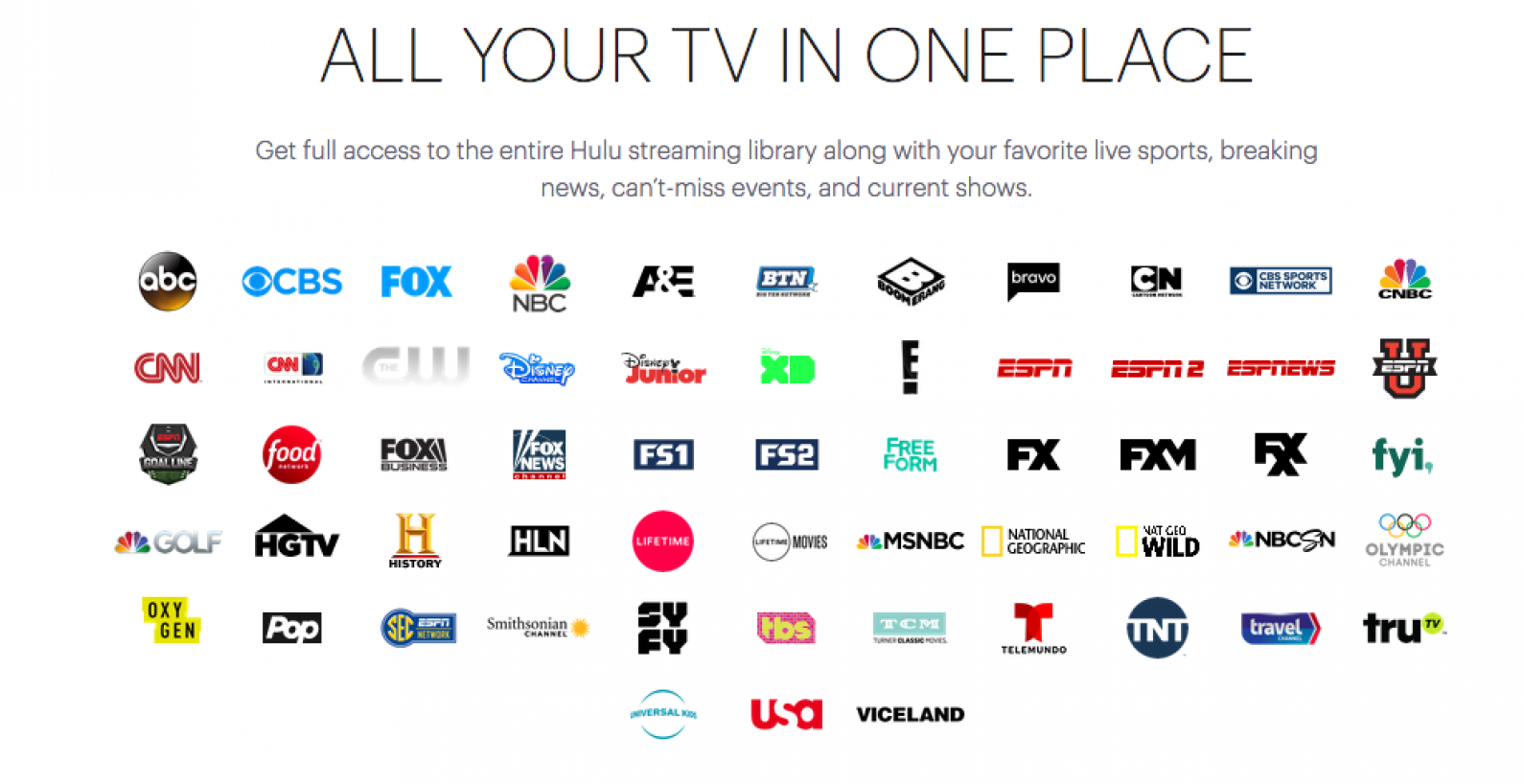 Compatability: fourth-generation Apple TV.
Cost: seven-day free trial, then $39.99 a month.
Pros: Watch on two devices at once.
Cons: Beta version.
Hulu has made the jump and joined the live-streaming tv game with their Hulu Live offering, which includes access to the entire Hulu streaming library. If you live in the right area, $39.99 a month will get you ESPN and the entire US Tennis Open experience. A few cautions, though, Hulu warns right up front that this is a beta version and therefore subject to bugs and hiccups, so if you want to ensure the smoothest possible streaming of the matches, this could be slightly risky. Hulu customers have also complained about commercials with adult themes before, during, and after family and sports content, so if you're watching the US Open with kids, Hulu might not be the best choice for your family.
If you live in an area where Hulu Live provides ESPN, you can learn how to set it up on your Apple TV 
here
. 
The Best Way to Watch the 2018 US Tennis Open
It seems that as far as live streaming services go, DirecTV Now, Sling TV, PlayStation Vue, and Hulu Live are the best options for catching the 2018 US Tennis Open in my area. Channel offerings may be different for you, so be sure to check well ahead of time to make sure ESPN is offered. If you're only interested in the US Open and other sports content, I'd suggest giving ESPN+ a try. At only $4.99 a month, ESPN+ offers a great selection of professional and college sports events, and you can always cancel and move up to a pricier service if you're not satisfied.
Top image credit: lev radin / Shutterstock.com