In FaceTime, default settings will make it so that anytime a person is speaking, their face becomes larger than everyone else's. Learn how to turn this feature off!
By

Amy Spitzfaden–Both
Updated 01/24/2023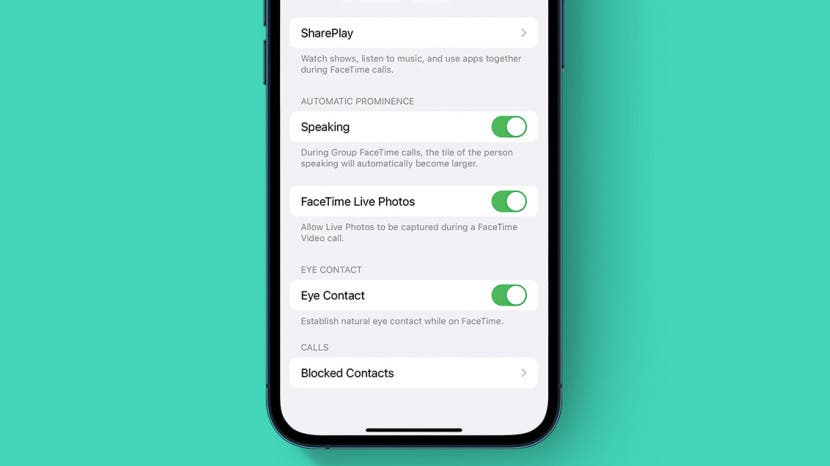 * This post is part of iPhone Life's Tip of the Day newsletter. Sign Up. *
Many people have been struggling with the same issue when it comes to Group FaceTime on their iPhone: screen movement. Sometimes it can be nice to see the current speaker featured larger than the others. However, many people prefer for the members of their group chat on FaceTime to be equally sized throughout the whole call, regardless of who is speaking. Fortunately, this is an easy fix! Here's how to stop faces from moving during FaceTime.
Related: FaceTime Guide for iPhone & iPad: Calling Android Users, Apple SharePlay & More
How to Stop FaceTime from Moving Screens during Group Calls
Open the Settings app.


Tap FaceTime.


Toward the bottom of your screen, you will see a menu item called Speaking with a toggle.


Toggle the feature off. It will appear green when activated and gray when turned off. 


Changing this setting is an easy way to keep the members of your call from moving around your screen, and just as easily reversible if you find you miss the current speaker being featured. For more quick and easy tutorials on using your Apple devices, sign up for our free Tip of the Day!