By

Jim Karpen
Wed, 11/12/2014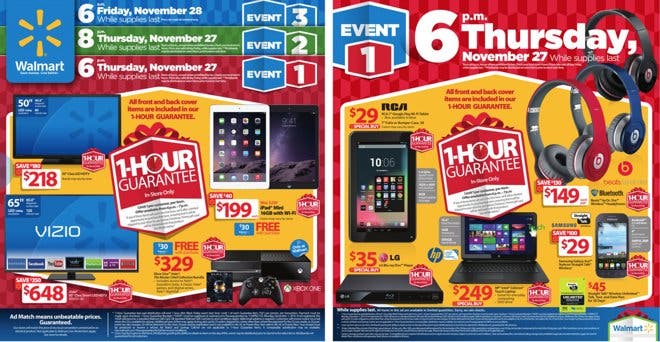 Black Friday deals are coming soon, and websites are beginning to post the details. AppleInsider has all the info on Walmart's deals, which include an iPhone 6 for $179 plus a $75 gift card, meaning that your final price is effectively $104. They also have iPad deals, such as the first-generation 16 GB iPad Air for $397 with a $100 gift card.
Their various deals kick in at different times over the holiday. The first event starts at 6 pm on Thursday, November 27, with a 16 GB first-generation iPad mini for $199 with a $30 gift card. The second event starts at 8 p.m. on Thursday, and includes the iPad deal mentioned above. In addition, a 16 GB iPod touch will go for $179 with a $30 gift card. Then on Friday at 6 a.m. Walmart will be offering the iPhone deal mentioned above, plus the iPhone 5s for $79 with a $75 gift card.
Of course, the iPhone deals require a two-year contract. And in every case, supplies are limited, as is usual for Black Friday deals.
During the events Walmart will also be offering deals on Beats headphones and speakers, as well as a $30 iTunes gift card for $25.