By

Tamlin Day
Fri, 02/14/2020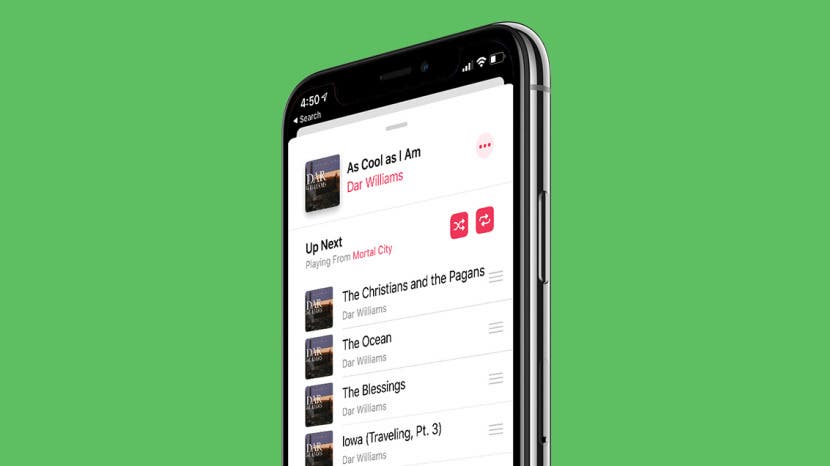 * This post is part of iPhone Life's Tip of the Day newsletter. Sign Up. *
If you want to know how to repeat a song or shuffle music, you'll like this tip on how to find and use playback controls in Apple Music. The controls to shuffle music and repeat songs can be hard to locate, especially when you've accidentally enabled them and need to turn shuffle or repeat off! Read on to learn how to repeat songs and shuffle music, plus how to turn shuffle off.
Related: 18 Tips for Getting the Most out of Apple Music Features & Settings
How to Repeat Music & Turn Shuffle On or Off
Whether you're listening to a playlist you made, a favorite album, or an Apple Music station, this tip will help you customize your playback options.
On the bottom of the screen, tap the song that's playing to expand your options.
If you don't see the repeat and shuffle icons, tap the three horizontal bars on the bottom right corner.


 
Tap the shuffle icon to shuffle all the music on the album, playlist, or station.


 
To repeat an entire album, tap the repeat icon once.
To repeat just the current song, tap the repeat icon twice. A small number one will appear on the corner of the shuffle icon.


 
If you're not sure whether or not you've activated one or both of these controls, check the icons! Active controls are highlighted in red.


An important note: enabling both shuffle and repeat will cause whatever album, playlist, or station to do exactly that. If and when you get tired of listening to the same music, or want to listen to things in order, you can quickly toggle off either of these settings. Whatever your preference, these customizable playback options mean you have the control to listen to your favorite music to your heart's content.