Share an Amazon Prime video with up to 100 of your Prime-using friends.
By

Amy Spitzfaden–Both
Tue, 03/30/2021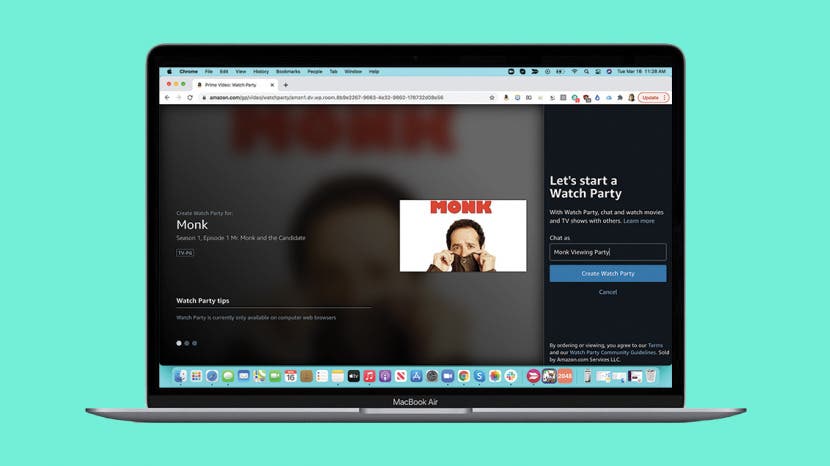 This article will tell you how to host an Amazon Prime watch party, so you can throw a synchronized movie night with up to 100 people all in different places. Watching the same show as a friend when you're in different places is not a new concept (who remembers holding the phone to your ear and talking during commercial breaks?), but many streaming services are now offering the option to host movie nights in a simpler way. Instead of everyone needing to hit Play at the exact same moment, you can now stream a movie from one account. Here is how to host an Amazon Prime watch party.
Jump To:
What Is a Watch Party?
A watch party is an option many subscription services are offering that allows one account to "host" a movie night by streaming a video and letting others with the link also view it. This simplifies the watching together process greatly, making sure everyone has the right movie at the right time, and not requiring a mass-synchronization of the exact start time. It also keeps participants from all having to buy or rent a movie from that service, leaving that to the host. In the pandemic, especially, everyone has been looking for ways to connect with loved ones from afar, and this is a great way to do it. For more great ways to connect over a distance, check out our free Tip of the Day!
Requirements for an Amazon Watch Party
All Amazon watch party participants must:
Have an active Amazon Prime membership;
Be connected the the internet;
Be on a desktop device, not a mobile device such as an iPhone or iPad;
Be on either Chrome or Firefox. Safari and Edge do not yet have this feature.
Related: Apple TV: Your Complete Guide to Setting Up & Streaming On-Demand Content
How to Host an Amazon Prime Watch Party
Open Amazon Prime Video on your desktop device.


Find what you want to watch, and buy or rent it if necessary.


On the title page, select Watch Party. If it is a show and not a movie, you can find this on the title page for individual episodes.


Pick a name for the chat channel you and your guests can use throughout the party.


Click Create Watch Party.


Share the Watch link with your guests. You can invite up to 100 people.