By

Todd Bernhard
Wed, 08/05/2020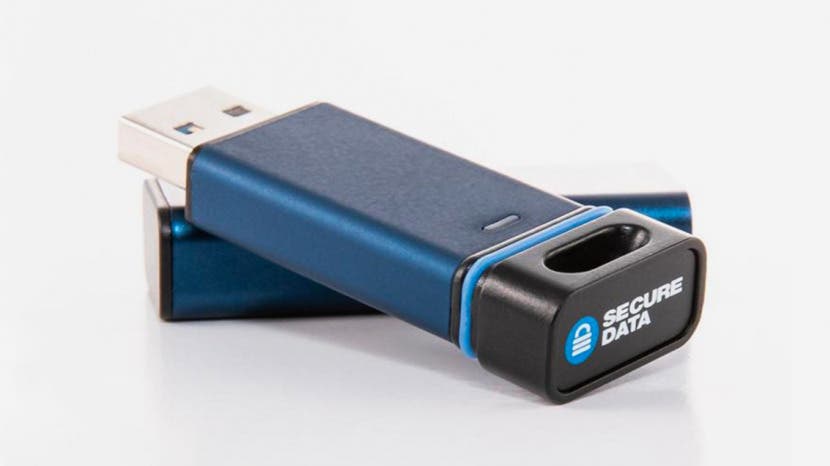 I previously reviewed the SecureDrive from SecureData and found it to offer impressive security and high-speed SSD storage, but I also felt it was expensive. The folks at SecureData sent me their lower-cost USB flash drive model which starts at a much more affordable price. The SecureUSB BT (starting at $119) comes with less capacity, 16 GB, but the company offers 32 and 64 GB options. Sure, they are more expensive than traditional thumb drives but they have some serious security built-in.
The drives conform to federal standards, namely FIPS 140 and AES 256-bit encryption. Good luck trying to crack that. Plus they are waterproof to one meter and a layer of epoxy is placed over the electronics which, should make tampering difficult. The data is only accessible when you open the free companion app and then you can authenticate via Face ID or Touch ID. This is known as MFA (multi-factor authentication or two factor authentication); you need not only a password, but also a trusted paired device. It works well, and you can use the same app to unlock multiple SecureData devices. 
The storage size of the thumb drives is small, but I would not recommend using these drives in a traditional manner. Keep videos, music, and other large files on regular drives or in the cloud. Use the thumb drive for confidential intellectual property like software source code, financial spreadsheets, contracts,presentations. and related documents.

Discover your iPhone's hidden features
Get one daily tip each day (with screenshots and clear instructions) so you can master your iPhone in just one minute a day.
Pros
Highly secure USB drive
Conforms to FIPS 140, AES 256-bit encryption
MFA via Face ID or Touch ID
16, 32, or 64 GB options
Easy-to-use companion app
Cons
Final Verdict
The SecureUSB BT from SecureData is an affordable, app-friendly way to achieve high security for important documents.