Ancestry apps can help you track and feel more connected to your extended family. Here are the best ones out there.
By

Amy Spitzfaden–Both
Mon, 05/10/2021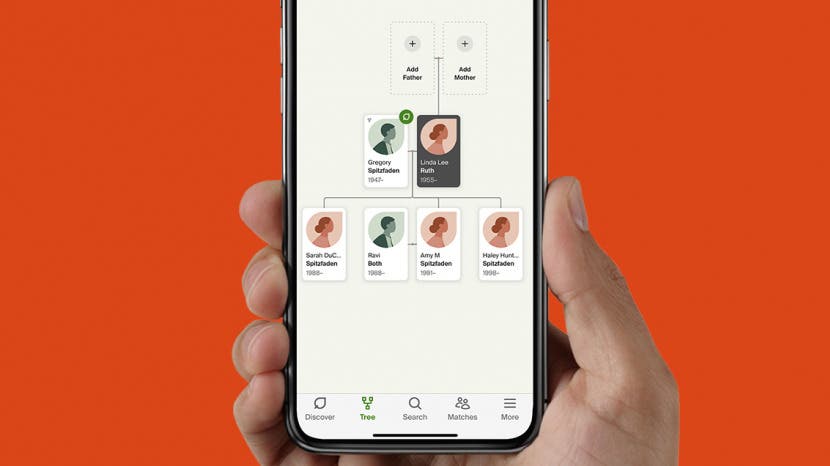 If you're looking for a family tree maker, it can be hard to sort through all the resources out there. So, we've collected the best free family tree apps out there, to help you discover and record your genealogy on your iPhone. If you're wondering how to make a family tree, lots of these have step by step instructions, that can guide you through an otherwise complicated process. Many are linked to genealogy websites that offer even more resources and options. Let's dive in!
Jump To:
Best Family Tree Apps
Perhaps the most comprehensive of family tree apps, Ancestry gives you the option of building a family tree by connecting your entries to public records, building an in-depth picture of your ancestry. Ancestry also offers a send-in DNA test (starting at $99) that pairs with the AncestryDNA app, which can tell you even more about your genealogy and heritage. There's plenty to do with just the basic app, though!
FamilySearch Tree relies a lot on entering information manually and does not offer the same extensive database as Ancestry; but you do have the option to add memories to people or relationships you enter, giving your family tree an even more personal twist. For an app entirely focused on personal memories and family stories, check out its sister app, FamilySearch Memories.
MyHeritage is another app that offers public records to help build out your family tree. Unfortunately, this feature is part of its premium plan (starting at $179.99/year), however, a very cool feature of the free version is the photo colorization and animation feature. Upload a photo of any family member and see it turned into a blinking, moving video, which can offer a new richness to old photos. MyHeritage also offers a DNA evaluation ($79) for those interested in learning more about their roots.
While this isn't strictly a family tree building app, it's a great resource for those looking to connect with their ancestors. Find a Grave allows you to search for family members' graves all throughout the US, and possibly discover ones you didn't know about. It seems to be mostly sourced from members, so you can also upload your own pictures of headstones. You can also create memorials for loved ones who have passed away.
If you're looking to create a family tree that lives outside its app of origin, Treeview is the way to go. Each entry has the option to add facts, notes, and images, and is the most easily shareable, whether on social media or if you want to print it. I would recommend Treeview to anyone who wants a physical family tree, whether for personal purposes or bigger projects, like for school or work.