By

Dig Om
Updated 04/24/2016
To help you prepare for your warm weather adventures with all of your devices in tow, I recently compiled and reviewed some of the best, rugged, Bluetooth speakers currently on the market. All of the speakers featured in that particular roundup were of outstanding quality and durability, but one thing they all had in common was the fact that they were all too large to comfortably tuck in your pant's pocket or clip on your belt loop or backpack. Many adventurers these days would appreciate having a more portable Bluetooth speaker solution, and with that in mind, the following roundup features some of the best portable bluetooth speakers available.
Criteria to Be Considered for Best Ultra-Portable Rugged Bluetooth Mini-Speakers:
1. Water and Drop Resistance. These rugged speakers must, at bare minimum, be splash-proof and able to withstand drops of six feet or more without performance damage. Every speaker featured here has a minimum of an IP-X4 water-resistance rating, if not higher.
2. Sound Quality. The speakers featured here must all be capable of delivering high-quality audio on a consistent basis, with a reliable Bluetooth connection, and without distortion at higher volumes.
3. Portability. All of the Bluetooth speakers included in the roundup must be small enough for you to be able to conveniently tote around, either clipped on to a belt loop or backpack, or thrown into a purse or carryall. Additionally, each speaker must be miniature enough to easily carry and operate single-handedly.
4. Functionality. The more control functionality a speaker has, the better. In other words, a speaker that allows you to control song playback and/or answer calls, and/or use Siri,  as well as basic volume control, will typically rank higher in my ratings.
5. Personal Experience
Only Bluetooth speakers that I have personally reviewed with some hands-on time (either because the company sent me a sample unit to review for iPhone Life or because I got to play around with it at a tech event such as CES) are included in my round up, so you can rest assured my ratings come from direct experience. The speakers presented here are listed in order of price, from least expensive to most expensive; and keep in mind, prices will vary if you do some looking around at alternative sources such as Amazon.com.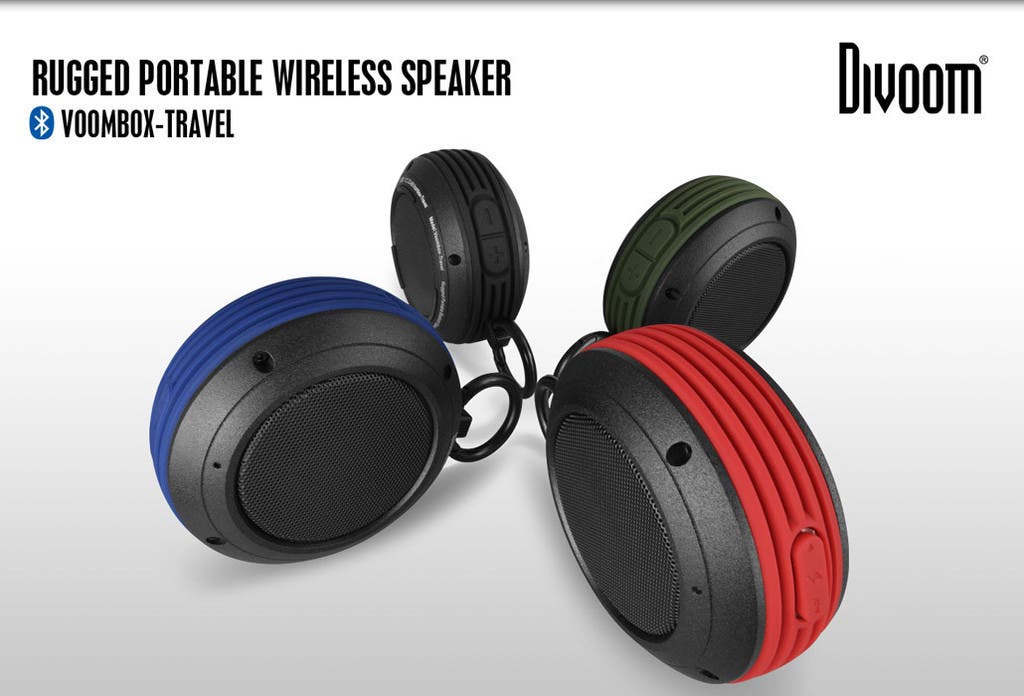 The mini Voombox Travel may be the best overall deal when it comes to durability, cost, and sound. Its price is very affordable and its design packs both a 2-inch driver and a 2-inch bass radiator into a compact and sturdy form factor. It's water-resistant and lightweight, with a grippy rubber rim, and it comes with a carabiner for conveniently attaching it to whatever you'd like.
Pros:
Fits nicely in your hand or pocket (or attached to your belt) and has a great sound, with the perfect combination of large driver and small bass radiator.

The only ultra-portable Bluetooth speaker featured here that allows you to skip tracks backward as well as forward.
Cons:
I didn't care for the cheap but stylish carabiner that comes with the Voombox Travel. It seemed too delicate for my tastes and insufficient for a ruggedized device. That said, it's simple enough to swap the carabiner out for one of your own choosing.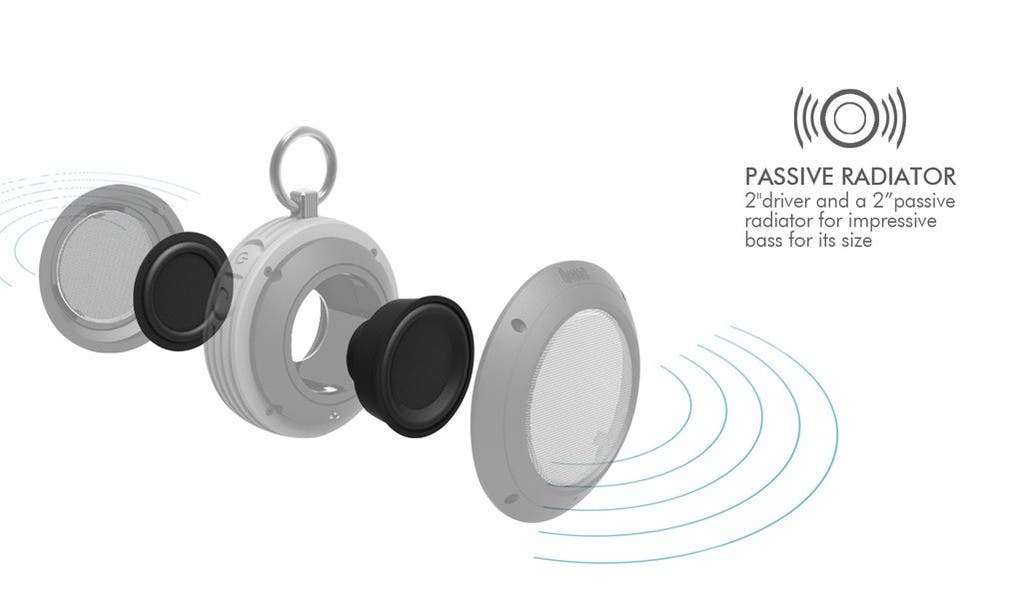 Verdict:
My personal favorite of the mini-speakers featured here, and the perfect combination of quality and affordability. I give the Voombox Travel an outstanding 5 out of 5 Stars.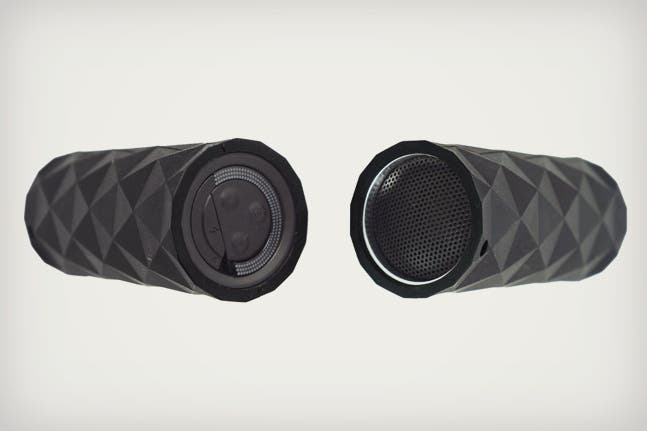 The Buckshot is a tiny affair, only slightly larger than a roll of quarters, with a textured exterior and secure closures over its charging port. It's also very lightweight. This speaker utilizes a single, small driver to produce its sound. And while this keeps the Buckshot's size down, it also limits the volume output, making this a great speaker for quieter outdoor activities and personal entertainment, as opposed to situations where you want others around you to be able to hear the sound.
Pros:
Super easy to carry around in just about any pocket or in hand.

Comes with an elastic rubber strap for attaching the Buckshot to a pole or handlebar.
Cons:
The attachment point on the speaker is made of a weak metal and may break relatively quickly if you use a key ring in that spot, as you will likely do if you want to use a carabiner to carry the speaker.

The control buttons are rather small and hard to identify.
Verdict:
A great choice if you want a small, extreme-duty Bluetooth speaker for primarily personal enjoyment. I give the Buckshot 3.5 out of 5 Stars.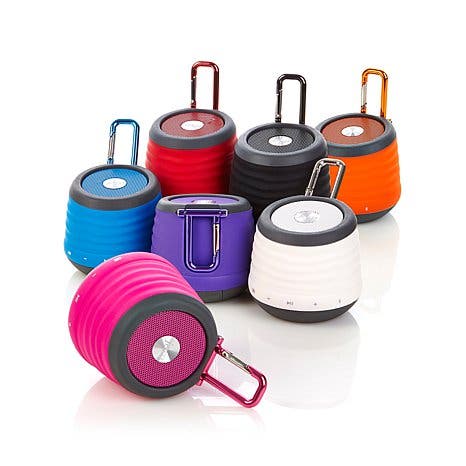 The Jam XT is a well-designed, great-sounding speaker, available at a very reasonable price. With a rubberized exterior and a built-in carabiner clip, the Jam XT is a convenient grab-and-go Bluetooth speaker that's ready for most any rough and tumble action you may throw at it. The Jam XT comes in a fun assortment of colorful choices allowing you to pick the perfect color to match your individual style.
Pros:
Great sound.

Creative and practical design.
Cons:
While I like the fact that the Jam XT has a built-in carabiner, if that's the way the company chooses to build the speaker, I'd like to see a higher quality, more durable carabiner used.
Verdict:
The Jam XT is a great choice for anyone looking for a colorful Bluetooth speaker option that also provides rugged protection and good-quality sound. I give the Jam XT a solid 4.5 out of 5 Star rating.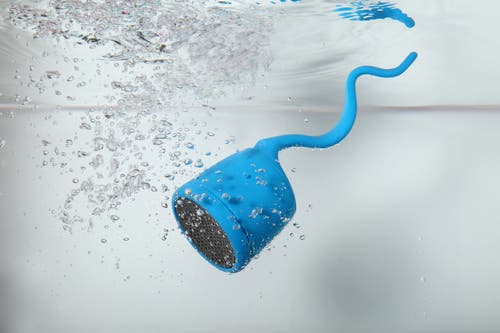 The Swimmer is the only one of the speakers in this roundup that is completely waterproof. This appropriately named speaker can be submerged up to 3 feet for 30 minutes, which is very convenient if you'll be anywhere by the water. It has one single, large driver which puts out a strong, well-balanced sound. The Swimmer includes both a suction cup for attaching it to a pool or shower tile as well as a flexible "tail" which can serve as either a directional stand or a reliable clip-on point of attachment.
Pros:
Great sound considering it only has one speaker. The driver produces good volume.

Grippy exterior make this great for many water-related activities.

Best battery life of speakers featured here with up to 16 hours of playback.

Nice and small. A perfect speaker for action on the go.
Cons:
The buttons are hard to see, as they are not colored in any identifying fashion, and they only sit in slight relief from the Swimmer's body.
Verdict:
The perfect choice for anyone who anticipates spending a lot of time by the water with a Bluetooth speaker that might get drenched or dunked. I give the Swimmer 4 out of 5 Stars.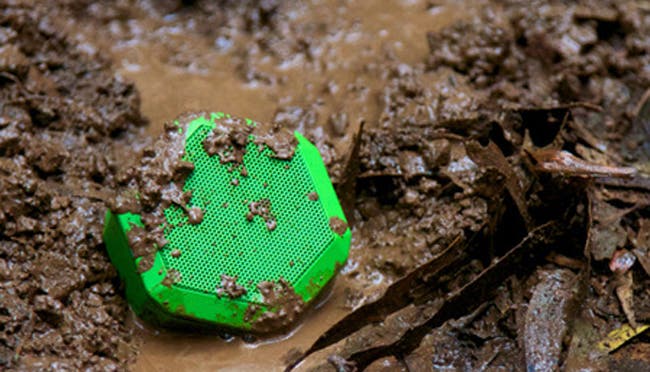 The REX has a unique and artsy style all its own. It's also got some of the best audio of all of the speakers featured here with two mini drivers and one large, wide bass radiator. The REX attaches to practically whatever you are wearing with a sturdy rear clothespin-style clip and is arguably the loudest of the highly-portable, heavy-duty Bluetooth speakers.
Pros:
Awesome sound.

Unique designs, aimed at progressive thinkers and young-at-heart adventurers.
Cons:
No attachment point for a carabiner.

The flaps covering the ports are flimsy and don't plug the opening as securely as I'd like to see. I feel that any rugged speaker rated to be able to withstand splashes and exposure to liquid ought to have port cover flaps that close securely and snugly.
Verdict:
The BOOMBOTIX REX would be an ideal choice for the skate park, school outings, hikes, and bike rides, or even just kicking back on the porch with friends and a BBQ! Its sound is solid and its build is pretty durable for the most part. I give the REX a respectable 3.5 out of 5 Stars.