iPhone Gear for the Great Outdoors
Top Rugged Accessories for Your Next Big Adventure
W
When considering gear for outdoor adventures, it's good to think practically. Since space is limited when on the road, I tend to favor gear that has multiple functions and is well suited for a variety of environmental conditions. All of the gear included in this roundup is durable enough to handle a wide range of rugged scenarios and perfect for many of your off-grid escapades.
Rugged Bluetooth Speakers
The Voombox-Travel is my go-to speaker for short hikes and trips to the creek. This rugged, ultra-portable Bluetooth speaker packs a ton of power into its small housing, resulting in one of the loudest speakers of its size on the market. It's also splash-resistant, so no worries if it gets a little wet, and it can be easily attached to a backpack or belt loop. 
The BoomBOTTLE H2O is one of the best-sounding fully-submersible waterproof speakers on the market.
The "Big" in the name of this rugged speaker has a double meaning: it's a bigger version of the original Turtle Shell Bluetooth speaker and also references the massive sound the Big Turtle Shell pumps out. For a relatively small rugged speaker, this thing is amazing. It's lightweight, easy to grip, has a whopping 16-hours of playback, and a built-in Li-ion battery also charges iDevices.
The BoomBOTTLE H2O is one of the best-sounding fully-submersible waterproof speakers on the market. It has a remarkable full-spectrum sound with well-defined mids, highs, and lows thanks to its opposite-facing speaker drivers. As the name implies, the BoomBOTTLE H2O is similarly shaped to a can of soda, but slightly shorter. It lends itself to fitting snugly into a bike bottle carrier, and with a clip attachment point for a lanyard or carabiner, this speaker is a breeze to carry around on your journeys.
Protection for Your iPhone
This rugged case is one of my favorites—and for good reason! It boasts one of the slimmest, least bulky designs of any heavy-duty case I've reviewed. Yet the Catalyst manages to deliver the most impressive protection when compared with its closest competitors. Additionally, it's one of the easiest rugged cases to assemble and disassemble. My only suggestion is that if you use wired headphones, you'd be wise to invest in one of Catalyst's custom-fitted headphone adapters, since the case's headphone port is too small for most third-party headphone jacks.
The amount Americans have spent on broken iPhones from 2007–2014. Source: SquareTrade 2014 Smartphone Accident Survey
As an avid outdoorsperson, I've been a vocal advocate of the Lifeproof brand since its earliest inception. Lifeproof's cases are built to the highest standards of excellence and deliver the most comprehensive water and shock-proof protection for both iPhones and iPads. Lifeproof offers adventurers two basic design alternatives when it comes to its waterproof cases: frē and nüüd. While Lifeproof's frē option comes with a built-in screen protector, as well as nüüd options (which leaves the iDevice's glass touchscreen exposed), with the exception being the Lifeproof for the iPhone 6 Plus, which is currently only available in the nüüd model.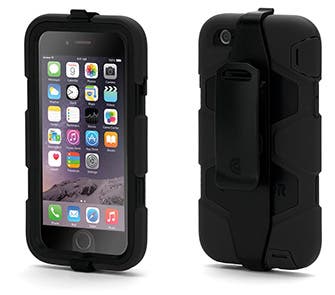 The affordably priced Survivor All-Terrain provides users with some of the best protection you will find in a non-submersible iDevice case. While the All-Terrain isn't necessarily designed to be dunked in water, it does meet military standards of water resistance, meaning that the All-Terrain should keep your iDevice safe from any incidental contact with water. With the All-Terrain, your iPhone and iPad are safely ensconced within a hefty, extremely durable, impact-resistant shell, and, thanks to it incorporating fully sealed cameras, ports and buttons, you don't have to worry about a little water getting on your iDevice if it's with you at the beach or poolside. Of the cases featured here, the All-Terrain has the widest selection of customizable color choices.
Its pockets are conveniently designed...to disguise the fact that you may be traveling around equipped like Inspector Gadget.
SCOTTeVEST's Sterling jacket may not be the only travel apparel on the market, but it is certainly the most iDevice friendly. With over 20 separate pockets, the Sterling can stow everything from earphones and charging cables to iPhones and an iPad, not to mention business cards, glasses, pens, and rechargeable batteries. With the capacity to carry this much, you might think that the Sterling jacket could quickly become rather heavy and bulky. But thanks to its ingenious weight distribution system, these jackets (with cuts for both women and men) manage to avoid feeling too heavy, even when loaded, and its pockets are conveniently designed in such a way as to disguise the fact that you may be traveling around equipped like Inspector Gadget.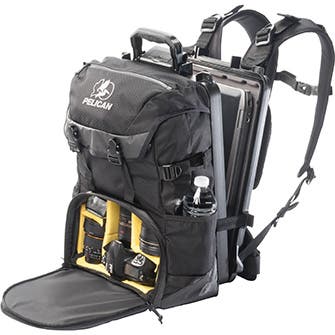 If you are looking for a backpack that is well-suited to handle extreme conditions, then the Pelican ProGear S130 may be the one for you. Whether it's camera gear, solar panels, your laptop, your iPhone and iPad, or all of the above, the S130 will accommodate a whopping 6.6 gallons worth of your most prized possessions. This pack features a watertight, crush-proof laptop compartment, as well as a rigid plastic shield over the pack's front compartment to protect any sensitive gear that you stash in there. Perfect for outback adventures, nature studies, and outdoor photojournalism, among other endeavors, the S130 is one of my favorite choices for those times when an extremely rugged and reliable protective bag is called for.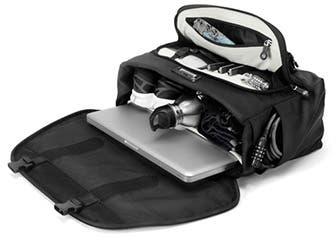 Have you ever wished for a carrying bag that met the abusive demands of the outdoors without sacrificing style or fashion. If your answer is yes, then the Booq Boa Nerve messenger is worth considering. On the surface, the Boa Nerve is a spacious, fashion forward shoulder bag—something any urban professional might be proud to wear around—but look a little deeper and you'll find a bag that has been carefully crafted to pull double-duty. The Boa Nerve incorporates reinforced Ballistic nylon that is not only tough and resilient, it's water repellent as well. Since not every traveler wants to look like a traveler all the time, it's appreciated that not every durable, outdoor carry-all looks like it was stitched together from material in a survivalist's closet. The Boa Nerve can hold up to a 15-inch laptop, with plenty of compartments to safely tuck away an iPad, an iPhone as well as other gear, like a light jacket, books and snacks.
The StrikeLINE II is basically the cable that Apple should've opted to ship with its iPhones and iPads, but didn't.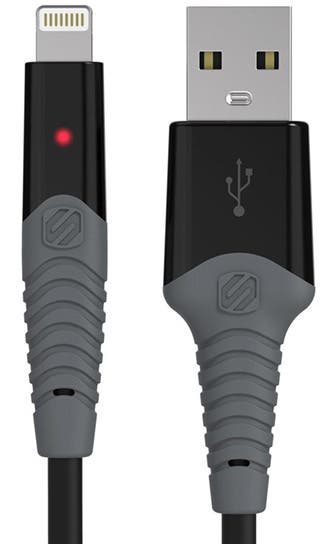 The StrikeLINE II is basically the cable that Apple should've opted to ship with its iPhones and iPads, but didn't. So Scosche is taking up the slack with the ruggedized solution to one of the most annoyingly problematic elements of Apple's product accessories. For a pretty penny, Apple will sell you a Lightning cable, but it's almost certain to have its insulating plastic cover tear in dramatic fashion, usually at the Lightning end, or accumulate so many fingerprints thanks to its absorbent plastic sheath that it quickly becomes a dingy off-white color. For the most part, I don't feel like I'm excessively brutal to my Lightning cables, yet I've still managed to go through well over a dozen since I started getting iDevices that accepted Lightning cables. Now, with Scosche's structurally reinforced MFi Lightning cable, I finally feel like I've found one that I can rely on. It's my new go-to charging cable for my travels because it's the only one I feel like I can really count on.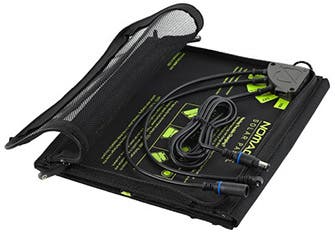 When you are adventuring outdoors one of the first things to be depleted is typically going to be the battery power of your electronic devices. Whether it's power for your iPhone, iPad, drone, Bluetooth speaker, or laptop, the Nomad 13 solar recharging solution can keep you out of trouble by ensuring that you always have a way to contact the outside world (assuming you have a signal) as well as access maps for navigation. The Nomad 13 typically puts out more than enough juice to keep your iPhone and a spare battery topped off, even on a slightly overcast or cloudy day. If you want or need more power, check out this inspiring video to see how other adventurers are doing just that using their Goal Zeros: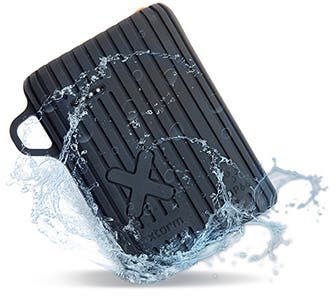 Rechargeable battery packs are one of the few things that I will typically recommend for all travelers, not just folks heading off into the wild. When it comes to getting a quick jolt of power when on the go and away from a wall outlet, nothing beats the convenience of a battery pack! The problem is, if you are going to be dealing with the elements (or any kind of harsh conditions) then not just any old battery will do. Enter the Power Bank Xtreme 9000 mAh back up battery, with sufficient power to charge an iPad once or an iPhone up to four times. This practical and abuse-proof battery pack is extremely compact, so it's easy to travel with, and it is waterproof so you don't have to fret if it gets completely submerged. A wonderful added bonus to this tiny battery is its built-in mini LED light, which can come in handy in any multitude of situations. And, if you followed my above suggestion, you can easily recharge the battery pack during the day courtesy of your nifty Goal Zero Nomad 13 solar panel while the sun is being generous with its energy.