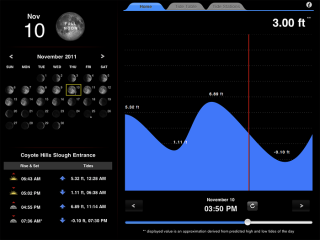 Rivolu Pte. Ltd. today announced that it has added a new app 'TideTrac
for iPad'. TideTrac allows iPad users view high and low tides for over
2500 coastal locations in United States.
This feature rich application enables users to add multiple tide
stations to their favorites list, download their tide predictions once
for the whole year and then view their tide predictions offline
without needing an internet connection. TideTrac also includes a Moon
calendar that displays the different phases of the Moon as well as
displays the sunrise, sunset, moonrise and moonset times of the day.
Tide predictions are useful in many real world scenarios. From