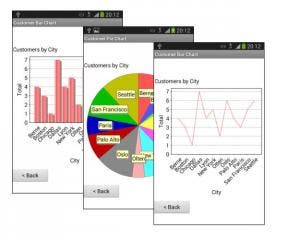 The latest release of the MobiForms Developer mobile development tool version 8.0 now supports the creation of Native or HTML5 offline apps with chart report objects including Bar Charts, Line Charts, Pie Charts and Dials.
With MobiForms you can create a range of business apps for just about any mobile device including Android, iPhone, iPad, iPod, Windows Mobile and Tablet.
The new graphical report objects are driven by lists of data or by dynamic SQL queries linked to a local offline mobile database or a remote back office database in real-time or near real-time via the MobiForms Sync Server. Supported back office databases include Oracle, SQL Server, Access, Sybase, IBM DB2, SQLite, HSQLDB, Firebird and MySQL.
The reporting features include: