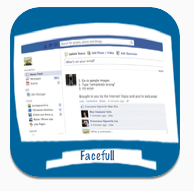 San Francisco, California - JustApps is pleased to announce "facefull" for iPhone and iPad. Facefull lets users simply and conveniently browse Facebook desktop /pc version right on their mobile device.
Facebook is getting more popular every day and most people access Facebook with their mobile device.
Some people do not like the limited in functionality in the mobile version.
Others are already very familiar with the pc version and dislike the idea of learning how to use the mobile version of Facebook.