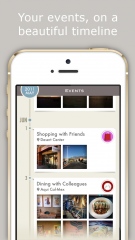 Taipei, Taiwan – November 14, 2013 –BES Lab today announced the launch of Pixtory, an iPhone app that offers mobile enthusiasts a new way to manage their photos and videos. A minimum amount of steps, using event stickers and filtering, makes it easy for iPhone users to organize and find their photos.
Key features like a multi-layer timeline and Foursquare integration give photo lovers a chance to easily and elegantly recollect their memories.
The multi-layer timeline provides Pixtory users with different details about their memories, such as the day that an event took place or the time a picture was taken. Pixtory automatically organizes photos and videos into "events" based on time and location.