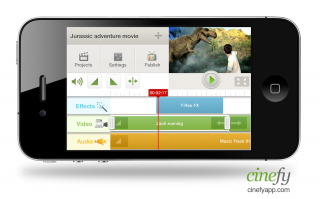 New Video Editing and Effects Platform offers Studios An Innovative New Channel for Social Marketing
PORTLAND, Ore.--Chairseven and App Creation Network today announced the limited beta release of Cinefy, a mobile video editing and effects platform for iPhone where users create and share videos mixed with high quality visual effects. Cinefy empowers users with no editing skills to quickly insert footage, add music and apply visually stunning effects with its intuitive and simple interface.
In Cinefy, individual themed or branded effects packs are available for in app downloads, offering TV and game studios the ability to market new properties in a way that creates exciting engagement and massive viral exposure potential.