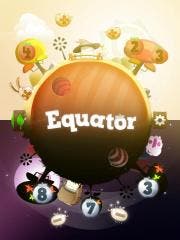 EDINBURGH, Scotland, 13th August - Independent game developer TigerFace Games will
release collaborative multiplayer title Equator on iPad and Android tablets on the 23rd of
August.
Equator is set on a tiny planet inhabited by two farmers. In order to reap a successful harvest
throughout the year, each farmer has to work together to balance the soil and promote healthy
growth. This manifests itself as a sum-balancing maths game for two, played on a single tablet
device, in which players use pre-determined handouts of numbers and mathematical operators
to create a calculation with the same answer as that of the other player.
Set across four seasons, Equator includes all levels of mental arithmetic skills from addition