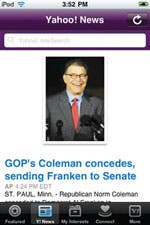 The Yahoo app is found in the App Store's News category, most likely because the first two screens in the app display the latest news. However, the app offers much more for the iPhone and iPod touch user.
The app's strength is its search capabilities to which Yahoo has recently added a voice search component. I couldn't get the feature to work until I realized that you have to hold down the "Press + Speak" bar until you're finished speaking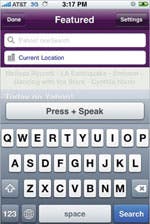 . I tried a few queries and found that it did fairly well recognizing my questions.
Yahoo's app also lets you access your e-mail (Yahoo, Google, Hotmail, or AOL), and get status updates from social networks (Facebook, Twitter, MySpace, and others). You can receive RSS feeds, sports scores, movie info, and weather. The app also gives you access to Yahoo's Calendar, Address Book, and Messenger apps—and much more!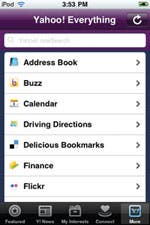 The most common complaint I've seen in App Store reviews is that the current version takes you out of the app and into Safari when you access your Yahoo Mail. I hope Yahoo will correct that soon.