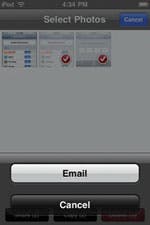 With OS 3.0, you can now attach up to 5 photos to an e-mail message, up from one in the previous version of the OS. Follow these steps:
Launch the Photos app and open the desired photo album
Tap on the arrow icon in the lower left corner of the screen.
Tap on the desired photos to select them.
Tap on the Share button in the lower left corner and hit the Email button in the pop-up screen.
Fill out the To, Cc/Bcc, and Subject fields, add a message, and hit the Send button.
This feature makes it easier to send a series of photos to family, friends, or associates. At iPhone Life, we capture many iPhone and iPod touch screen shots for articles. We use this new 3.0 feature to e-mail them to our desktop computers, where we do most of the editorial work.
issues/Fall2009/TIpsIphone3GSAndOS3.0