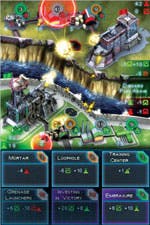 Strongholds is one of the best of the few, true strategy games in the App Store. Your challenge is simple: destroy the enemy's command center or build up yours to the required number of points.
All of your buildings are already constructed, and there are no troops to control. Instead, everything is played out using action cards that you purchase using resources you acquire as you play the game. (The cards you purchase are randomly distributed by the computer.) The action cards affect factors of either or both of the camps.
You may feel that you don't have as much control as you'd like with this game, but there is a surprising amount of depth to the game play. One of the best things about Strongholds is that you can play short scenarios (10-20 minutes) and then do something else. You don't have to worry about being locked into the game for hours.

Strongholds