By

Donna Schill
Updated 08/11/2016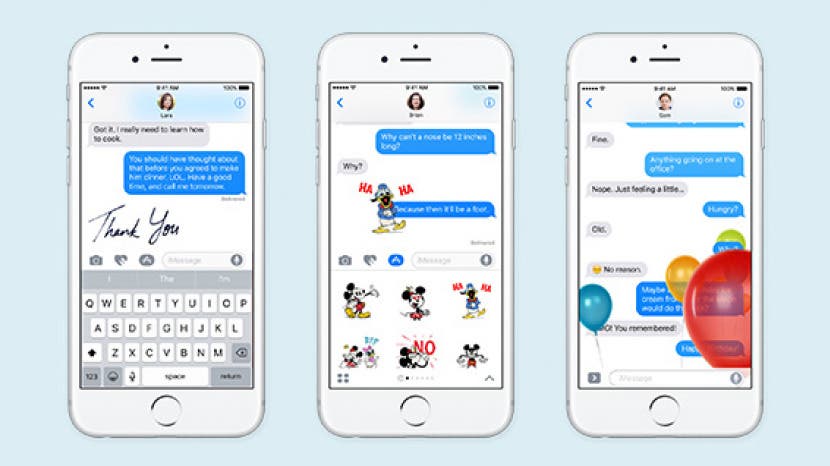 The following article will be featured in the upcoming winter issue of iPhone Life magazine.
 
Apple's latest operating system sports an overall new look. Everywhere, text and icons have grown bigger and bolder. You'll find some of iOS 10's most visible changes in the Messages app, where Apple has gone wild with visual effects, as well as a host of features that add new levels of functionality to an app that's a staple for any iPhone user. After testing out the public beta version of the software, here are my 9 favorite discoveries and tips for making the most of Messages' best new features.
The iPhone 7 will ship with iOS 10, but if you're keeping your older device, you can upgrade your software by heading to Settings > General > Software Update. 
Related: 10 Best iOS 10 Beta Features That You Will Love

1) Replace Words with Emojis
  
Emojis have become the standard for expressing emotion in text, and Apple has baked those little icons into iOS 10 Messages like never before. If you're composing a message and have predictive text enabled, you'll see emoji suggestions as you type. You can also replace words with emojis when you're done composing a message by tapping the emoji icon. Any keywords with corresponding emojis will light up orange. Tap the word to replace it, or, when there's more than one option available, to see a popup menu of related emojis for you to choose from.
 
2) Browse the iMessage App Store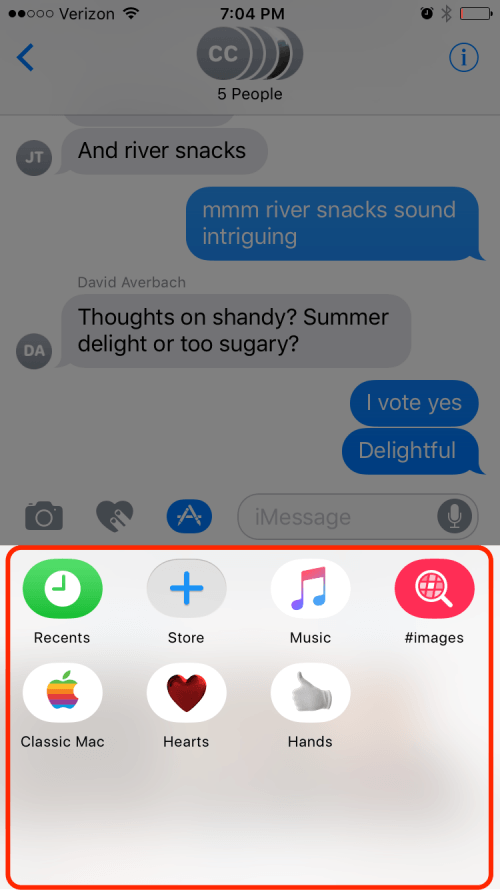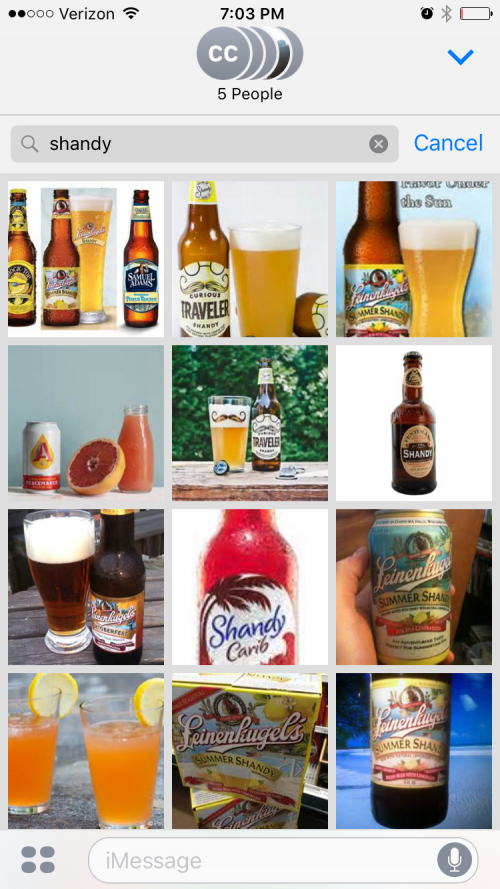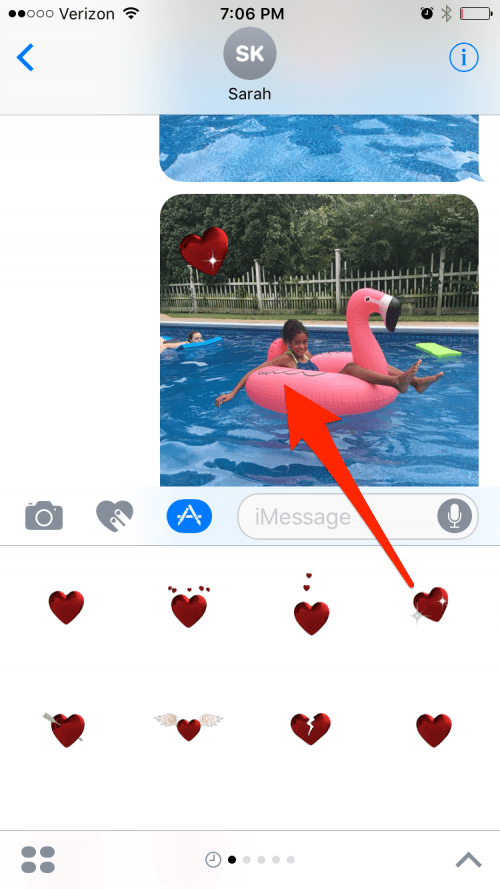 An App Store built into your Messages app means you can do a whole range of things within the app that you never could before, like send payments or play games. For now, you can only add things like stickers and GIFs to your messages, as many developers are still building this capability for their apps, but you can look forward to seeing more features in the future.
To access the iMessage App Store, tap the arrow to the left of the typing field and tap the App Store icon. Here you'll see all your recently used apps, which you can swipe through to quickly find what you want. For more options, tap the four-dot icons in the lower left corner to enter your App Drawer, which houses all your downloaded apps. You'll start out with these staples: Recents, which will display recently used apps; Store, where you can download new apps; Music for access to Apple Music; and Images, where you can add animated images (GIFs) to your texts. If you go to the Store, you'll find emoji and sticker packs from Apple, as well as a growing number of options from third-party developers who have added Messages capabilities. Sidenote: If you want all apps with Messages capabilities to automatically load in Messages, just tap the Manage menu at the top of the screen and toggle on Automatically Add Apps.
The Images feature is a step up from your third-party GIF apps in that it offers options based on recent keywords you've used. Just tap the GIF you want, and a preview of it will be added to your text field. If you want to send a sticker instead, there are two ways to go about this. You can tap a sticker to add it to your text field and press send, or you can add it to an existing text or image by dragging and dropping it (if you want to drag it to a message higher up in the thread, just drag your finger up to the status bar and your scroll will accelerate until you reach the desired message). I find this to be a fun use of stickers, but unfortunately, once you drop your sticker, you can't move or delete it if you don't like where it's placed.
 
3) React to a Text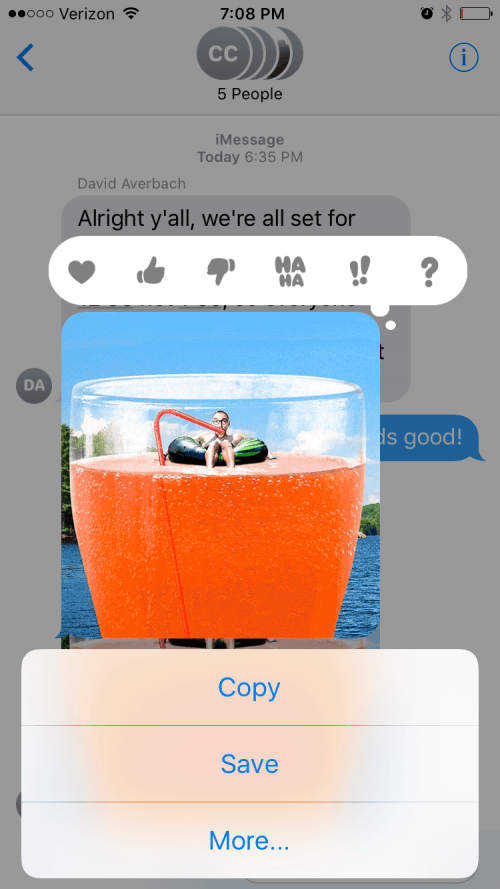 Reminiscent of a social media "Like," this feature lets you leave a quick reaction to a text or image without having to bother to type a response. Just double tap the text or image and a list of six options will appear, letting you do things like pin a heart or exclamation point  to a post.
 
4) Bubbles & Screen Effects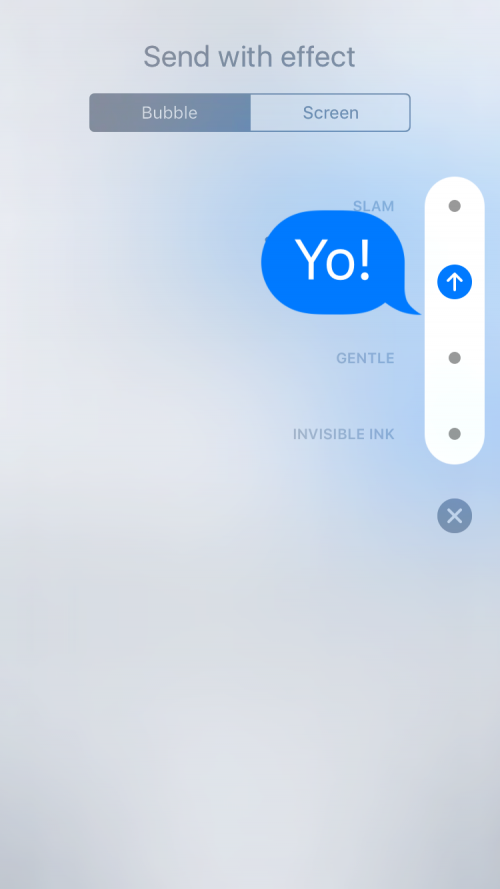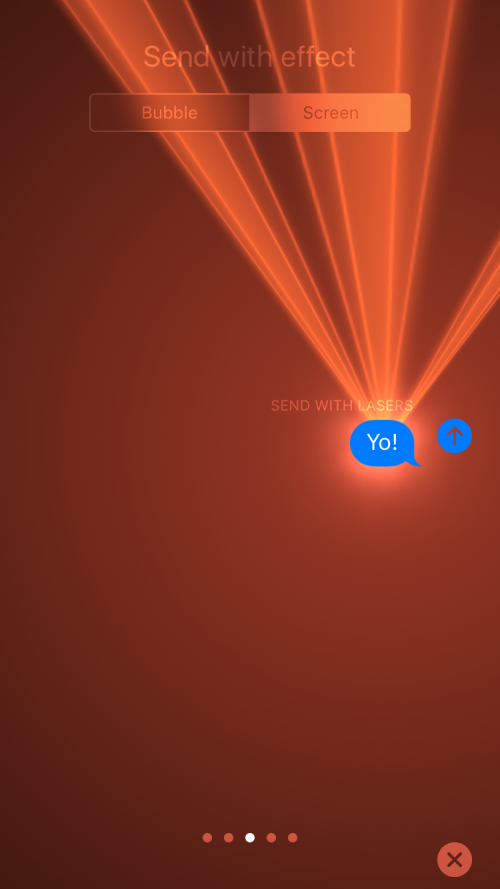 This hidden Messages feature lets you select the delivery style of your text bubbles and text screen. Is it a gimmick? Maybe. But it's fun for the novelty nonetheless. Just 3D Touch (or long press, on the iPhone 6) the send icon after composing a text and you'll see a menu called Bubble on the left that includes four text bubble effects: Invisible Ink, Loud, Gentle, and Slam. Tap each effect to preview; tap again to send. On the right, you can preview and send from a menu of Screen effects, from shooting stars to confetti. Bubble and Screen effects will play once for your recipient the first time they open it. The invisible ink feature will continue to shroud your message, only to be revealed temporarily when you give the bubble a tap.
 
5) Handwrite Messages
You can now send handwritten notes in Messages, but only when you're in landscape mode. To do this, just rotate your phone horizontally while composing a message and a squiggly icon will appear in the lower left corner of the keyboard. Tap it to reveal a white canvas that you can write a note on; along the bottom you'll see several generic pre-written messages such as "Thank you," and "I love you." Any time you write a message, it will be added to the collection of messages along the bottom of the screen. To delete any previously sent notes, long press it and tap the X icon that appears.
 
6) Send Photos and Videos
To send a photo, tap the arrow icon by the text field and then tap the camera icon. You'll see a live viewfinder on the left where you can snap a shot. Swipe to the left to choose from recently taken photos; swipe to the right for the option to open your Photo Library or to go to the Camera app to shoot video and access other camera modes. When you take or select a photo, don't worry, it won't automatically send to your recipient. Instead, it will be added to your text field, where you'll be able to tap the X in the corner to cancel out the task if you change your mind.
At this point, you can also draw on your picture before sending it. Just tap the image to go to full screen, then tap Markup in the lower left corner. You'll have the option to draw on, magnify, and type text on the image. The options are similar to Skitch (free), but arrows and boxes are sadly missing. The marked up image will not be automatically added to your Photos app. Tap the back arrow to delete your last change and tap cancel to revert back to your original. Tap on any of your markups for the option to drag and reshape on the screen.
 
7) Tailor Read Receipts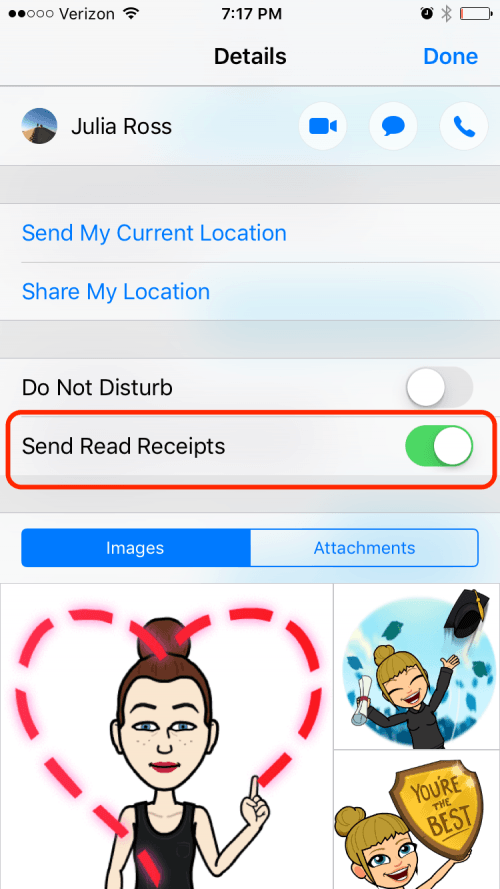 I usually recommend people turn off read receipts in Messages to avoid letting people know when you've read their text messages. While I still suggest doing this (by going to Settings > Messages > Send Read Receipts), now with iOS 10, you can turn read receipts back on for the people you want by going to the conversation, tapping the info icon, and toggling on Send Read Receipts.
 
8) Link Previews to Websites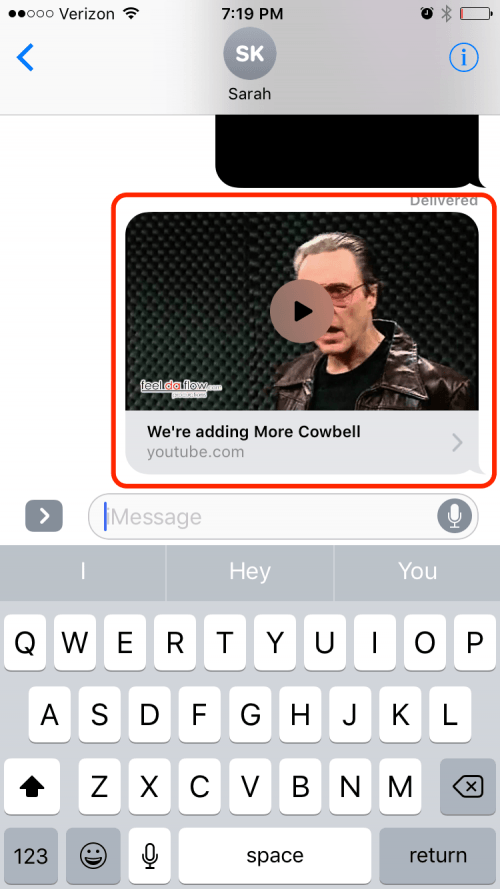 Sending links in Messages used to redirect your recipient to Safari to view the link. Now, any time you add a link or video to a text, it will create an in-app preview and allow you to view things like YouTube videos without leaving the app. This new feature offers a big boost to the Messages app, making it easy and convenient to share media with friends.

9) Digital Touch
All Apple Watch owners will recognize iOS 10's Digital Touch feature, which lets you send your heartbeat as well as hand-drawn pictures to your friends. To access Digital Touch, tap the arrow icon to the left of the text field, and tap the heart shaped icon. From there, you can tap, draw, or hold two fingers to the screen to send your heartbeat. You can also add these effects while recording a video, but keep in mind that you can only add the effects while recording and not afterward.
 
This article will be featured in the upcoming winter issue of iPhone Life magazine.