By

Amy Spitzfaden Both
Updated 08/04/2021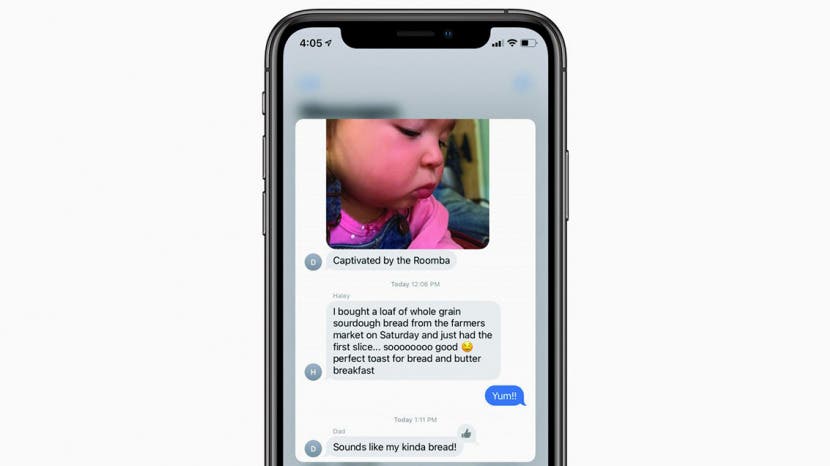 Think you know the Messages app? It's probably the app you use the most, but there may still be some iPhone texting tricks you don't know about. In this article, we'll go over some helpful tips and tricks for the Messages app.
Jump To:
Related: How to Retrieve Deleted Text Messages on Your iPhone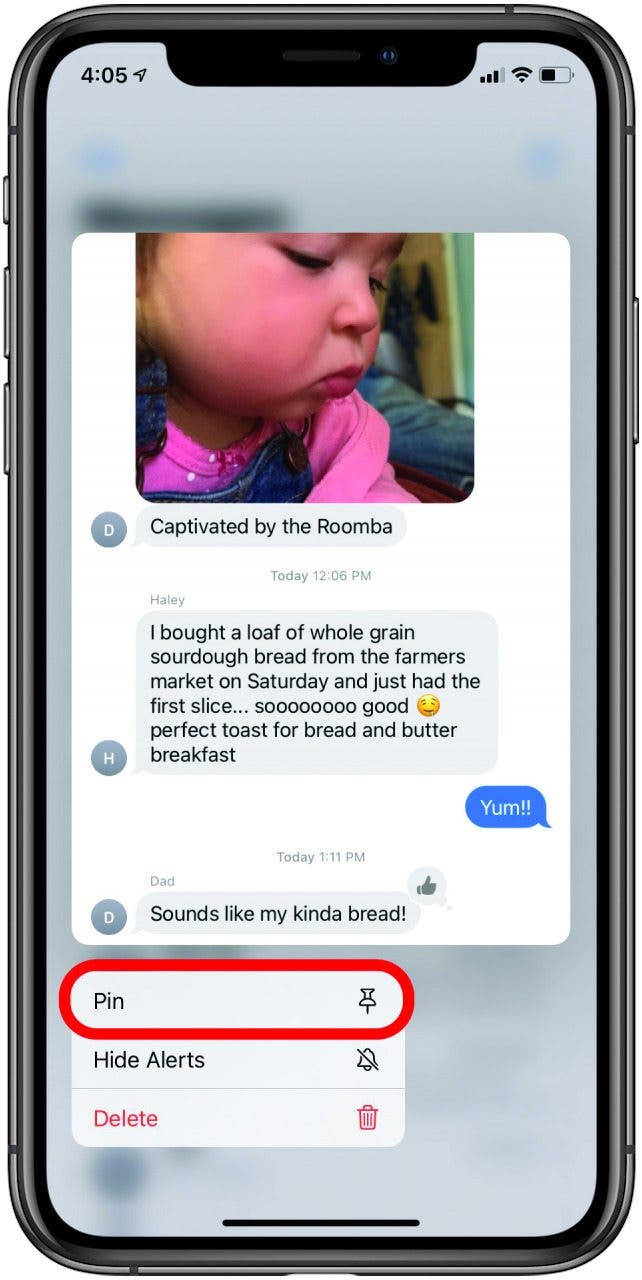 Pin Your Favorite Message Threads
Even though I text my family chat every day, it can still get bumped down on my list of messages by other texts. Starting with iOS 14, you can pin your favorite conversations to the top of your message list to keep it visible. All you have to do is long press on the conversation of your choice, whether it's a group message or a one-on-one chat, and tap Pin from the menu that comes up. You can pin many conversations, so if you have a few text chains you want easy access to, you're in luck! If you want to unpin, just long press on the pinned message, then tap Unpin.

Discover your iPhone's hidden features
Get one daily tip each day (with screenshots and clear instructions) so you can master your iPhone in just one minute a day.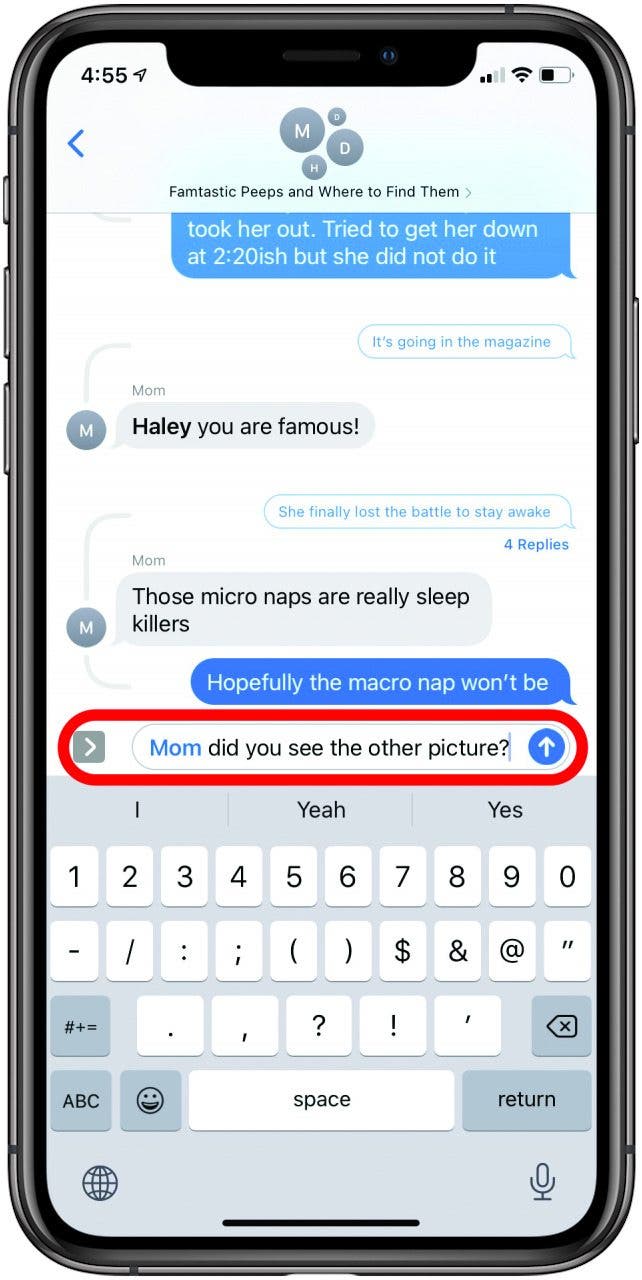 Get Someone's Attention in a Group Text by Tagging
Speaking of group texts, one common frustration is when you send a message you want a specific person to see, but it gets lost in the general messages. Now you can tag a contact in a group chat, and they will be notified that they have been mentioned. Just press the @ symbol on your keyboard followed by the name of the person you want to tag. Do not add a space after the @ symbol, and type in the person's name as it's saved in your phone. You'll know it worked when you hit space after the name and it turns blue. This only works if the person you are tagging also has an iPhone running iOS 14 or later, though. For more ways you can use tagging on your iPhone, check out our Tip of the Day newsletter.
Filter Messages from Unknown Numbers
While I like being able to see messages from unknown numbers, I don't enjoy fake texts telling me I have a UPS delivery clogging up my messages list. Fortunately, iOS 14 allows you to filter your texts so you can separate your texts from known and unknown contacts. To do this, simply go to Settings, tap Messages, then toggle Filter Unknown Senders on. In your main message screen, you'll now see Filters at the top. Tap that to select whether you want to look at All Messages, Known Senders, or Unknown Senders. Known Senders includes text threads with your saved contacts and numbers you have replied to.
Customize Group Message Threads with a Cover Photo
While we've been able to add photos to individual contacts and their text chains for some time, we can now add photos to group chats, keeping them easily identified and lots of fun. Just tap the chat name on top, tap the information icon, then tap Change Name and Photo. You can select an image from your photo collection or use one of the icons Apple suggests. Once it's set, it will appear at the top of your message thread when it's open, and next to the message thread on your main message screen. This only works if every person is using an iPhone, though, so your Android-using friends are out of luck.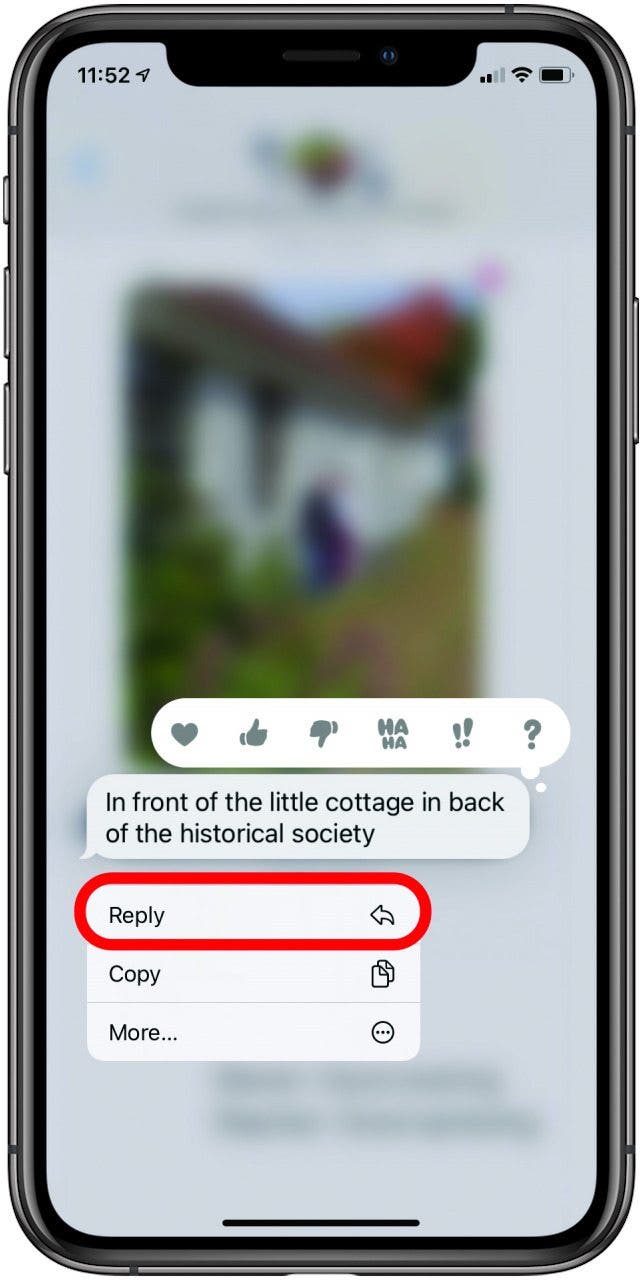 Organize Your Conversations with Inline Replies
Have you ever opened up a chat and found texts on several topics at the same time? It can be hard to clarify which subject you're replying to. Now you can use inline replies to create a thread within your group texts. Just press and hold the message to which you want to reply directly, and hit Reply. This will start a thread for that topic, which will take up the screen, blocking out the rest of the message thread. To exit this, just press a blank part of your display. To open it up again, just tap below the message where it lists the number of replies in that thread.