The iPhone's Role in Citizen Journalism
How Mobile Technology is Fueling the News Cycle
T
They say a picture is worth a thousand words; sometimes, a picture can call words into question. If it weren't for a smartphone video, few would have believed the threats made by a police officer to a group of teenage boys on March 18 in South Minneapolis. In a 30-second clip captured by 17-year-old Hamza Jeylani, you can hear an officer saying: "Plain and simple, if you f--- with me, I'll break your legs before you get a chance to run.
"People of color take the brunt of police brutality. This is a huge problem for our country, and it has been for many years. The difference is that we can see the problem now."
I'm being honest, I don't screw around." The police proceeded to handcuff and arrest the four young men. When Jeylani asked why he was being arrested, the officer answered: "Because I feel like arresting you."  
During an interview with communications director for the American Civil Liberties Union of Minnesota Jana Kooren, the boys, who were all of Somali descent, said they felt strongly that they had been racially profiled.
"They didn't feel this would have happened to someone affluent in the suburbs," said Kooren. "To hear an officer be so viscerally hateful to young black boys who had done nothing wrong is very disheartening." 
As a result of the video, the arrest made national headlines, the Minneapolis Police Department is in the midst of an internal investigation, the offending police officer Rod Webber is on administrative leave, and the Council for Islamic-American Relations has requested that the Justice Department investigate the incident. "People are always more likely to believe you when can they see it," said Kooren.
This is just one example of how mobile technology can now play a role in every stage of the news cycle, from generating stories to consuming and sharing them. For the first time, mainstream media channels are looking to citizens as sources for breaking stories. In the new landscape of citizen journalism, it's worth examining the ways in which mobile technology has changed how we learn about the world.
The Power of the Video Clip
An unarmed black man is killed at the hands of a white police officer—this is an uncomfortably familiar story in the United States. Debra Sanchez, director of marketing for the ACLU, said these stories are in the public eye due to the ubiquity of smartphones. "People of color take the brunt of police brutality," she said. "This is a huge problem for our country, and it has been for many years. The difference is that we can see the problem now."
"Video is some of the most powerful evidence you can have."
The last year has offered a number of disturbing examples. The whole nation heard Eric Garner saying "I can't breathe" as a New York police officer held him in the chokehold that led to his death during an arrest for allegedly selling loose cigarettes. We watched an officer in North Charleston, South Carolina, gun down Walter Scott as he fled unarmed, and we saw 25-year-old Freddie Gray of Baltimore being dragged to the police van during the arrest responsible for his fatal spinal injury.
To aid in the recording of police interactions, ACLU affiliates in a handful of states have recently released Mobile Justice apps, which allow users to record and upload footage instantly to their local ACLU chapter. 
"It's really about empowering people to document police misconduct where it exists," said Sanchez. "So many people would like to deny that it exists, but it does, and we know that. It helps to have proof."
The iPhone: A Tool for Social Justice?
Police reports do not always convey the same story as a bystander's video. According to Los Angeles criminal defense attorney Peter Berlin, it's difficult to defend a case involving police officers when there's no documentary evidence, such as videos, photos, or call logs.
Because police are trained experts, Berlin said judges tend to favor police testimonies across the board. "Police are considered more trustworthy and we don't believe that is necessarily so. A police officer's word shouldn't be given more weight for common true or false statements," he said. "They're non-scientific observations."
When there's video, he said, suddenly these questions of bias become less of an issue. "Video is some of the most powerful evidence you can have," said Berlin. "If you get a police officer saying one thing and doing another on video, it goes a long way to disprove a police report."
Cellphone videos have ended many police officers' careers. A Washington State police officer resigned after a video emerged in February showing him shooting and killing an unarmed Mexican immigrant who was throwing rocks at officers. In June, an officer in McKinney, Texas, retired after teenager Brandon Brooks recorded him wrestling a 15-year-old black girl to the ground at a pool party, actions the McKinney police chief himself described as "indefensible."
Fueling the News Cycle
Today, the mainstream news channels themselves monitor social media, looking for newsworthy video from citizen journalists.
"The news cycle is really drawing on citizen journalists," said Sanchez. "Before, people might call up news stations to give a tip. Without a video, it certainly wasn't a story for TV."
Grant Stern, executive director of Photography Is Not a Crime (PINAC)—a news outlet devoted solely to publishing stories of police misconduct, says roughly 85 percent of videos published to the site are recorded with smartphones. When PINAC launched in 2007, Stern said large publications didn't take citizen journalism seriously. Now he said PINAC breaks the same stories as mainstream news channels.
"In the past, mainstream media didn't want to use smartphone videos. They would say, 'It's an unconfirmed report.' Now they've decided that the Internet exists. This is new journalism, not old."
Social Media and the Importance of Context
Smartphones not only let us record incidents, but they also play an important role in how we share stories and footage. "In order to dispense a story worldwide, you just need your phone," said Berlin. "Social media plays a huge role in the spread of information and in some cases, misinformation."
While utilizing the devices we carry at all times to increase the government's accountability is a breakthrough, it's also important to acknowledge limitations.
"Just because a story is viral doesn't mean that it's just or that facts have been checked, proven, or verified," he said.
Berlin cited last year's discredited Rolling Stones story of a brutal gang rape at University of Virginia. A review by the Columbia University Graduate School of Journalism called it "a failure that was avoidable," noting a lack of clear methodology in a changing media industry as the main cause.
Publications are struggling to maintain their integrity in a faster-than-ever news environment. Add to that our propensity to share and comment on sensationalized headlines on Twitter and Facebook without reading the story in its entirety, and misinformation can spread quickly.
"Stories can get out of control and can wind up being the farthest thing from the truth," he said.
Berlin's also concerned that people don't understand cases from a legal perspective.
"At first blush a clip might look pretty horrible," he said. "But in the law, there are certain elements that need to be proven."
According to a 1985 Supreme Court ruling in Tennessee v. Garner, an officer must have a reasonable belief that a suspect poses a significant and imminent threat to the officer or others in order to use deadly force. Knowing this sheds some light on why Ferguson, Missouri, police officer Darren Wilson, who claimed he was under attack by 18-year-old Michael Brown before he shot and killed Brown last August, was not indicted, whereas officer Michael Slager of North Charleston, who was recorded clearly shooting an unarmed Walter Scott as he ran away, was.
"People will say, 'Well here we go again, another incident just like the one before,'" said Berlin. "Everybody likes to be quick, and there is no rational discussion."
Berlin suggests that each case should be considered individually. While Sanchez agrees, she says it's equally important to see the larger picture. "Each case is different, but they do draw a narrative that shows that communities of color are disproportionately impacted by police brutality," she said. "People who deny that are trying to explain away a harsh reality."
Risk to Citizen Journalists
Taking photos or videos of the police in public places is a constitutional right protected by the First Amendment, yet citizens are often put at risk for doing so.
First, it was the Internet that turned the whole journalism industry on its head. Now, mobile technology has changed journalism once again.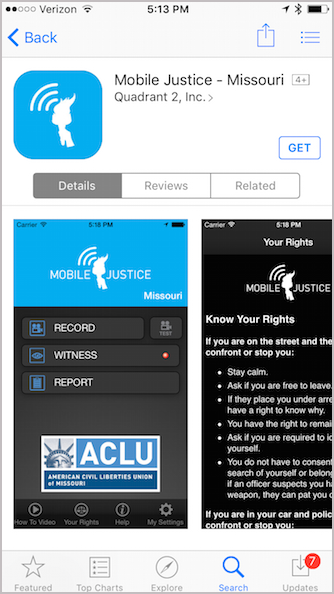 California resident Beatriz Paez plans to  file a lawsuit after a deputy U.S. marshal violently ripped her phone out of her hand while she was recording police activity on a public sidewalk. This instance and many others highlight the purpose of the ACLU's Mobile Justice apps, which immediately upload to the ACLU even if the phone is destroyed. A similar app, Cop Watch, developed by Darin Baptiste of Toronto, begins recording when you hit the app icon and instantly uploads to YouTube.
While neither app has reported high usage rates yet (many videos are of people testing it out), Sanchez said the big benefit of the app is that it helps build awareness that it is in fact legal to film the police with your smartphone. Both apps have a section that educates users as to their rights when filming the police. They explain that you may film in public places but, in most cases, not on private property. You're also prohibited from interfering with police work.
The police may not search your phone when they arrest you unless they have a warrant.  A few states (such as Florida and Nevada) have wiretapping laws that do not permit you to record a conversation that you are not a part of.
The apps' makers encourage users to use common sense when using the app, such as being careful when reaching for your phone so cops don't mistake the device for a gun. Users filming an arrest should also be sensitive to the individual's privacy, and if possible, get his or her approval to record.
Looking Forward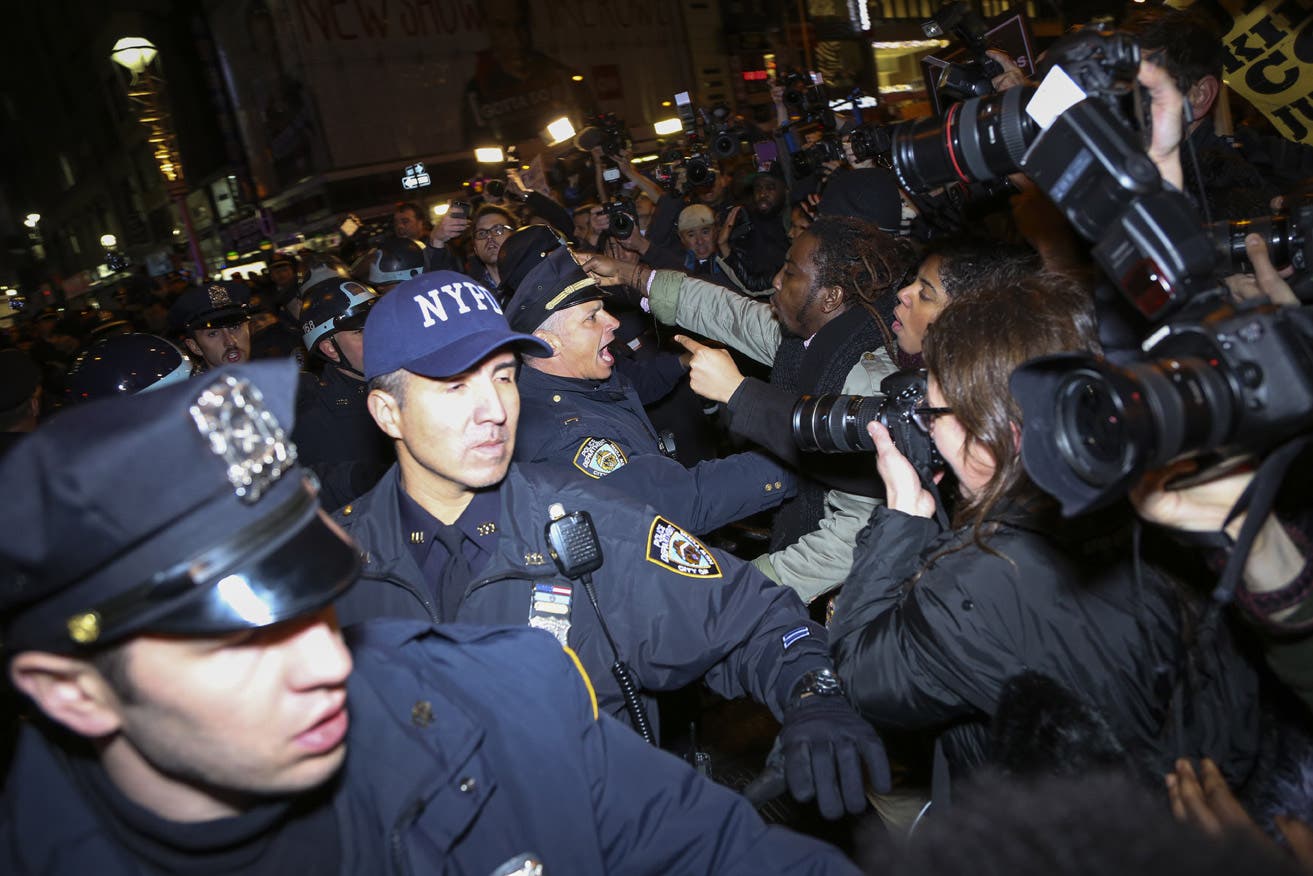 First, it was the Internet that turned the whole journalism industry on its head. Now, mobile technology has changed journalism once again.
We've entered new territory in which we must learn how to ethically interpret and share footage and find balance in the fast-paced social media landscape. Yet it's unearthing truths that we're forced to face as a society. As Kooren of the Minneapolis ACLU sees it, such videos advance the conversation in ways that weren't possible just a few years ago. "If all you're doing is arguing over whether or not there is a problem, you're not going to get to the solution," she said.
Perhaps the greatest endorsement has come from the parents of Walter Scott, who said they were thankful the video of his death was released to the public. While the video itself cannot bring justice for their son, it has hit a nerve among people in this country, allowing them to share the family's outrage and shed the denial that has been pervasive in our society for so long.