By

Olena Kagui
Mon, 01/30/2023
What to Know
There are various causes for a failed iPad app download.
Learn how to download iPad apps correctly without error messages.
Set permissions to control how and when you can download apps.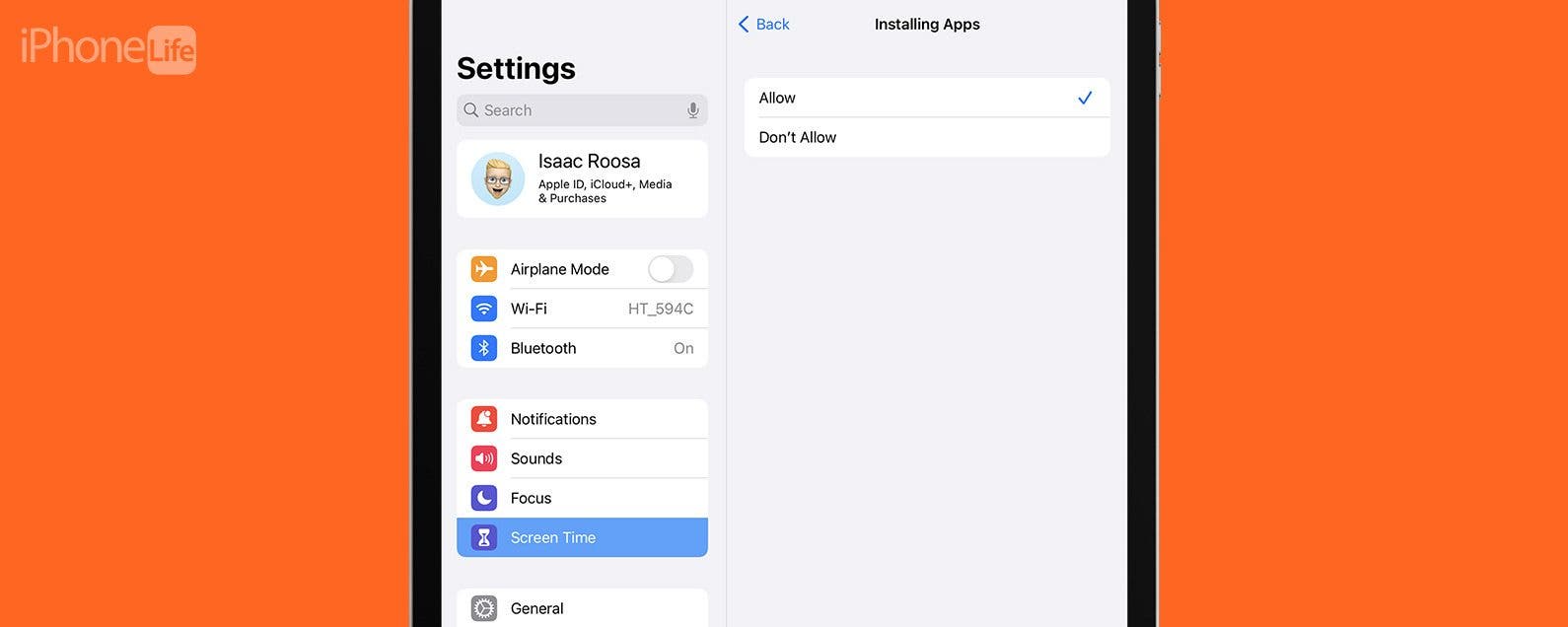 There are many reasons why you might be unable to successfully complete an iPad app download. Maybe you can't find the App Store icon on your iPad, have no storage, or have accidentally enabled settings to prevent you from installing new apps. I'll go through a simple step-by-step checklist that will fix all your iPad won't download app concerns, regardless of what caused them.
1. Locate the App Store on Your iPad
If you can't find the App Store icon on iPad, you may have accidentally deleted it, or just don't remember where it is. You can use the steps in this article to search your iPad for the App Store, or you can activate Siri by saying, "Hey Siri," or pressing and holding the Home Button or top button and saying, "open App Store." This should locate it even if you deleted it from your Home Screen. If you can't find it, try the next step.
2. App Store Not on iPad? Check Your Permissions
While it is possible to delete some built-in apps, there is no way to remove the App Store permanently, as it is essential to using your iPad. If you can't find it by using the methods mentioned in step 1, then you might have turned off your permissions for iPad app downloads. To check this and turn it off:

Discover your iPhone's hidden features
Get a daily tip (with screenshots and clear instructions) so you can master your iPhone in just one minute a day.
Open Settings.


Tap Screen Time.



Select Content & Privacy Restrictions. You may need to enter your Screen Time passcode if you or a family member have set one up.


If Content & Privacy Restrictions are toggled on (green), you'll be able to tap iTunes & App Store Purchases.



Tap Installing Apps.


Then select Allow.



While you're here, you may want to also allow Deleting Apps and In-app Purchases.


You can also select Always Require or Don't Require under REQUIRE PASSWORD if you want to make it a little harder to install or delete apps or make in-app purchases.


Once you have allowed new app downloads, you can find your App Store using step 1 and download all the apps you want!
3. Double-Check Your Wi-Fi Connection
The most common culprit if your iPad won't download apps is the lack of Wi-Fi to download the app. Sometimes because I've connected to a network that doesn't work well in the past, my device will remember it and keep trying to connect to it at the worst possible time without me even realizing it. 
Open your Control Center by swiping down from the top right corner.


Make sure your Wi-Fi is on (blue).



Tap and hold to see what network you are connected to. If you are using the wrong network, tap and hold again until you see other Wi-Fi options.

 
If you realize you were connected to the wrong network, I recommend opening your Wi-Fi Settings, tapping the "i" next to the network name. Then either tapping Forget This Network or toggling off Auto-Join; that way, your iPad won't connect to it again without you knowing. If you believe that the persisting issue is Wi-Fi related, you can try to reset your network settings.
4. Double-Check Your Storage
If lack of storage is the problem, you should get a notification about not having enough space on your device to download. However, you can double-check it:
Open Settings and tap General.


Select iPad Storage.



Here you'll see if you have enough storage to download new apps.

 
If you want tips on easy ways to free up storage, read this.
5. Check Your Settings to Allow Download Using Data (If You Have It)
If you are out and about without access to Wi-Fi, you may be unable to download an app due to a setting that helps protect your data from running out. 
Open Settings and tap App Store.


Toggle on Automatic Downloads so that it is green.



You can also tap App Downloads and select Always Allow if you have unlimited data. Or you can select Ask if Over 200 MB so that you can still download any app but have to explicitly allow it if it exceeds 200 MB (which could completely drain your data if you have limits).


6. Force Restart Your iPad
A lot of simple glitches can be fixed by doing a force restart. If you have a new iPad Pro or iPad Mini, or any iPad without a Home button:
Press the volume up button and quickly release it.


Press the volume down button and quickly release it.



Press and hold the top button until the Apple logo appears, then release the button.


If you have an iPad with a Home Button or a model that doesn't allow the steps above to work, read this article on how to reboot any model iPad using force restart.
7. Make Sure Your Date & Time Are Set Automatically
Before you move on to troubleshooting steps that take more time and effort, try this little trick. There are several problems that can occur on your iPad if you manually set your date and time. Here's how to make it automatic:
Open Settings and tap General.


Select Date and Time.



Make sure Set Automatically is toggled on.


If it is toggled on and the location next to Time Zone is not correct, try toggling Set Automatically off, then back on again.



If it is still wrong, you may want to try restarting your iPad.


8. Make Sure Your iPad is Updated to the Latest iPadOS
Random glitches are not uncommon when using tech, but keeping your device up to date can help prevent known software problems that may be preventing you from downloading apps. 
You can check if your iPad is up to date by selecting General in Settings and tapping Software Update.


Here you will see if your iPad is up to date. If not, update your iPad and try again.


If you have trouble updating your iPad, check out our iPad won't update article for troubleshooting tips.
9. Reset All Settings on iPad
If none of the above tips helped, you might need to do something more drastic, like resetting all your iPad settings to the factory default. This will eliminate any bugs caused by your settings, but will require you to customize them all over again. I like to avoid this, even though it doesn't affect your data, because I have customized settings on my devices. However, if you deem this to be your last try before contacting Apple Support, you can do this by:
Open Settings and tap General.


Scroll down and select Transfer or Reset iPad.



Tap Reset and follow the on-screen directions.


I hope that these steps have solved your particular problem preventing your iPad app download. Feel free to comment below and let us know which tip worked for you! These steps will also work on an iPhone. Next, learn what to do if your
apps have been downloaded but are not showing on your device
.