By

Conner Carey
Wed, 06/28/2017
With the iOS 11 public beta officially available, brave testers everywhere can now use the new features designed to bring the iPad a huge step closer to being a laptop replacement. The major changes we're going to take a look at are the new dock, the Files app, drag & drop, new multitasking features, and a couple other stand-out features we're excited about. This isn't an opinion piece, so I'm not going to definitively tell you whether or not I think these features will make your iPad as functional as your MacBook. I think that's far too individual of a decision; instead, I'll lay out what each new iPad with iOS 11 beta feature can do and let you decide for yourself.
Related: Poll: With iOS 11, Can the iPad Pro Finally Replace Your Laptop?
It's good to note that all of the features presented below are subject to change. This is iOS 11 beta, so Apple could make some features significantly better before the public release or even choose to scrap a feature altogether if it just isn't working out. That being said, it's mostly safe to say that the general changes featured below will be available on every compatible iPad this fall.
New Dock
Welcome to endless options. Where there once was a stagnant dock with but four apps, now there is a toolbar of awesome. Okay, so that's definitely an opinion. But I think you'd be hard-pressed to find someone who disagrees.
Pre iOS 11, your dock held four apps that could be exchanged for others. But in order to switch them out, you needed to tap and hold an app until they all started wiggling. No more! Using the new drag & drop feature (we'll discuss more on this below), you can drag apps out of and into the dock with a short tap and hold (2 seconds). As soon as the app gets just a big larger, you can move it wherever you'd like, including into the dock. And you can fit a whole lots of apps into your dock, up to 13. The more apps you stuff in your dock, the smaller the app icons appear — just like on MacBook.
Another small but helpful feature is the recently opened apps section of your dock. The rightmost three apps are the last three apps you opened, which should make your general workflow smoother.
Lastly, the new iOS 11 dock is available within apps. So let's say you open Notes but need to check Safari real quick. You can swipe up from the bottom of the screen from within the Notes app to access any of the apps on your dock, as well as the three most recent apps hanging out there. 
Files App
The Files app is a big part of what makes iOS 11 on iPad so functional. With iOS 10, we got iCloud Drive, which allowed iCloud users to easily store and share content across their devices. But the Files app is a step above, because it's open to third-party apps such as Dropbox and Google Drive. While some users might be concerned about privacy; for most people, the functionality of this far outweighs the risk.
I quickly noticed that the Files app is far more user-friendly than iCloud Drive ever was. When you open the Files app, you see a sidebar that gives you access to the Locations in which your files are stored. Right now, I see iCloud Drive and On My iPad, but once I've integrated with Google Drive or Dropbox, I'll be able to see those options on the sidebar too.
On the sidebar, you can also get an idea of how you're able to organize files that are in the Files app. There's a spot for Favorites and beneath that, Tags. Of course, this is where being able to drag & drop comes into play again. I'm so used to having to access a menu, select, and move something. It's easy to forget I can simply drag a file and drop in the correct folder.
On the surface, the Files app is pretty straightforward. It allows you to store, share, and organize yours files across all devices, including iPad, iPhone, and MacBook. I think we'll certainly see changes and improvements as the iOS 11 betas continue to roll out. But the Files app, overall, makes the iPad a better productivity device. 
Drag & Drop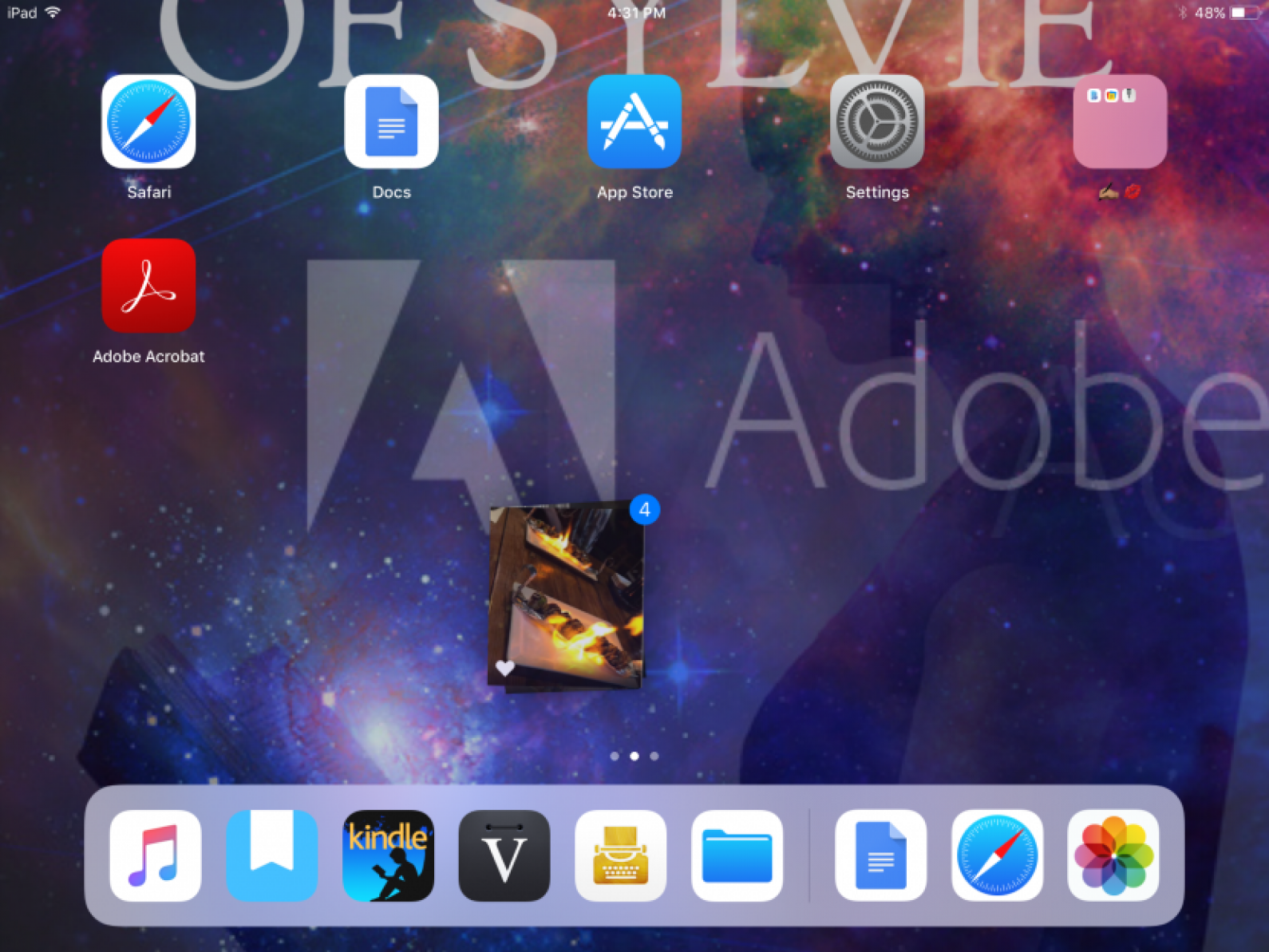 Drag & drop on iPad is very intuitive; so much so that's hard to believe we've waited this long to get it. Whether you're moving app icons, dragging a file, or selecting photos, drag & drop is fantastic. And, of course, for the most part it's about the same as dragging and dropping with your mouse on the computer...except for one major part: iOS 11 on iPad allows you to drag & drop with two hands! While that may not sound monumental, as soon as you try it out you'll realize it definitely is. With this, you're able to drag something with one hand while still using all the iPad functions with the other. For example, if you open the Photos app, select one photo and drag it just a little to the side. With your other hand, start tapping on photos. Now you've select a bundle of photos that you can do what you want with. You can even click your Home button, open a different app, and drop the photos in that app to import them.
Multitasking
While Split View and Slide Over are mostly the same, there are some major caveats. For one, Split View, in my opinion, is currently useless as I can't work in one window while viewing my Split View window. I can view both, but if I want to type in a documents while viewing an article, I'm not able to do that now.
Slide Over, on the other hand, has improved its functionality allowing you up to three simultaneously working apps.
The best part of iOS 11 iPad multitasking for either is the ability to easily open an app in Split View by simply dragging it from your doc to the right or left side of your screen.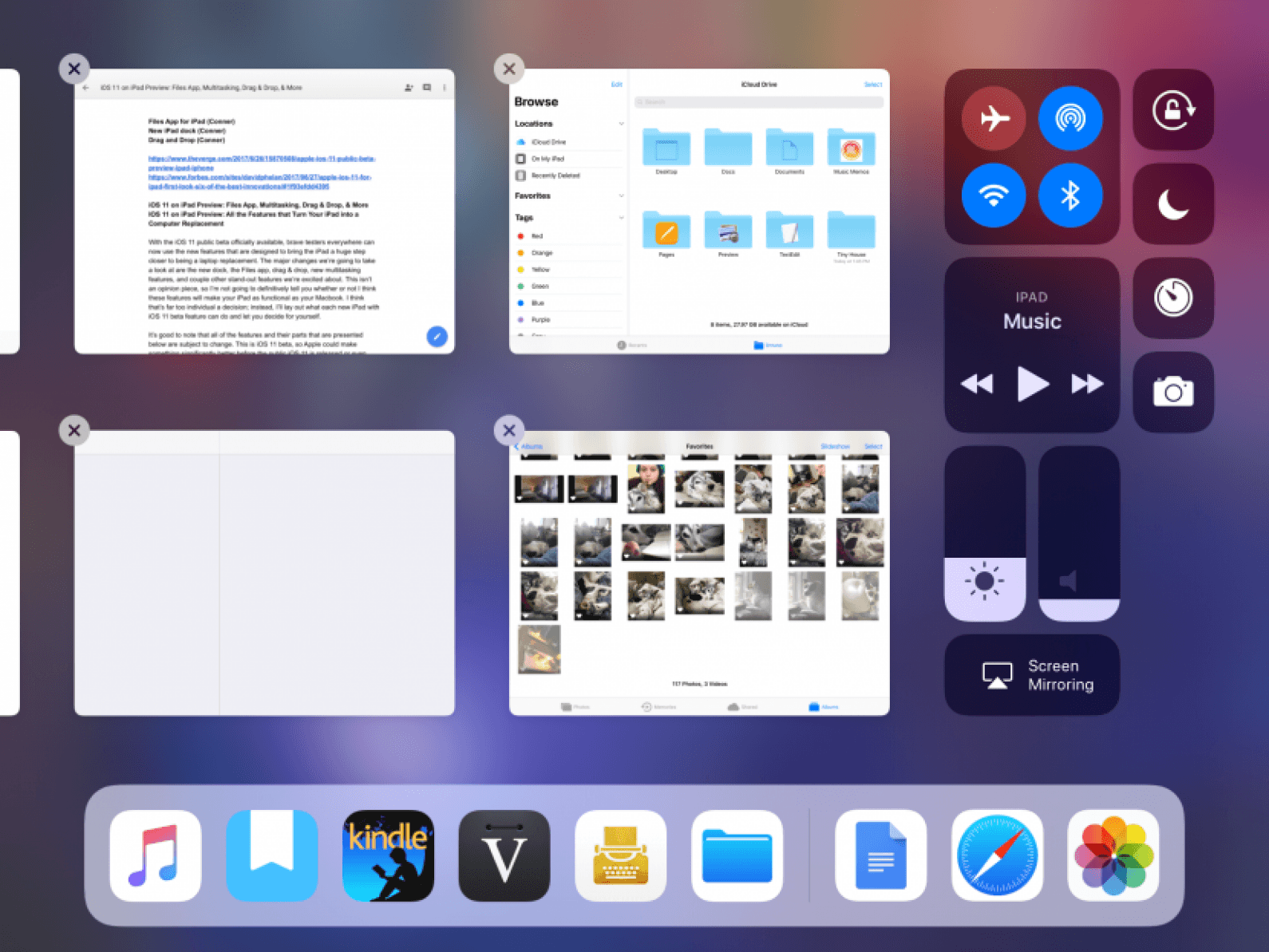 Aside from those two features, there's one huge change when multitasking on your iPad and it's the app switcher. It used to be that the app switcher on iPad looked just like it does on iPhone, which is a screen with each open app and the ability to swipe through them like index cards. But with iOS 11, the app switcher is a tour de force of functionality. First, there's the redesigned Control Center happily hanging out. Next to that, you see each open app laid out in a grid. If you're dragging and dropping files or photos, you can open the app switcher and drag them to another app that way. Overall, it does a great job of utilizing the screen real estate provided by the larger iPad screen.
More Favorites
Of course, there's a lot we couldn't't cover here. It's a lot of information and there's always going to be a learning curve with these sorts of things. Which is why I highly recommend signing up for our daily tips. When it's time for iOS 11 to officially release to the public, we'll have daily tips on all the new features. Which is a great way to break down all of that new info into bite-sized, manageable pieces.
Some other great features iOS 11 has provided iPad include being able to take a screenshot and quickly mark it up in a single tap and scanning documents with angle orientation correction that makes scanning and signing documents on the iPad seamless.
A Laptop Replacement? Depends.
While all of these features bring the iPad much closer to being a MacBook replacement, it still won't be functional enough for everyone. The Files app, for example, while able to work with a lot of files known to the average person, doesn't't support system files and other files necessary for certain professions. There are quite a few smaller drawbacks (the ability to download software, for one) that won't affect most people but will be an absolute deal-breaker for those that need it.
Regardless of where you stand on this debate, it's clear Apple is dedicated to seeing the iPad through with all the vision Apple is known for. Despite a lack of jubilance from many iPad users, Apple chose to invest a lot of time, energy, and money into developing specific features for iOS 11 that will put the iPad in a new, better position moving forward. Although I've had my iPad Air for quite some time, I've used it on and off since getting it. And while I'm still skeptical of the iPad as a laptop replacement, these features make a huge step in the right direction. It lets me know Apple is actually listening to what users are saying we need to make the iPad what Apple's been saying it is for years.