By

Conner Carey
Updated 02/22/2018

With iOS 11, you don't need an iPhone screen recorder—it's built-in! We'll show you how to record your iPhone screen on iOS 11. But for those running iOS 10 and earlier, we'll also cover how you can record your iPhone screen in two different ways. We do a lot of screen recording at iPhone Life for our Insider program. Before iOS 11, learning how to record your iPhone screen meant either finding a screen capture app or plugging your iPhone into a computer with a software that can screen record. But with iOS 11 on iPhone, you can record your screen with nothing more than the built-in function. There are plenty of iPhone screen recorders on the market if you don't mind spending some money, but we'll cover your free options here. Here's how to screen record on iOS 11, as well as how to use free screen recorders for those running iOS 10 and earlier.
Related: How to Screen Record with Sound on iPhone (iOS 11 or Later)
By the way, if you're looking for how to record your iPad screen, the options below will work for you as well and the process is generally the same. iOS 11 makes screen recording on iPhone incredibly easy, so we'll cover that first. If you aren't running iOS 11 or if you prefer to use a screen recorder, we've got two other free options that will work just as well. Which you use will depend largely on personal use and preference; both alternative options are screen recording softwares that are available for both PC and Mac. It's also good to note that as long as your iPhone is running iOS 11, you can use the built-in iPhone screen recorder. This means you can record your screen on iPhone 7 just as well and easily as on iPhone X—your model of iPhone shouldn't matter unless it's too old to run iOS 11. Okay, here's how to record your iPhone screen on iOS 11.
How to Record Screen on an iPhone with iOS 11
First, we need to add the screen recording function to your Control Center. To do this:
Open the Settings app and tap Control Center.
Select Customize Controls.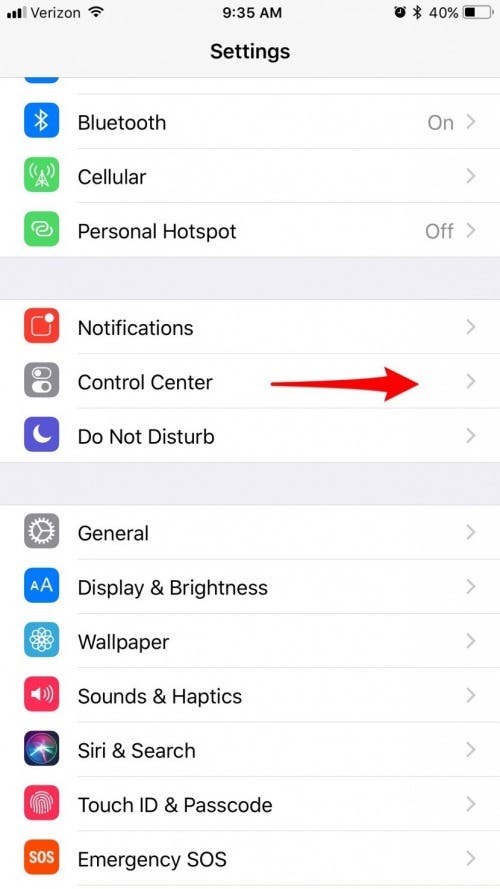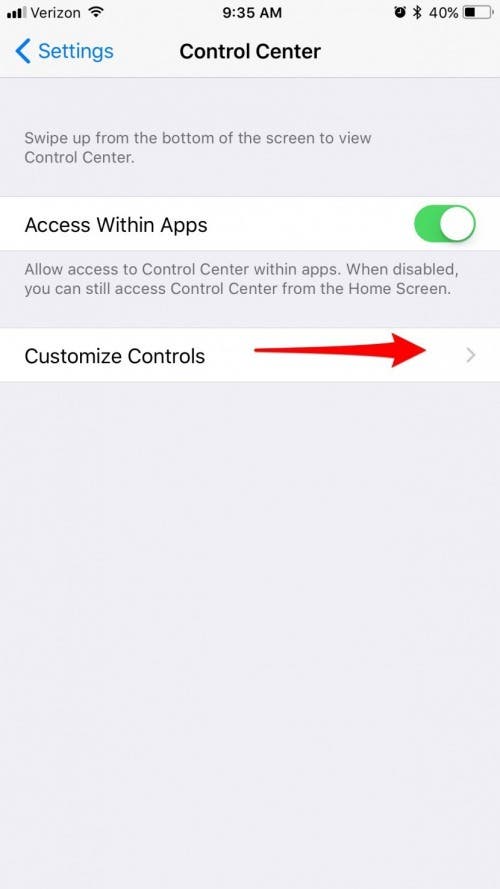 Scroll down and find Screen Recording. Tap the green plus sign to add it to your Control Center.
Now, return to Home screen and open Control Center.
Tap the Screen Recording icon, which looks like two concentric circles.
You're recording!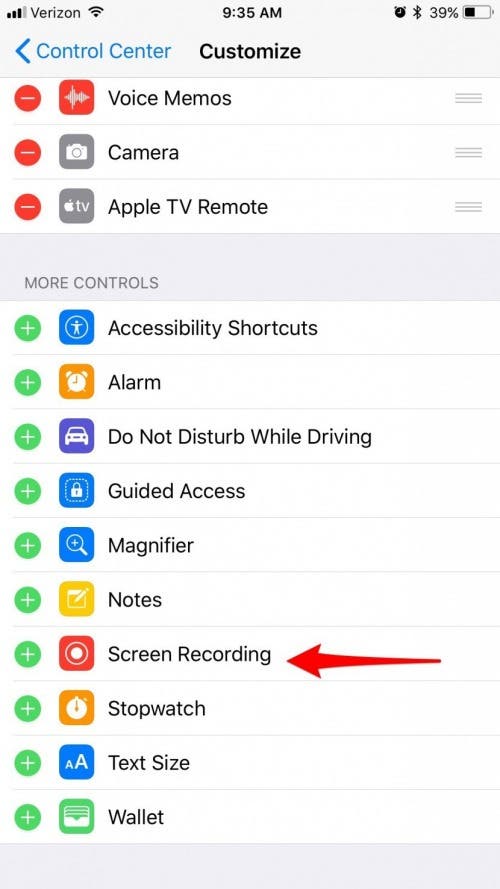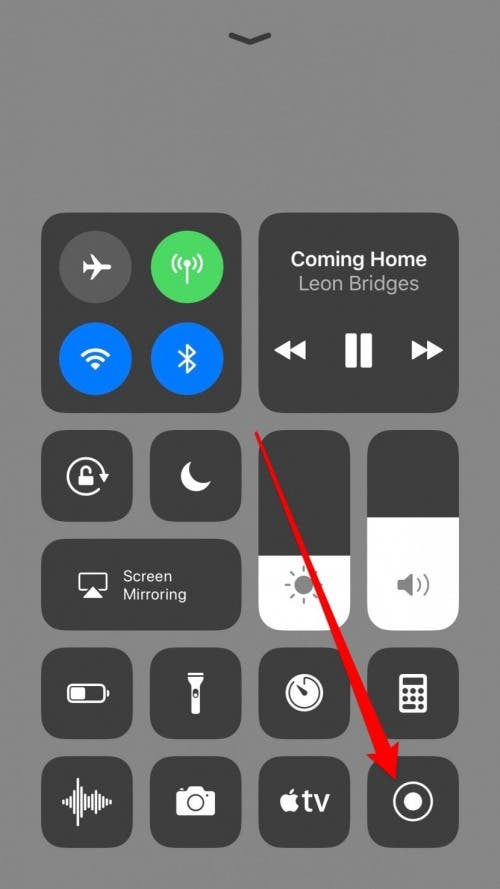 Close Control Center. Now go do whatever you want on your iPhone. Your iPhone screen is recording.
When you're done recording, open Control Center up again and tap the icon again. It will be highlighted white and red when recording.
When you stop recording, you'll receive a notification that the video has been saved to your Photos.
Open Photos to view your new screen recording.
You can tap Edit in the upper right corner to easily cut off the beginning and ending of your recording if desired.
*Pro-Tip: Want to record your iPhone screen with audio? 3D Touch or long press the Screen Recording icon in Control Center to see more options such as: Start Broadcast & Microphone Audio On/Off.
How to Screen Capture an iPhone with iOS 10 or Earlier (Quicktime)
Plug your iPhone into a computer using your USB-to-Lightning cable.
Open Quicktime. If you don't already have it installed, you can download it for Mac here or PC here, though there are some PC limitations. If you have any trouble, use X-Mirage instead.  
Once Quicktime is open and your iPhone or iPad is plugged into your computer, look to the menu bar at the very top of your screen.
Click File, and select New Movie Recording (NOT New Screen Recording.) This will open the recording box.
Tap the down arrow next to the big red Record button. Under Camera, click on your device. In this case, I'm selecting Conner's iPhone 7 Plus. You can also select the Microphone input if needed.
Tap the red Record button to begin recording your iPhone screen.
Do what you need to do on your iPhone to record. When you're done, return to your computer and tap the Record button to stop recording.
You can then preview what you just recorded by tapping the Play button. If you're satisfied, click File and Save.
Since I selected my iPhone's microphone as the input too, I was able to record a clip of the song I was listening to, which is pretty cool. That means you can record any audio playing on iPhone when recording your screen with Quicktime.
How to Screen Capture an iPhone with iOS 10 or Earlier (X-Mirage).
It's good to note again that X-Mirage is free for 15 days, afterwhich you'll need to pay a fee to continue using it.
Once you've downloaded X-Mirage, open the application on your computer.
On your iPhone, swipe up to open Control Center.
Select Screen Mirroring.
You'll see X-Mirage and your computer's name. Tap on it.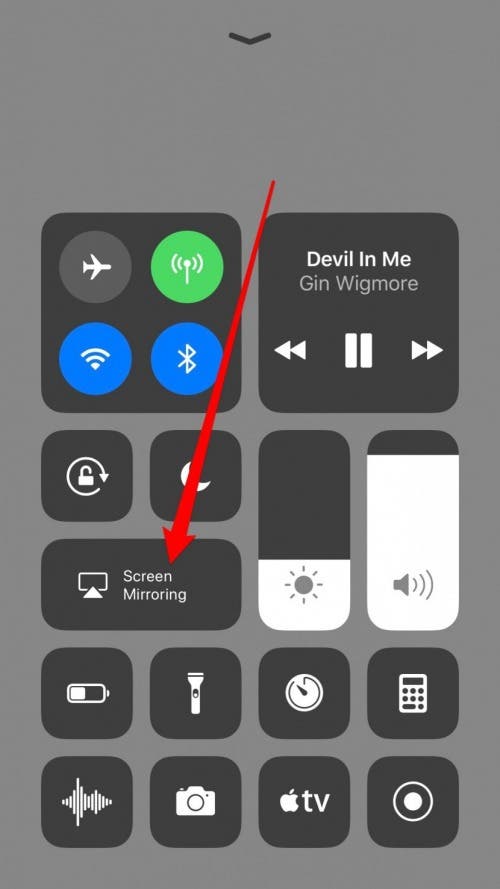 Your audio and image will mirror to your computer. Tap the big red record button to begin recording your screen.
Go back to your device and do what you need to do while your iPhone screen is being recorded.
When you're done, tap on the same button in X-Mirage that now has a Stop button.
A box will pop up with all of your screen capture information. Tap Export.
Once it exports, the file of your screen recording will pop up.
Tap the Play button to preview it.
If you're satisfied, click File at the very top and select Save.
Of the three options we've gone over, recording my iPhone screen with Quicktime was my favorite, despite being the older method. While being able to screen record directly on iPhone with iOS 11 will be ideal for most, what method you use is totally up to you.