By

Tamlin Day
Fri, 10/13/2017
Anxiety is the most common mental health issue in the United States, affecting 18 percent of the population, according to the National Institute of Mental Health. Even those of us who don't deal with clinical anxiety still experience periods of abnormal stress that negatively affects our lives. A study by the American Psychological Association shows that we've become a nation of "constant checkers;" not only are we connected to our friends and family, we are one quick call or text away from work. In a society in which we're all tuned in to our devices, it's important for us to find ways to turn tech into a helper instead of a stressor. The apps in this article have all been approved and recommended by clinicians, patients, and casual users to help you alleviate stress, improve self-care, and safe-guard your mental health.
Related: Do the Impossible: Best Free Apps for Keeping Your New Year's Resolutions
Apps to Make You Happy & Relieve Stress
Creative and self-improvement apps provide a positive outlet in the midst of stressful workdays or family get-togethers. Happify ($11.99/month) aims to improve your life with guided activities focusing on everything from mindfulness to leadership, rewards for completed goals, and a community working toward personal growth. While you can access limited content for free, I highly recommend paying for a monthly subscription so you'll always have a new life-coaching goal to follow. Seven ($4.99/month) offers seven-minute workouts you can do at home, at work, or on the go. Basic full-body workouts are free, or you can pay a monthly or yearly subscription for the full exercise library that includes target areas like legs or arms. Colorfy (free) brings the adult coloring phenomenon to your iPhone and iPad. I use this app at family gatherings, on public transit, and other social situations where I prefer having something to keep my hands busy. You can color the basic library for free or pay a weekly fee for new pages every week. And if you enjoy writing, Momento (free) provides an immersive journaling experience for you to record all your thoughts, favorite activities, and daily trials.
Some of us have clinical mental health issues that complicate our daily routines. For people with social anxiety or generalized anxiety disorder, crowds and social interactions can lead to panic attacks in public spaces. White Noise ($0.99) lets you curate playlists of soothing sounds. You can mix looped tracks of different sounds into a single track that you find appealing. You can also adjust the noise level, bass, and tenor of each sound. White Noise provides an easy escape from the clamor of the day.
If you try the previously mentioned tips and still find yourself reaching peak anxiety before lunchtime, download Essence (free) and take a deep breath. This free app has easy-to-follow graphics and soothing tones to guide you through the 4-7-8 breathing technique. In this technique, you breathe in for four seconds, hold for seven, and exhale for eight. This technique slows your heart rate and prepares the body for sleep.
Doing a quick workout, taking a break to breathe, and pursuing creative outlets will help you maintain a healthy mindset during your normal workday routine.
Tracking Your Mental & Emotional Wellbeing
Some issues go beyond feeling sad and dealing with basic life stresses. If you're dealing with clinical anxiety, mood disorders, depression, PTSD, or other chronic mental health issues, then you probably need more targeted solutions. Therapists often recommend journaling and keeping logs of symptoms either for diagnostic purposes or to help adjust medication levels. The apps in this section are recommended for use alongside therapy as a way to log your symptoms, your progress, and to give positive reinforcement as well as achievable goals.
For patients with mood disorders, the App Store offers MoodKit ($4.99) and MoodNotes ($3.99). Combining diagnostic criteria with journaling tools, cognitive behavioral exercises, and customizable goals for you to set with your therapist, these apps work well in a therapeutic setting. You can track your progress with skills like anger management, coping with change, and responses to external or internal stressors.
Recovering from an eating disorder, managing your PTSD, or dealing with generalized anxiety disorder? There's an app for that too. iCBT ($5.99) lets you track your negative thoughts and feelings as well as identify cognitive distortions for you to share with your therapist. Recovery Record (free) specifically deals with eating disorder meal tracking. For PTSD, there's PTSD Coach (free), an app by the US Department of Veterans Affairs. PTSD Coach has a symptom log as well as exercises for symptom management.
For a general cognitive behavioral coaching tool, check out Pacifica (free). Along with tracking your symptoms and recording your journey via text, Pacifica offers a voice recorder journal for a personalized experience. For an additional monthly fee of $3.99, you and your therapist can customize exercises and weekly goals for you to focus on between sessions. To track your anxiety, download Worry Watch ($1.99), an app that lets you track the length and frequency of anxiety attacks.
Any of these tools can improve your therapeutic experience by showing your progress, creating achievable goals between you and your therapist, or helping you establish treatment protocols for necessary medications.
Medication Trackers & Crisis Management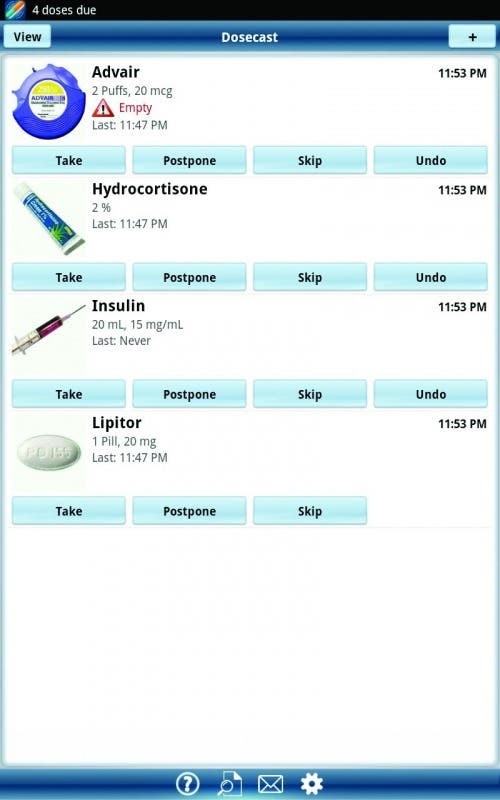 Remembering to take medications is hard for everyone, but mental health and the side effects of related medications can add to overall stress levels when you're trying to stay healthy. The apps in this section can help you stay on track, easily share your emergency contacts, and communicate your medical needs if you go nonverbal.
Medisafe Pill Reminder (free) lets you schedule your medications as well as record any side effects and it sends reminders to your smartwatch. DoseCast ($2.99/month) and MedCoach (free) will give you refill reminders and sync your records with your doctor so that you can keep your pharmacy up to date and stay on top of your own treatment plan.
Similar to Apple's free Medical ID feature in the Health app, Emergency Contact (free) puts your doctor's contact information as well as your basic health concerns on your Lock screen in case of emergency. You can customize the display to meet your privacy and medical needs. Emergency Contact even lets you include the numbers for family or friends you've designated from your contact list.
For patients who go nonverbal but are still be able to communicate, look into Emergency Chat (free). Created by an app developer with Asperger's Syndrome, Emergency Chat puts your crisis needs in the hands of people who want to help. You can add your medical status to the welcome screen ahead of time so that you don't have to worry about explaining what you need mid-crisis. The app also has a text-based chat function, which you can use with another person by passing the phone back and forth.
Feel Good Apps & Mental Health
If you've spent any time on the App Store, then you know that apps claiming to promote mental health are a dime a dozen. It's easy to create colorful graphics, add cheerful music, and toss another feel-good app into the market. That's why I've selected apps by reading clinician recommendations and patient reviews, and I've taken into account cognitive behavioral therapy techniques. The apps I've shared here won't solve any problems overnight, but they're good tools to help manage symptoms and move your mental health outlook in a positive direction.