By

Jim Karpen
Thu, 03/16/2017
It's that time of year again — when everyone's attention shifts to the NCAA college basketball national championship tournament, otherwise known as NCAA March Madness. The action begins on March 16. Your iPhone, iPad, Apple TV, and Apple Watch will be key to enjoying March Madness, from watching NCAA livestream games and tracking stats to filling out your brackets. Here are my picks for the best March Madness iPad and iPhone apps. Additionally some of these March Madness apps also work with Apple TV, Apple Watch, and iWatch.
Related: How to Watch March Madness Live Via the Sling TV App
NCAA March Madness Live
Also available as Apple TV, Apple Watch, and iMessage apps. The official NCAA app, NCAA March Madness Live, lets you livestream every March Madness game to your iPhone, iPad, or iPod touch—for free. You can stream all the March Madness games broadcast by CBS, but for those broadcast by TBS, TNT, and truTV, you'll need to log into your cable account in order to stream the March Madness games. But even for these latter games you get a three-hour temporary preview before being required to log in. Also available is a live radio broadcast of every game. In addition, you can use the app to create your own bracket as part of the Capital One NCAA March Madness Bracket Challenge. Plus, you can follow up-to-the-minute scores and stats, and peruse the team pages. Notifications are available for upsets, overtimes, close games, and your favorite teams. 
CBS Sports - Bracket Games, Tournament Challenge, March Madness
Also available as Apple TV and Apple Watch apps. CBS Sports (free) covers a range of sports but is also great for March Madness. It includes a Bracket Manager for creating a bracket group with others and a Bracket Challenge that lets you fill out up to three brackets and compete for a chance to win prizes, including a trip to the 2018 NCAA Final Four. The Round by Round brackets feature lets you create a new bracket before each round and compete for prizes. You can also use the app for the latest scores, news, and tweets, as well as to receive notifications. 
Yahoo Sports
Also available as Apple TV and iMessage apps. Yahoo Sports (free) allows you to follow every last detail of the NCAA March Madness games. Customize your notifications to receive play-by-play updates on the teams you're following along with everything you need to know about schedule, stats, and more.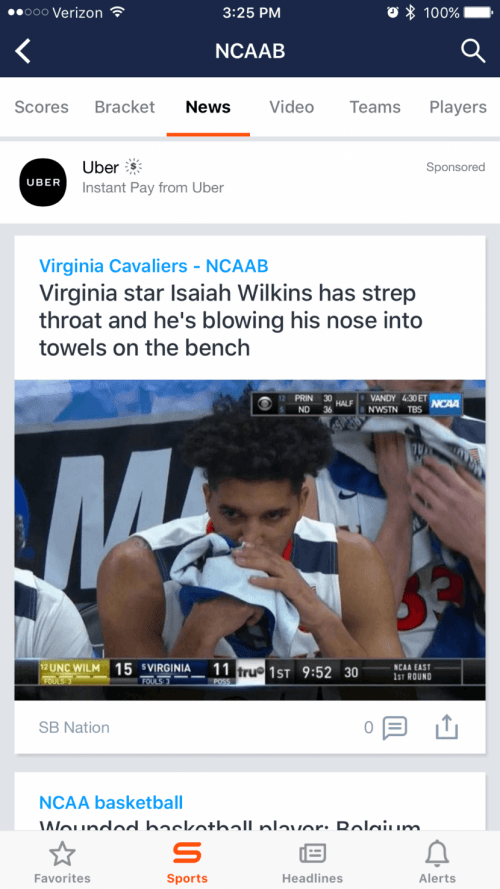 ESPN Tournament Challenge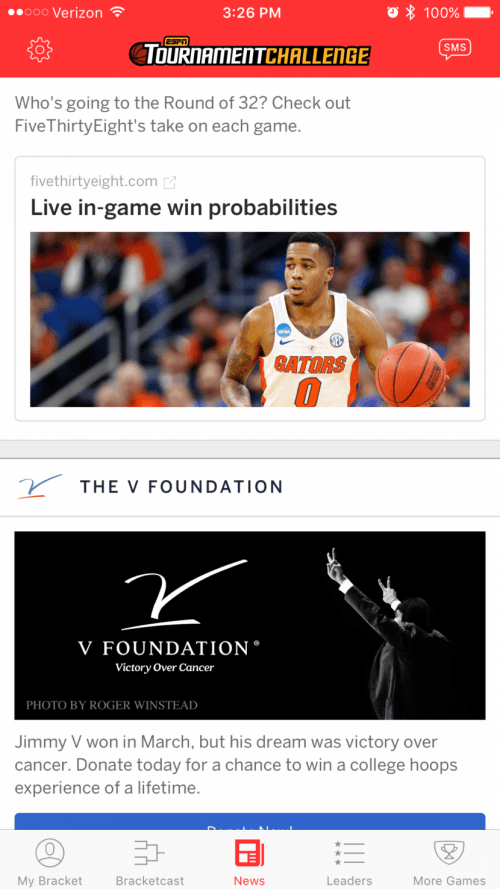 ESPN Tournament Challenge  (free) claims to be the number-one bracket app — plus it offers a chance to win $10,000 and a trip to Maui if you make the best picks. The app also lets you start a bracket group and invite your friends. You can create up to 10 brackets.
theScore
Also available as an Apple Watch app. theScore covers all sports, including March Madness. This is a top choice for following real-time scores if you're unable to watch the game live. It offers customizable scores, stats, news, alerts, and more for the iPhone, iPad, and Apple Watch. Push notifications alert you to the key moments in a game. Other alerts include Player Alerts and Breaking News Alerts. The MyScore feature lets you create your own personalized stream of news, scores, and stats that includes extensive player data. The Today View Widget lets you view upcoming games, live scores, and breaking news. Apple Watch support includes  scores, stats, and breaking news.