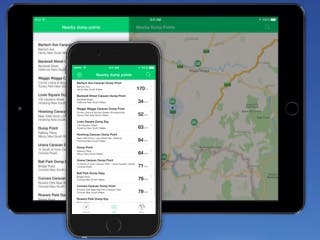 Design Chaos Pty Ltd today announces the official release of Caravan Helper: Australia for iPhone and iPad.
Caravan Helper: Australia is a universal app for the iPhone and iPad which allows anyone with a caravan, RV or motorhome to find dump point facilities wherever they are in Australia. The app will show the closest dump point, a list of nearby dump points and their distances as well as show a map of the nearby dump points and has the ability to exclude facilities that are not open at the current time.
With a data set incorporating up-to-date information released by the Australian Government and updated on a regular basis, Caravan Helper can help make travelling in unfamiliar locations with a caravan or RV easier and trouble free.