A baptist minister manages his ministry and personal life with the help of his iPhone
I have found that my iPhone is an invaluable aid in my work as a Baptist minister. This article describes a typical day in my personal and professional life.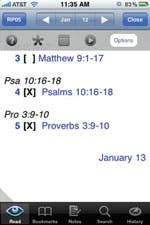 6:45 a.m.—My iPhone wakes me up so I can take my son to school. On the way, we open the Mantis Bible Study (Free; mantis bible.com), a great little app that allows us to read a verse of scripture on the way to school. I really like the app's daily Bible reading tracker, which reveals progress in your Bible reading.