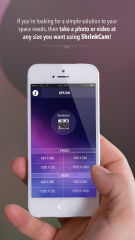 SparkNET has released version 1.0 of the photo resizing app ShrinkCam for iPhone. Designed for just about everyone, ShrinkCam gives you the ability to shrink photo size and resolution right in the camera, thereby saving space and upload/download time as well as the hassle of editing pictures after they're shot. The app features a variety of photo sizes and gives the user the ability to keep or remove the photos' metadata.
App Store Description:
Photos and videos can take up an enormous amount of space on your device, your hard drive, and even the cloud. If you're looking for a simple solution to your space needs, then take a photo or video at any size you want using ShrinkCam!