By Nate Adcock on Tue, 08/12/2014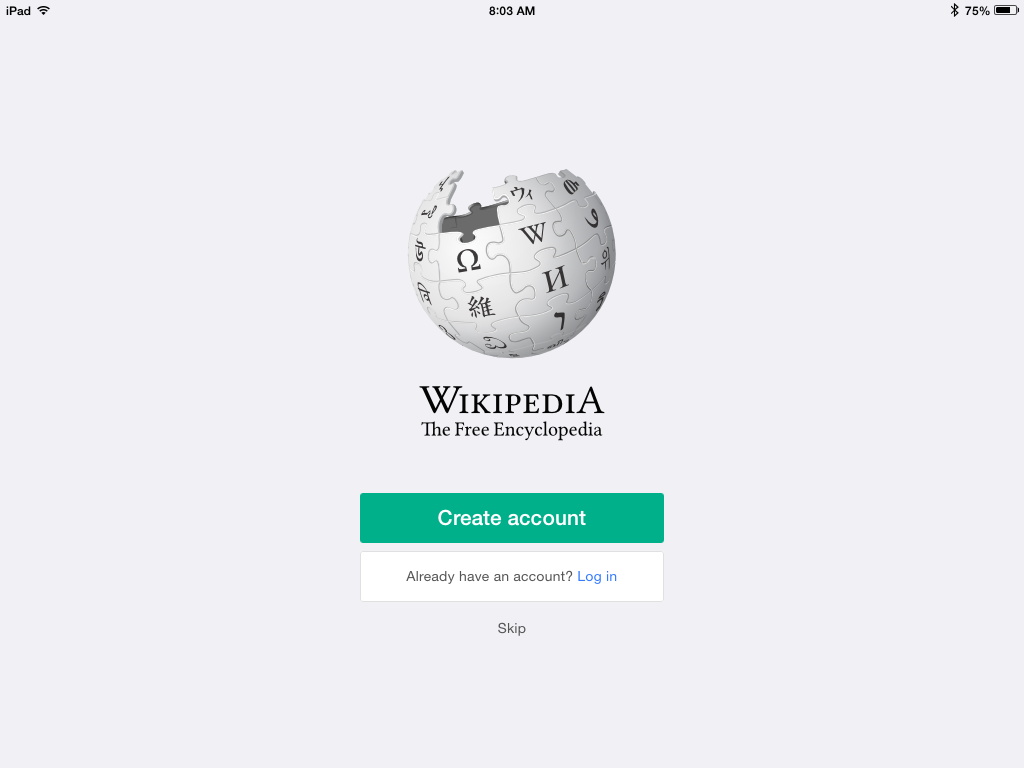 I use Wikipedia to gain background knowledge on any number of technical concepts, and because of the reputation of possible inaccuracies (due to it's open system of content contribution), I always cross-check the source material with other leading technical sources. In every case, I have found it to be quite accurate. So, I am pretty stoked to be able to get quick and up-to-date access to this oracle of information on my iPad or iPhone using the newly released and official Wikipedia Mobile app! Read on for our full review of the newly minted mobile encyclopedia.
Master your iPhone in one minute a day:
Sign up to iPhone Life's Tip of the Day Newsletter and we'll send you a tip each day to save time and get the most out of your iPhone or iPad.
Note: When I originally wrote this review, the main app had been released; however while I was writing the review (actually just before I finished it), a beta update came out on Test Flight, which actually addresses some of the missing items I mention below. Not sure when it will be officially released, but if you download the original app reviewed here, I would look for the update to hit the App store in the near future.
Some would say that Wikipedia is at it's worst, filled with dubious content contributed by un-vetted contributors who either lack the expertise to write on a given subject, lack the ability to write about it well, or even write inaccuracies for malicious reasons. On the other hand, others would say it is quite accurate on many academic topics, and in fact, many studies have shown that Wikipedia is at least as precise as other leading encyclopedias. In my experience, both notions could be correct, depending on the topic. However, Wikipedia itself provides guidelines for use of it's free content (see this).
The web site admits out front that for academic use cases (like citing supporting information in a research article), Wikipedia is not a recommended source. However, for gaining background knowledge on a subject (and in some cases digging a bit deeper), it is an excellent source. The rule of thumb when doing any kind of technical research of course is to always have multiple sources to support your content. The mobile app handily brings Wikipedia content pages down to the small screen in an integrated offline reader, saving you the trouble of poking around in Safari.
There are any number of third-party apps and tools that offer a Wikipedia content wrapper. One we reviewed a few years back on our old Pocket PC site was an electronic reader called WikiReader designed for the purpose of Wikipedia-dredging (you can still get these $20-30 gadgets on Amazon, though the company seems to have let their Internet presence lapse and may be OOB). Somewhat late to the ball, the Wikipedia Foundation--more or less the Facebook of online encyclopedias--finally got round to designing and fielding their own app.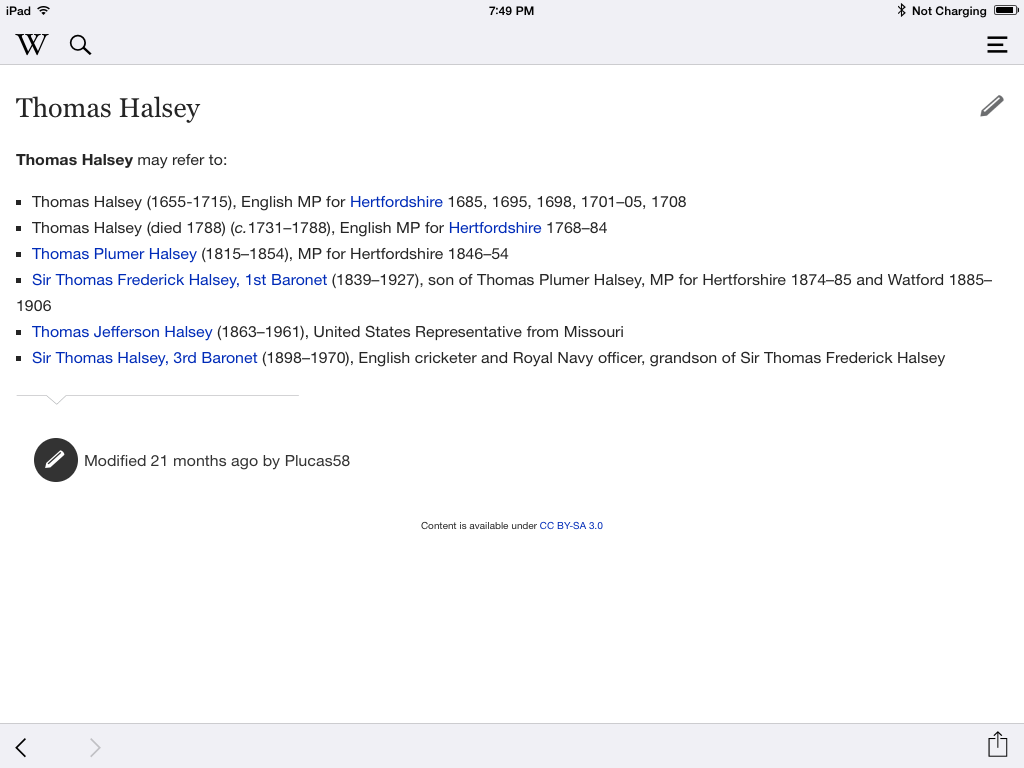 Fancy the app is not, but it is the only "official" app, and designed totally by the Wikipedia Foundation for a mobile device. It is also totally free (like Wikipedia), and ad free, and according to the press information about the app, will remain so. I wonder if they will succumb to obnoxious banner messages asking users to donate as their web site occasionally has in the past? Not saying there is anything wrong with asking for a donation, but ad banners tend to annoy more on mobile. Anyway, if you are used to the rather staunch formatting of Wikipedia, you will not be jarred by the app, which seems little more than a scaled down mobile version.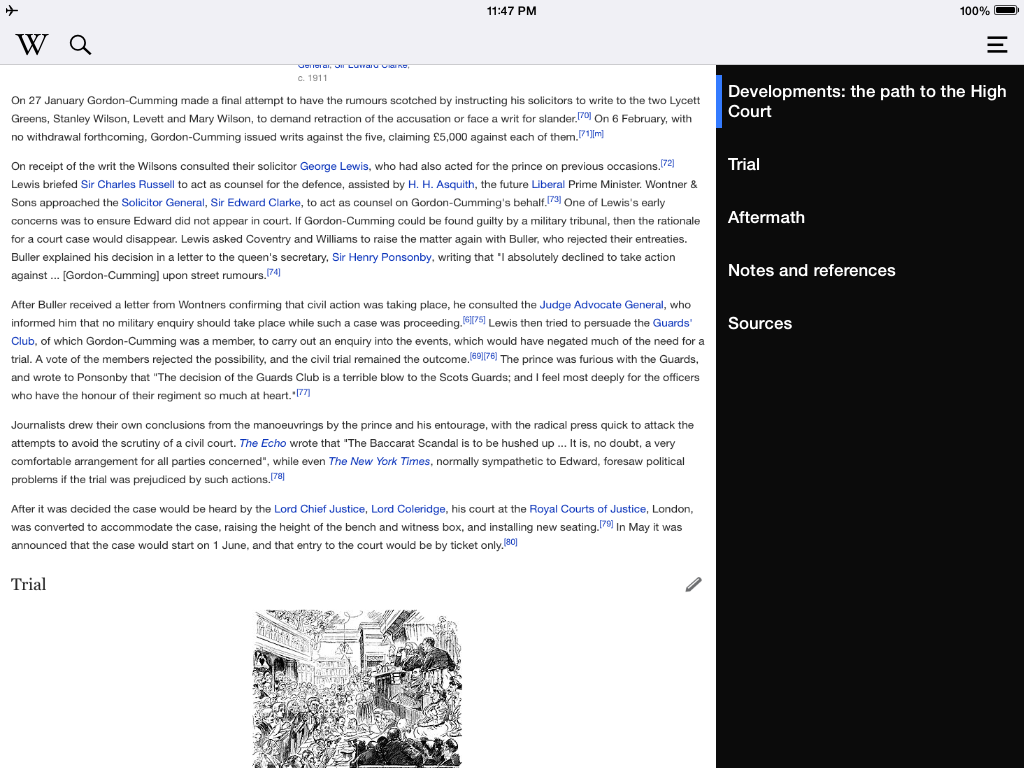 Plain as it is, some cool things about the app however do appear. One is the ability to log in and save content for local off-line viewing. You can quickly browse through an article using the topic heading menu through a button on the top right, and also share content in a message or mail, but oddly cannot choose to open a content page in Safari? The app home screen, like the Wikipedia main page, includes a random featured article (another tip about using Wikipedia content is that Featured content may be more reliable as it is getting active vetting and updates from contributors). Of course, you can search, but there is no "Local" feature which would return content from your immediate location, presumably by making use of your phone's location settings. Oddly, there is also no Home or Today button in the app..? You can return to previous content, look up random selections or search (but you can't go home..?). That one really had me scratching my head. The app also does not apply any style settings you may have selected for your account. Other than maybe saving content, not really sure the point of applying a login to the app, since I also could not find a way to access my saved articles on the web, so...
The Verdict
I think the mobile version of Wikipedia is actually superior to the new app version, but that's not to say I did not see a useful future for this app. It needs, well, a few more features: Personalized content and content awareness based on my interests or past searches would be a good start. Some other simple enhancements might be alert settings for my content watchlists (maybe alert for articles that have been updated recently that I have saved). I can see a ton of other possibilities, and am looking forward to future enhancements, but if you want a simple app for browsing Wikipedia and saving your articles offline, this free app will serve as-is. Grab it at the links above.