By Nate Adcock on Mon, 01/16/2012
I groused about my son's 1st-generation iPod HD failing (the one on the right). We had bought it for his birthday, and about a month after the warranty ran out, the hard drive started making noises, and it became an expensive brick (yes, many years ago). I had no compunction about yanking the back off and replacing the HD, and it still works today (he has all his tunes on his iPhone now, so I use it). I was still mad, but less so, since the replacement cost a lot less than letting Apple fix it (more than it cost originally--thanks to iLounge forums for the fix, by the way). This post is proof that if you are a good boy or girl and take care of your gear, once in a while the tech gods will smile on you, though it is rare indeed. Apple replaced my wife's first gen Nano (also still working quite well) with a new model. Here's why...
Master your iPhone in one minute a day:
Sign up to iPhone Life's Tip of the Day Newsletter and we'll send you a tip each day to save time and get the most out of your iPhone or iPad.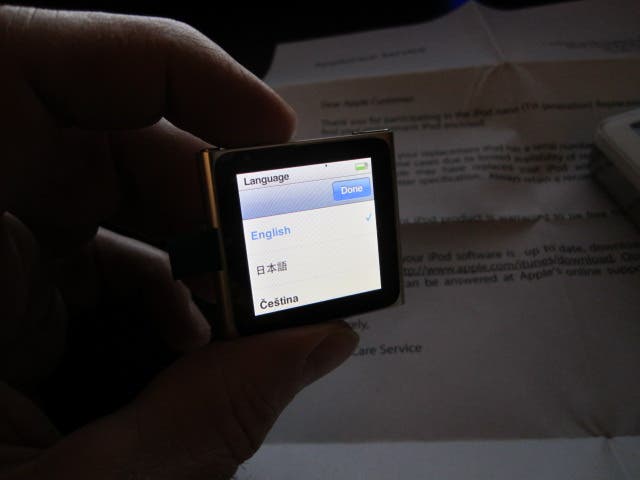 New Nano so tiny...me might bwake!
I don't want to give our readers the notion they can just start mailing old iPods to Apple for replacement. It turns out we had one that had been installed with a potential battery issue (go here to learn more about the 1st Gen Nano replacement). I'm sure that some executive at Apple didn't just wake up one day and decide that old iPod Nano owners should get upgrades--though a part of me wishes that kind of Willy Wonka thing did happen every now and again. No, in my case, I'm guessing it was about what was available, and let's face it, there probably aren't too many 1st gens still around. Either way, I am happy, and figure that whoever authorized us this free tech refresh deserves a toast! Of course, if the old one had exploded while I was doing bench presses--our Nanos are our Gym iPods--I might be telling a different kind of replacement story...
To make sure you have a chance to get similar "tech gifts from the gods," always register your devices and purchases, and keep records of them handy. Try to use the same email, and/or update your latest email address with registered device vendors. Stay tuned to great sites like the iLounge forums where similar users might post up handy information like this (our blogs too, of course, for iPhone/iPad-centric info). If you hang on to your gear, try to keep it in a somewhat decent condition, you might get a gift the next time the Apple gods smile.