By Nate Adcock on Sun, 04/22/2012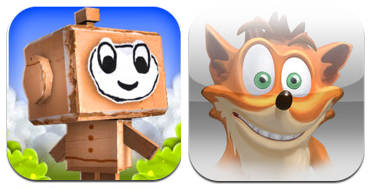 Paper Monsters is certainly one of the best platformers for iPad/iPhone I have experienced, and got it for the limited free app a day price, but it's only back up to 99 pennies today, so definitely still a steal. Everything about the game is great. Engaging levels, superior graphics, easy control, and catchy music. The overall mood is so cheerful, and uplifting, can't help but smile when you play, and the interesting backgrounds, obstacles and scenes make it that much more fun to keep playing. Grab Paper Monsters from Crescent Moon Games here, or read on for the rest of the review including a short YouTube demo video. Also, in retro gaming news, Activision dropped several of their games to the 99 cent level this weekend, so grabbed Crash Bandicoot this week too...
Master your iPhone in one minute a day:
Sign up to iPhone Life's Tip of the Day Newsletter and we'll send you a tip each day to save time and get the most out of your iPhone or iPad.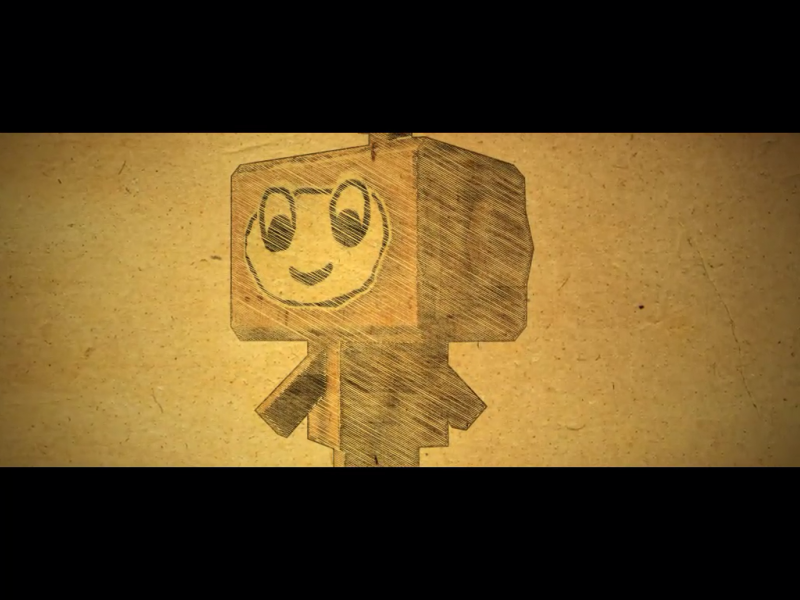 Wow, the app store is the primo magnifico hotspot to grab free and affordable apps! Software that would have cost a small fortune 10 or 15 years ago... I digress. You can grab the less than 100MB download for Paper Monsters from either iTunes or the networking on your device, and can check out a quick game demo I posted up to YT below...
In my case I snagged it through iTunes, and so far the game has not misbehaved on iPad or iPod touch (both running latest iOS). Though I'm not reviewing Crash Bandicoot Nitro Kart 3D in this edition, I did grab it this week (so post back in a future edition), you can get links for it and other great Activision games here and at the end of the review.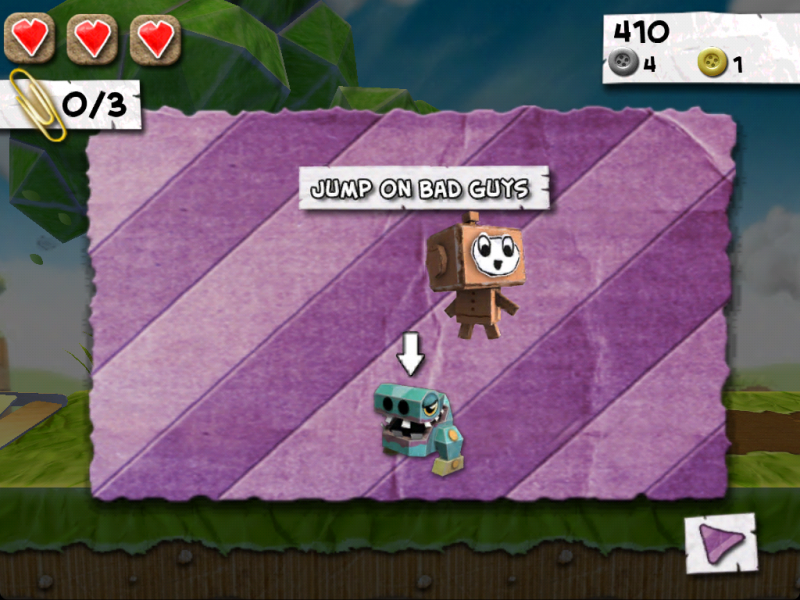 The short story on Paper Monsters is that every bad guy in the game convincingly looks to be made out of paper, and they all dutifully meander back and forth in predictable platform defense mode. Your hero/character's job (he, being cardboard is somewhat resistant to paper), is to avoid the monsters or destroy them as you make your way through the various levels, collecting buttons and gathering powerups and paper clips.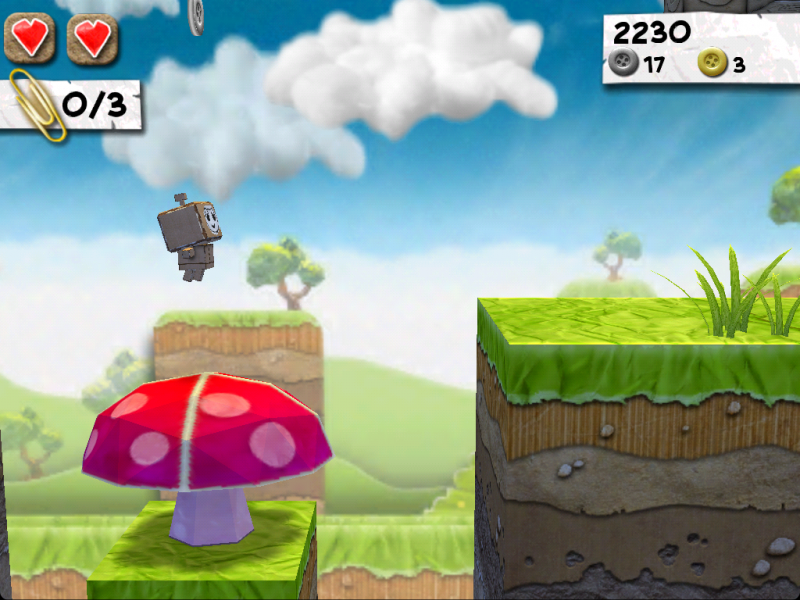 Borrowing heavily from legendary platform games like Sonic and Super Mario, PM manages to one up either game in several ways. The pipe travel aspect is especially cleverly done--you sink into one pipe to be disgorged off in the near distance appearing as a much smaller version. Another is the extra jump the game gives you; a second tap when in the air provides your spinning cardboard character yet another upward boost.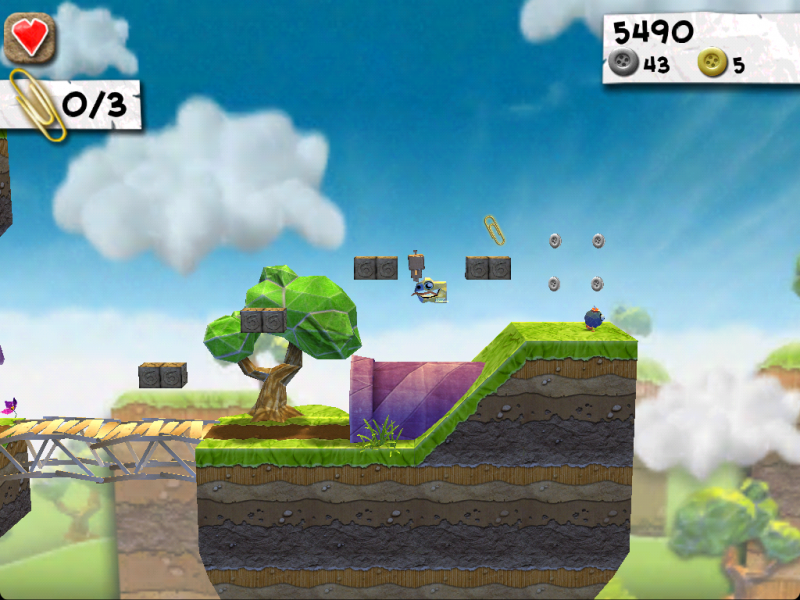 The game also has "boss levels" and so far I have only managed to master one so far. As one would expect, PM starts out pretty easy and becomes progressively harder. Controls appear whenever you happen to tap in virtual joystick mode, or you can switch to classic gamepad  if you prefer.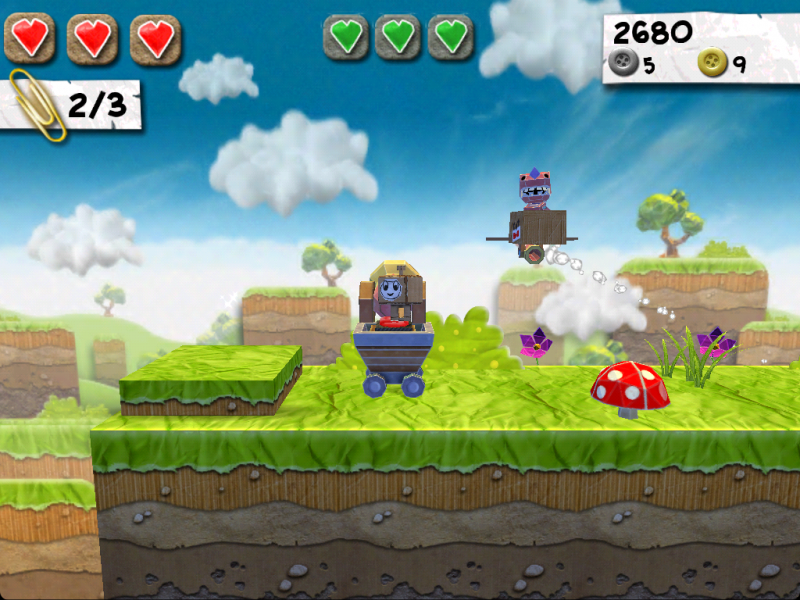 As I played the game I became more and more immersed, especially in the tunnel or underground levels. Very well done use of lighting, and game effects throughout. Your progress is saved as you pass the checkpoints, and you can choose to go back and replay each level if you so desire (to make sure you grab up all the hidden goodies). Some basic puzzle-solving is also incorporated into the game. For example, you may have to roll a cart on top of an enemy or use it to jump to a higher tier of the platform maze.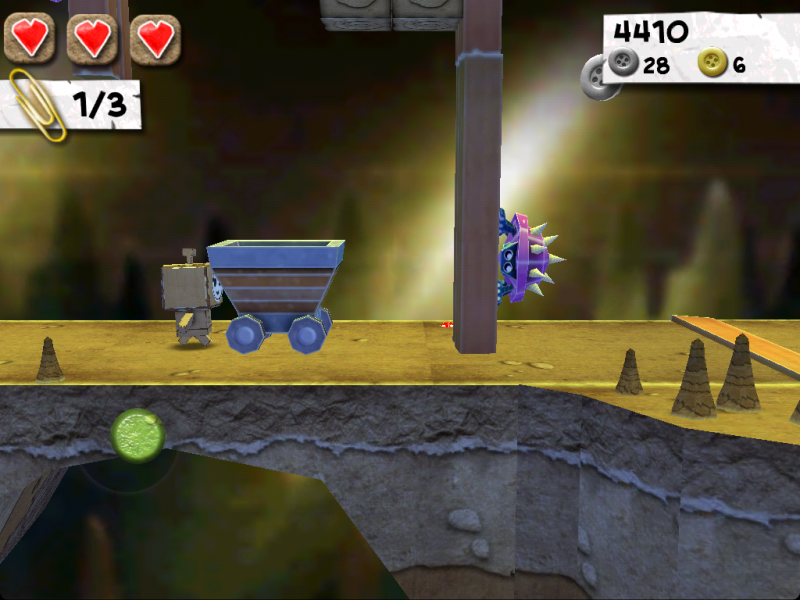 The Verdict: Paper Monsters is a beautifully rendered and well-executed game in all respects for iPad/iPhone/iPod touch. If you love platform games, you will love this one, and the price is still nicely at 99 cents. Finally, before I wrap up this edition of "WIPTW", again I want to remind everyone that there is a big sale on Activision games right now, with many titles (like Crash Bandicoot Nitro Kart, Guitar Hero and more) being at the 99 cent level, and other titles reduced as well. Again, you can get the full skinny here at the One of Swords gaming blog, but don't wait too long to grab these great games!