By Nate Adcock on Fri, 08/19/2011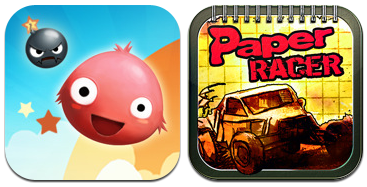 Weird physics puzzle game called iBlast Moki (currently free) which involves setting timed explosive charges, the force of which will propel cartoon heads toward and hopefully into a target. The jingly music has a pleasant quality and the graphics are very lucid for a cartoon-ish game. It is all strangely compelling (see trailer after the break for version 2) for a half-hour or so. In other news, still trying to beat all the Paper Racer levels on the iPod (having done so on iPad)...
Evidently, you can get the new iBlast Moki 2 for 99 cents, and HD version for $2.99 now in app store...a soothing but tough mental challenge both at the same time!