By Nate Adcock on Sat, 04/07/2012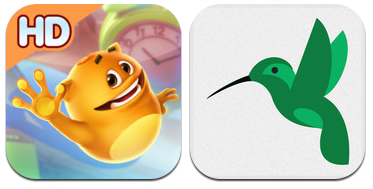 Fibble HD
is a 3D physics/puzzle game that is a beauty to behold on the iPad, but before I give my review, I have to do a mini-review of the awesomely redesigned SugarSync (which is not a game--sorry about that). The old version of SS (a cloud file syncing app--reviewed
here
), was not well suited to iPad, but the coders have fixed that in their recent upgrade! So before I tell you how great Fibble is, I want to tell you how great
SugarSync
has become...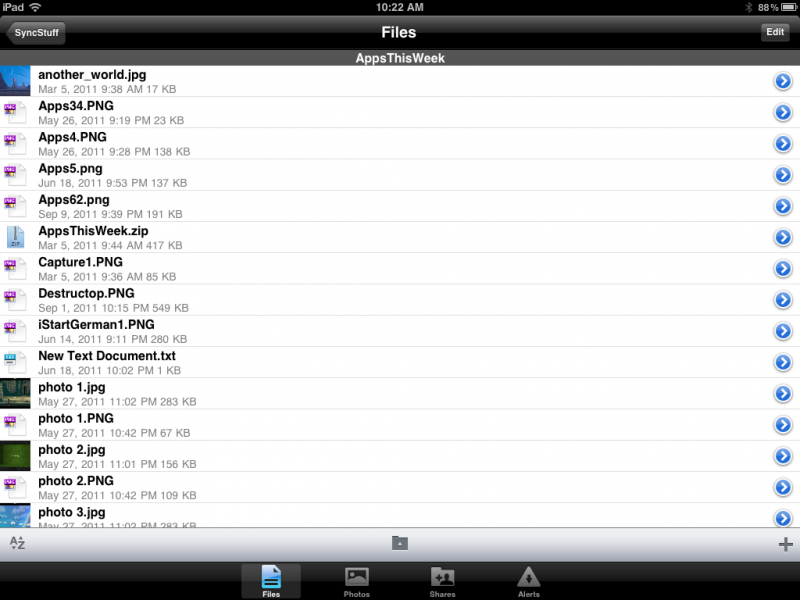 I reviewed SugarSync
here
last year, and while it definitely is a great service for syncing all your critical files, the iOS version left much to be desired. I had some problems with it, and all in all decided to just stick with iCloud. The SS interface was not intuitive, and several aspects of the menu system either did not make sense, or were poorly implemented. They have fixed much of that, and not only does it obviously look much better, it functions better too.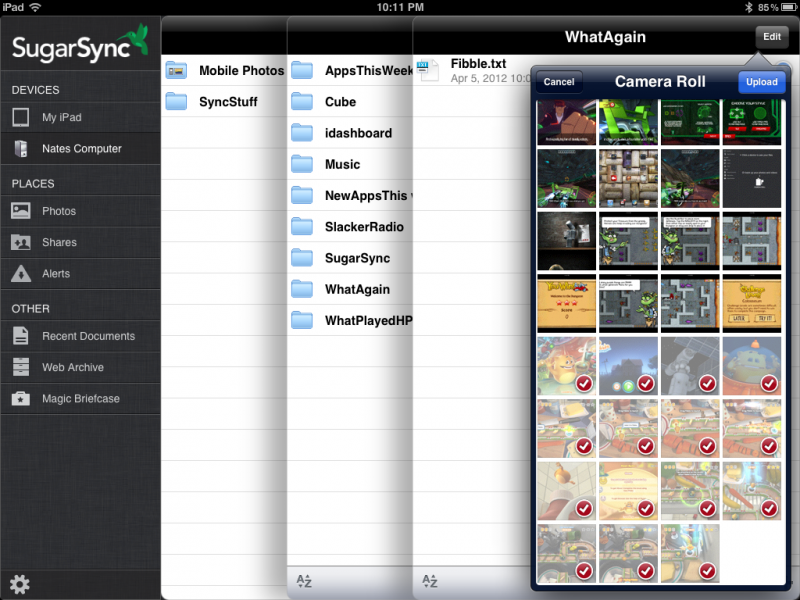 One of my big complaints with the old version is scrolling through endless screens. It appears they stole a page from the WebOS tiled interface (far superior to native iOS menu/layout IMHO), which allows you to peek at folder content by dividing the display up into sliding tiles. Not only enhances navigation, it makes finding stuff much easier.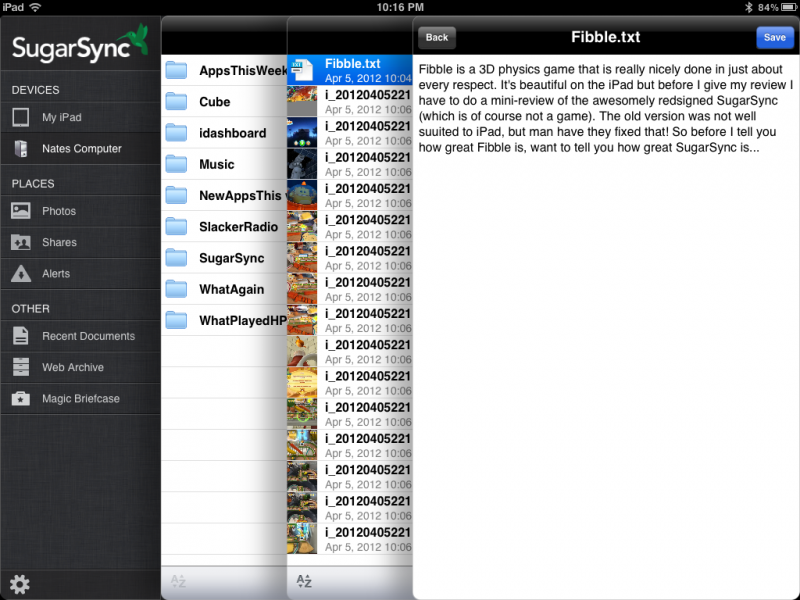 Do yourself a favor, go check out SugarSync now, you won't be sorry. I don't want to bog down into a full review recap, but the new version really is much better... So, that said, let's get back to games and Fibble...
Fibble is a 3D-fest of Pixar-like animation that feels as much like watching a computer animated movie as playing a game. The between level clips look beautiful even on iPad 1. The gameplay at first is so ho-hum easy, almost makes you lose interest, but the various levels add variety and increased challenge as you progress. The game seems aimed at younger kids, but is honestly pretty fun for old school gamers too. The back story is that the little Alien crash landed in someone's home, and your job is to re-unite him with all his friends by completing the various levels. Each stage is set in a different room of the house.
The object of the game is to bounce and jump Fibble around the various obstacle courses (think mini-golf in your kitchen), collecting coins and power-ups, which all appear scaled to Fibble-size depending on your point of view. Fibble has several partners that join in to aid you in your endeavor, which is to roll onto the final contact point of each level (blue swirly-looking thing under the arrow below). Scoring is based on how many flicks are required to make it through to the end, combined with the amount of loot you manage to grab during play. By touch-dragging away from the direction you want him to shoot/roll and then releasing, Fibble will shoot out like a pinball and roll until encountering an obstacle or loses his kinetic momentum. Tilt can be used to keep him going, or one of his buddies can give you a boost.
Each Fibble helper character has it's own special form of "aid" they provide, like grabbing and reshooting the little alien or bouncing him higher in the air. Higher levels add to the puzzle aspect by requiring you to place them strategically around the game board. Now for what I don't like about Fibble...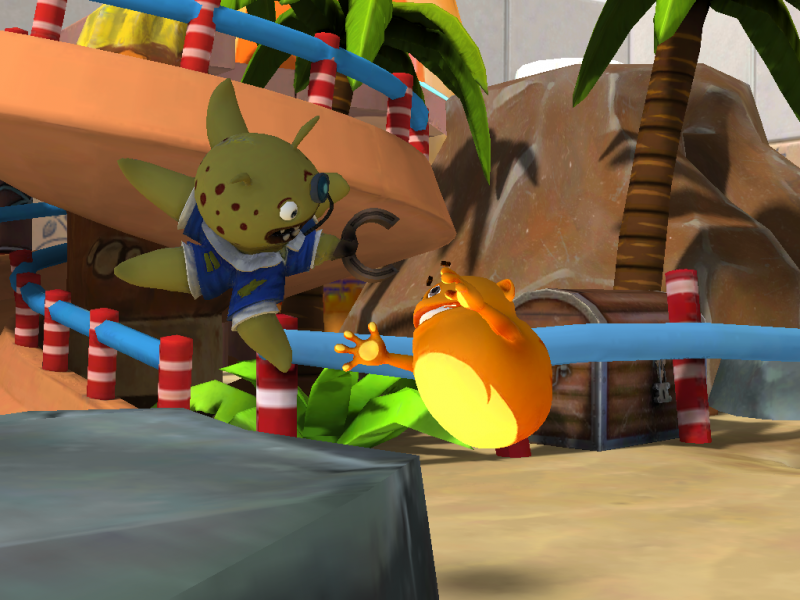 The game offers in-app purchases, which I honestly hate in darn near any game. Except in very specific cases where the value is clearly worth the price, I don't understand why developers do it other than I guess the fact that IAPs are the gift that keeps on giving back to them whether they offer upgrade versions later or not. I especially hate IAPs when it's a recurring theme throughout the game simply to entice purchases. What I consider a fair use of an IAP is, for example, an add-on level pack at the end of a full game. I super hate IAPs in games aimed at younger kids. So parents be warned (as I've gotten flak in the past on this)! If you purchase Fibble for your kids, make sure to monitor them or turn off the ability to make IAPs (Under Settings >> General >> Restrictions).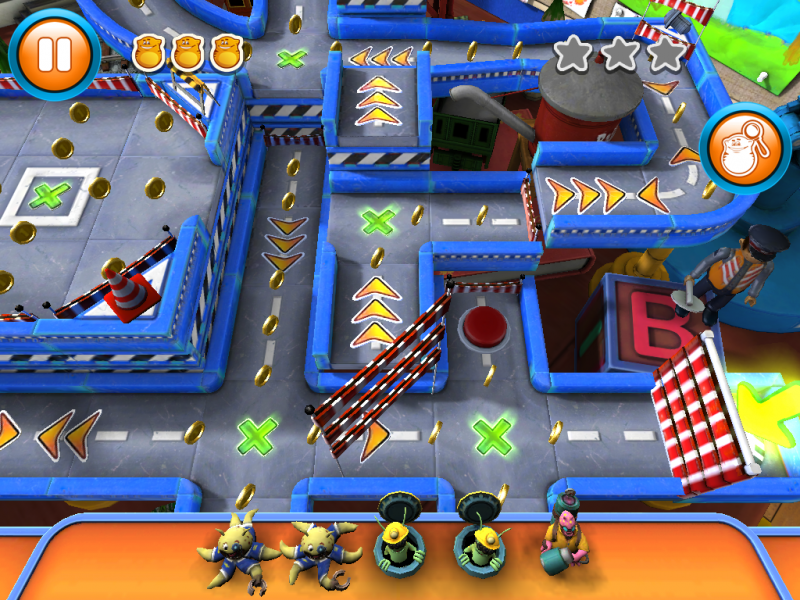 I like Fibble, but wish the game offered much more of the puzzle solving and intricate maze designs of the higher levels. The game is easy to learn, and adding bigger courses with multiple ways to customize them would push this game much higher in my esteem. The sights, sounds and effects of the game are all gorgeously rendered and pleasing to the eye. The Fibble rolling physics could be maybe a bit more fine-tuned, but work well enough. I'm annoyed by the IAPs, which offer greater access to game features, but I don't necessarily feel they influence or affect the gameplay that much to hurt my rating (I do recommend turning them off, though). The game is good, and think if you are looking for something that the kids will enjoy on iPad that is both kid-friendly and fun, Fibble fits that description. $4.99 is pretty steep for this game, but then it is all "high-def 'd" up for the new iPad. We can look forward to a lot of apps bumping prices for this reason. Grab Fibble
here
in the App Store. Free Lite version also available...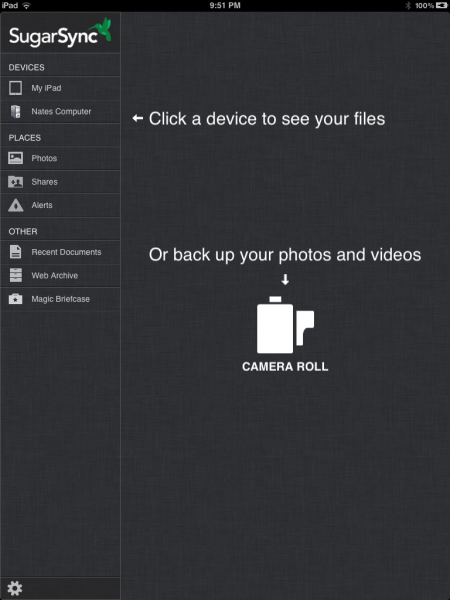 SugarSync gets a big boosted thumbs up from me for the iOS interface update. I wrote this review on my iPad and synced to my PC so I could compile and upload everything to our blog, and it worked pretty well. One thing that still aggravated me a bit; I created notes on iPad, and noted after syncing to the PC, that the CRLF (newlines) dividing paragraphs were all removed. I also can't seem to sync files from my external hard drive (only internal drives seem to sync). You can grab SS (also get 5GB of free storage when you sign-up) for free
here
.