By Nate Adcock on Fri, 06/22/2012
Check out the Featured App Store bundles if you haven't yet. Several of the best apps you will likely find on the app store, all nicely sorted into related bins can be had thus. Last night I found myself perusing the dinosaur related app/games bundle (under Game Collections), and of course there is a 3D FPS game in there called Carnivores: Dinosaur Hunter that I couldn't resist. The game turned out to be a mere 74MB of totally cool, and immersive hunting of the prehistoric beasties, which ran just fine even on my old original iPad with it's old-school graphics! Also this week, played with the latest release of Album Flow (see previous review here), since the developer made some interesting tweaks to the new version. Album Flow brings Cover Flow to iPad (or now iPhone), in case you were wondering, but with some interesting new capabilities. More news from the gaming realm at the end--lot's to cover so let's jump in, shall we...?
Master your iPhone in one minute a day:
Sign up to iPhone Life's Tip of the Day Newsletter and we'll send you a tip each day to save time and get the most out of your iPhone or iPad.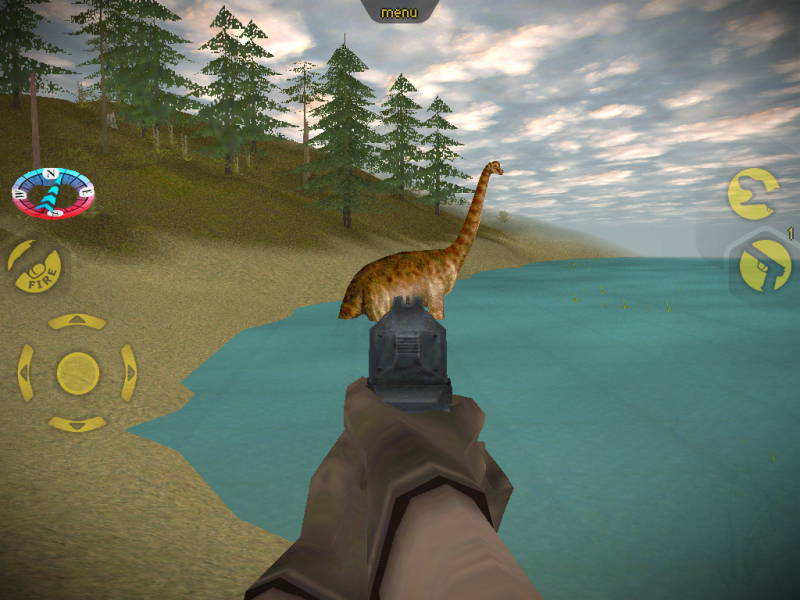 Trying to count the different flavors of hunting apps in the app store I have experienced on iPhone or iPad. Let's see; there's hunting with bow, hunting with semi-auto and fully automatic gun and any variation thereof, knife (usually when you run out of gun ammo), hunting deer, elk, moose, ducks, humans, zombies, teddy bears (yes teddy bears), any sort of alien monster you might care to name. So you think you have the guts to hunt dinosaurs, huh? Well, have I got the dinosaur-hunting app for you--Carnivores: Dinosaur Hunter, so grab your gear, and strap on!
You can select the game park, and tailor the hunt to your specifications, even selecting the dino you are after. You work your way up to the big predators like T-Rex by bagging the lower-level and less dangerous prehistoric game first (credits result from each kill), otherwise you are likely to waste a lot of rounds getting devoured. More kills means more credits, and better weapons. The tougher dinos will run when wounded, requiring you to track them via their blood trail (a pretty cool detail, that).
When you pull your weapon, the game even nicely simulates an accurate breathing sight-pattern (gentle rising and falling of the sight picture). The surroundings feel like a typical game reserve, complete with pteradons flying/squawking overhead, and realistic and varied terrain features.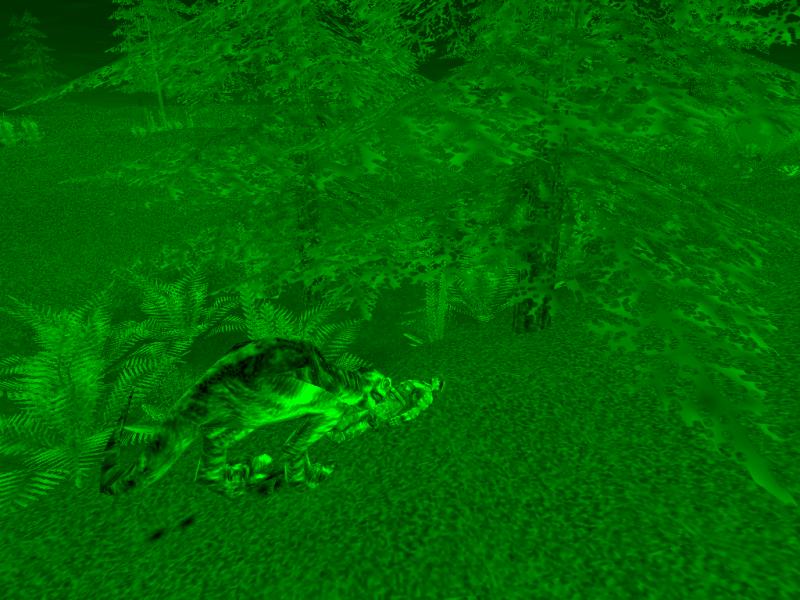 If you are stout of heart, you can even choose to go out dino night-hunting, which in my case usually resulted in my being eaten. The fun of this game is not to be understated, even just to explore the island and watch the various dinos moving around is a wonder (tip: use the handy binoculars to zoom in on a dino from afar). You could likely spend a few hours exploring, and not draw a weapon at all...hmmm, what would that be like?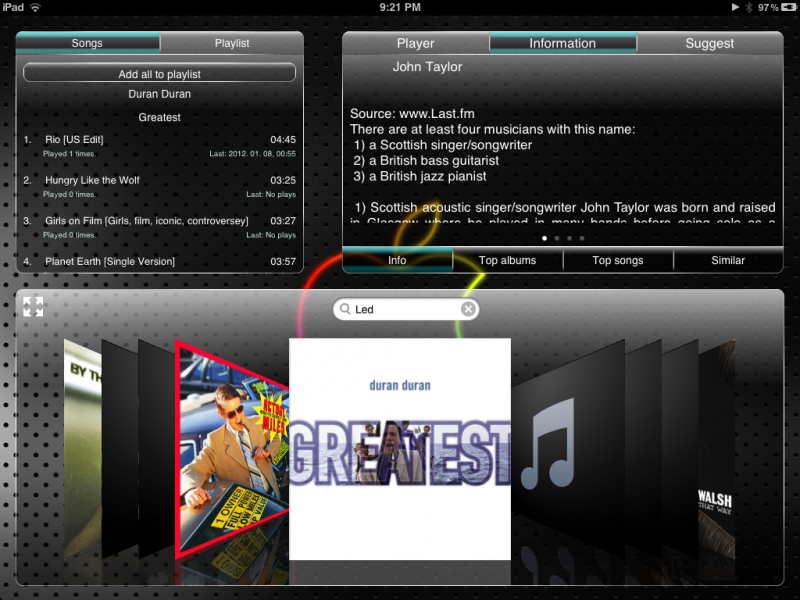 Album Flow was more thoroughly reviewed here, but enough interesting features were added in the latest update to warrant a re-look. The app is one of my fav players, since it not only enables Cover Flow on iPad, but also presents a uniquely customizable player interface. With the 2.0 update, you can now choose dynamic artist art (thanks to last.fm) as a background.
More under and over the hood tweaks can also be found in 2.0. For example, a "Suggest" music tagging feature that presents similar artists to the current selection (also based on last.fm queries, I surmise), all expertly rendered in a handsome 3-D orientation. You can enhance the buttons, and create your own custom color schemes to dress up the look further. Album Flow gives you the power to create your own unique player...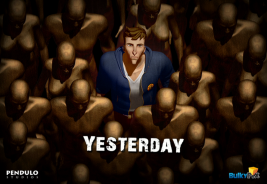 Now for some gaming news... SEGA released a free version of Virtual Tennis Challenge this week that let's you play at least 5 training and one actual pro match. You can grab it here in iTunes. Mobile FWD just released Trivi.al today on iTunes--turn-based trivia game that pits you against another opponent/comupter on everything from Chuck Norris to the French Revolution. BulkyPix and Pendulo Studios have teamed up to create an interesting new style of adventure game, part movie, part video game, part comic called Yesterday. Hope to get round to going over some of these new apps in a coming WIPTW post... until then, and as always... stay tuned to our iPhonelife magazine and blogs for the latest and best news, reviews, tips, and much much more!