By Nate Adcock updated on 05/11/2011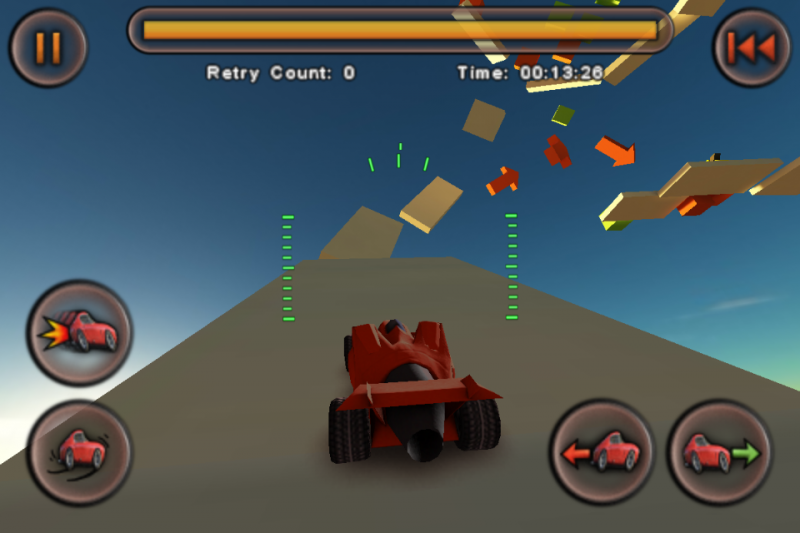 Haven't done this in awhile, so maybe I should call this "What I played this quarter!". I had to post up on JetCar Stunts though, since it's the latest game I can't stop playing (it's not a new title--released in 2009). Crazy addictive time killer is what it should be called!. Featured in iTunes essential games, you can grab it here at $1.99. Expansion course packs also available. The concept is to race through 3D high-flying aerial stunt courses with your rocket powered jet car (who wouldn't want one of those)... More app news follows...
Monster Trouble for iPhone released!
Master your iPhone in one minute a day:
Sign up to iPhone Life's Tip of the Day Newsletter and we'll send you a tip each day to save time and get the most out of your iPhone or iPad.
The next game in the review queue... You can grab this 3D TD title here for $1.99!...more PR follows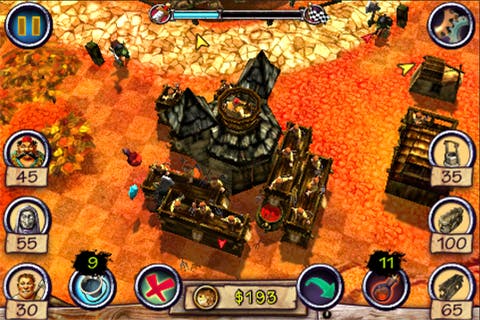 "After the worldwide success of Monster Trouble HD for iPad, featured by Apple as Game of the Week at the beginning of April 2011,
now the iPhone version is available on the App Store at 1.99 USD
Stop the monsters invasion in this high definition, 3D, multi-touch implementation of the "Game of the Week" created by the company that reinvented the TD genre.
In a world populated by Goblins and Ogres, the country dwellers gather to defend their houses from a Horde of monsters that wave after wave filter out of various caves. You must survive the onslaught to get a chance and move on to the next level.
When it comes to gameplay Monster trouble isn't all conventional, you can't sit down and watch! You must build your defenses using a variety of wooden and brick structures then populate them with a cast of characters ranging from farmers to hunters. When monsters die you have to quickly snatch up the loot they drop before it disappears, and sometime you must take action by dropping some sort of grenade and blow the little guy up. If you think you know everything about strategy, action and tower defense games then you must try Monster Trouble, and even though it may feel familiar you will discover enough small tweaks in the gameplay to make it a worthwhile experience.
Featuring:
26 Levels packed with fun.
A terrific cast of characters. Farmer, Hunter, Old Grandma, Fire Eater, Gipsy.
10 types of towers, each with unique features.
10 different Monsters to fight
9 wonderful maps, Granny's farm, The Mill, The crossroad, Gunter's hut, The circus, The dry river, The island, The village.
Official Video
*************************************************************************
Infinite Book Reader - 1.8 Million Free Books for your iPad
If you are like me, then you probably looking to find new free ebook sources. Check out Infinite Book reader here...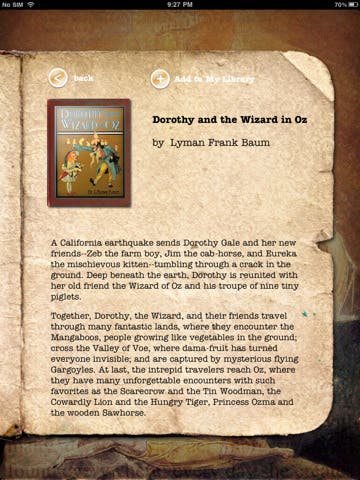 "Take with you an awesome and extensive library on your iPad. Over 1.8 million books you can access for free anywhere the internet is available. Download them in seconds then read them anytime. The best of world literature right there in your hands!"

Features:
- search through the library an author, a book name or even a description
- access the most downloaded books
- download the book for access even when the internet is not accessible
- automated bookmarks for any book. Even if you read ten books at one time
- download books with standard fonts or read them as they were published years ago
- adjust the luminosity for a better reading experience
Sonos now supporting AIrpPlay!
If you have read my blogs on Sonos, you know that I love my S5 (just do a blog search on "Sonos" to see my reviews). If you are looking for a portable home speaker system minus wires and headaches, you want to check it out. Now supporting AirPlay...more PR information below...
"SANTA BARBARA, CA – April 19, 2011 – Sonos, the leading developer of wireless multi-room music systems for the home, today introduced Sonos System Software 3.4, a free software update that adds more music and more features to the Sonos music experience.  Sonos 3.4 makes it easy to play Apple AirPlay® music sources all over the home, and adds support for Apple iPad™ and Apple iPhone® multitasking and Sonos Controller for Android™.
"The cool AirPlay feature for music is sending a song from an iOS device to a speaker or receiver," said John MacFarlane, founder and CEO, Sonos, Inc.  "Today Sonos improves the AirPlay experience with party mode so a music lover can send a song from his iPhone or iPad to all the rooms in a home with perfect synchronization."
Apple AirPlay Music Sources on Sonos
Now you can stream songs from your iPhone, iPad or iPod touch® all over your home on Sonos.  Connect an Apple Airport Express® via line-in to any Sonos ZonePlayer and enjoy the only true, multi-room Apple AirPlay experience.
Party Mode: Only on Sonos can you send a song from your iOS device to multiple ZonePlayers throughout your home and enjoy that song in every room, simultaneously.
Different songs in different rooms, Sonos-style: Only on Sonos can you play different music from your iTunes® library in different rooms of the home. And it's been that way since 2005.
For more information about how to play Apple AirPlay music sources on Sonos, recommended setup and more, please visit here.
Other Sonos 3.4 features include:
Faster wireless control on your iPhone and iPad with iOS multitasking support.  Find and play your music even faster with multitasking updates available on the free Sonos Controller for iPhone and Sonos Controller for iPad. Both are available for download from the iTunes App Store.
Full details of the Sonos 3.4 software release can be found here.