By Nate Adcock on Sat, 03/05/2011

Technically not all are games this time (Space Storms), so sue me. I spent too much time again playing GOF 2, and Robokill, but had to check out Tiny Wings this week. Any game that knocks Angry Birds off it's perch must be something special. I don't have Angry Birds, but did play it on an Android device once. Pretty inane, but also fun. Tiny Wings reminds me somewhat of Jelly Car, but not nearly as interesting, but yeah, also inane time-killing fun. Finally, there was some buzz this week about one of my fav games coming to iOS... Another World (a cinematic platform game from 1991)! You can read on for more info about Tiny Wings, Space Storms and the coming AW iOS port below...
Tiny Wings is a side-scroller that requires only that you touch the screen in a timed sequence. Your bird has little wings and though he moves forward, will naturally tend to fall towards the ground. By touching the screen you can accelerate the fall. Time it so that he hits the down slope side of each undulating hill, and he accelerates. The point, you ask? To outrun night. Yep, that's it. You keep flying, sliding, bouncing across the various islands in an effort to take your plump avian as far as possible before dark. Takes a little practice, but this game is great for all ages, and the happy/funky scenery and realistic game physics will likely keep you coming back. At least until you tire of doing the same thing over and over again.
Master your iPhone in one minute a day:
Sign up to iPhone Life's Tip of the Day Newsletter and we'll send you a tip each day to save time and get the most out of your iPhone or iPad.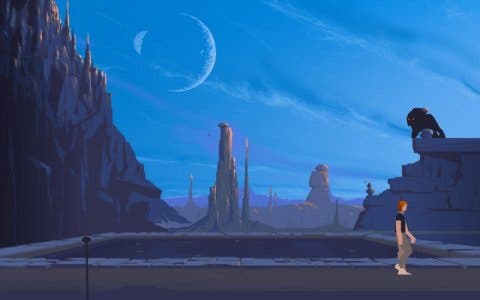 I still play this game on my old Pocket PC (see our original SmartphoneMag coverage of it here), and I must say that I can hardly wait for it to come out for iOS! See PR info below...
Another World's Creator Eric Chahi Chooses BulkyPix And DotEmu To Port His Iconic Game to iPhone And iPad
The game to celebrate its 20th anniversary on IOS
San Francisco, CA - March 3rd, 2011 - Eric Chahi, the visionary and the architect behind Another World, (aka Out of this World) today revealed that developer DotEmu and Publisher BulkyPix have been chosen to bring his iconic game to the iPhone and iPad platforms. Recognized by the gaming community for its pioneering and highly stylized vector graphics and animation this the French masterpiece goes is even today remembered as one of the greatest, most unusual titles of its era.
Released across more than a dozen platforms since its 1991 debut, Another World has attained cult status amongst critics and fans. The game has been a favorite among critics and sophisticated gamers alike for its cinematic effects in the graphics, sound and cut scenes. Another World does not use static images or words to convey action rather the characters communicate through their facial features, gestures, and actions only. This literally forces the gamer to sink or swim at the outset and almost every scenario from that point on serves as a test of your wit and will to live.
Another World chronicles the story of a young scientist hurtled through space and time by a nuclear experiment that goes wrong. You assume the role of Lester Knight Chaykin who has to dodge, outwit, and overcome the host of alien monsters and deadly earthquakes that plague the alien landscape he finds himself within. Only a perfect blend of logic and skill will get Lester past the deadly obstacles that lie in wait.
"I'm very pleased to work with my developer friends from DotEmu and their partner BulkyPix. The first prototype looks beautiful on Ipad, they are doing a great job on it." said Eric Chahi, creator of Another World.
"We have ported several classics to iOS such as R-Type in the past and we delighted to be chosen to work with Eric on this terrific title. We will put a lot of love and care to insure that the gamers get best user experience playing this game on iOS," said Xavier Liard founder of DotEmu.
"Another World is one of the most daring games ever created and we're proud to be part of the team that will bring this terrific title to the iPhone and iPad platforms." said Vincent Dondaine, BulkyPix COO of Sales and Marketing Director. "The game immerses you right from the start, begs you to react on impulse and rewards you by pulling you headfirst into this alien world and all the dangers that it beholds. We're proud to bring thos great gaming experience to iOS."
Another World will make its debut on the iOS later this year. For more information on the game keep an eye on BulkyPix website, www.bulkypix.com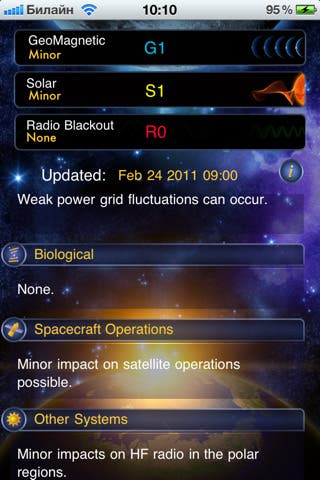 You just never know when a Space Storm is going to come along and smash your SATCOM link into oblivion! This handy app will help you get that tinfoil hat on in time...
Space Storms
Free application Space Storms for iPhone is devoted to get info about current weather in nearest space to every user. You can check current level of the solar, geomagnetic, or radio storms with one tap - application gets fresh data from the NOAA space weather prediction center every three hours.
With help of  Space Storms you do not depend anymore on strange and sometime panic comments made by TV guys/girls - you always get the precious and authentic information.
Space Storms is based on simple NOAA scale, which is more than enough for the precious user. Additionally application allows to get info - how current state of space storms impacts on different object and systems:
Biological objects,
Power systems,
Satellite operations
Spacecraft operations
HF radio communication
Navigation systems
Application support four languages: English, Russian, Swedish and Spanish.
iTunes Link: here
Price:  Free