By Nate Adcock on Sat, 07/07/2012

What I played this week includes a mix of apps for both work and play, and warn you this will be a lengthy column, as also have a bit of game news to share at the end. So, let's jump in--play before work, as the saying goes: Bounty Racer (beta) is an exquisite crash cart-esque 3D racing menagerie (should be released next week). Second, Kingdom Rush for iPhone is engaging, if tiny, Tower Defense fun with rousing vocals and clashing swords to keep you alert through endless enemy waves. Pearltrees is a "web curation" app (web-content mind mapping/sharing) with an interesting way to find/share online content. Stitcher is to news radio and podcasts what Slacker or Pandora are to music.  Lot's to look at, so let the WIPTW madness commence forthwith!
Master your iPhone in one minute a day:
Sign up to iPhone Life's Tip of the Day Newsletter and we'll send you a tip each day to save time and get the most out of your iPhone or iPad.
Bounty Racer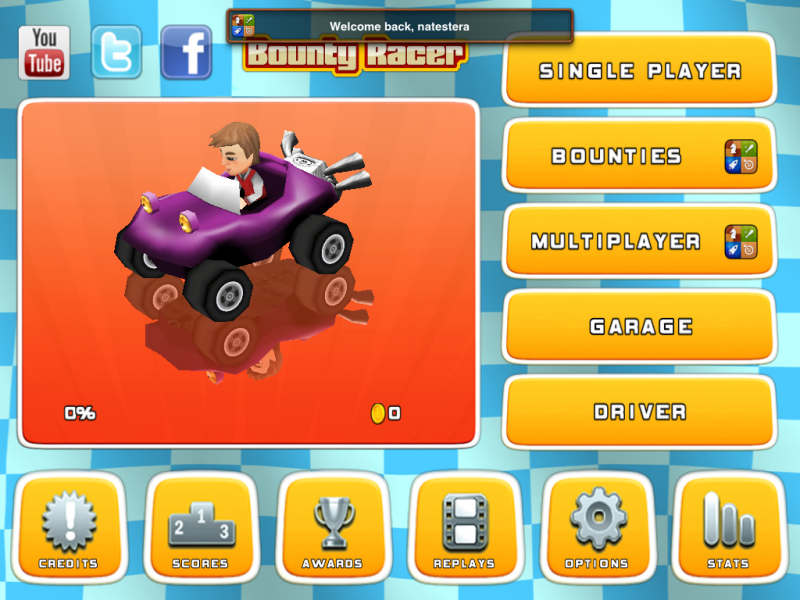 The Quadsphere is planning to release a svelt new 3D racer next week called Bounty Racer. The game is reminiscent of similar classic cart-racing games, with topsy-turvy obstacles and varied course power ups. I was able to get a pre-release beta of the game. BR played really well, using a very simple tilt-to-control steering method, and even my old iPad 1 ran it with minimal issue, though the game is optimized for Retina display on newer devices. You can check out a YT video below, and expect the game to hit the app store on July 12th.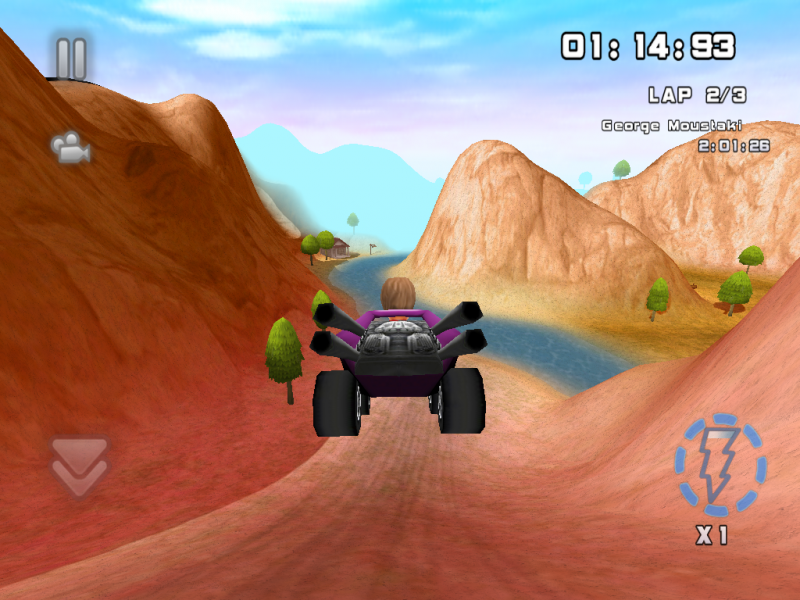 Like other cart racers, there are several gaming modes in Bounty Racer to keep it interesting, and a number of courses (72 unique events). I guess the "Bounty" mode requires game center activation to fully function, which wasn't turned on during my eval. The game allows up to 4 on-line players to go head-to-head and includes a host of random challenges. I recently grabbed the Crash Bandicoot 3D cart racing challenge, and must say Bounty Racer is a better choice, though both games have their good points. BR also let's you replay your races and post them to YouTube... which is also pretty cool!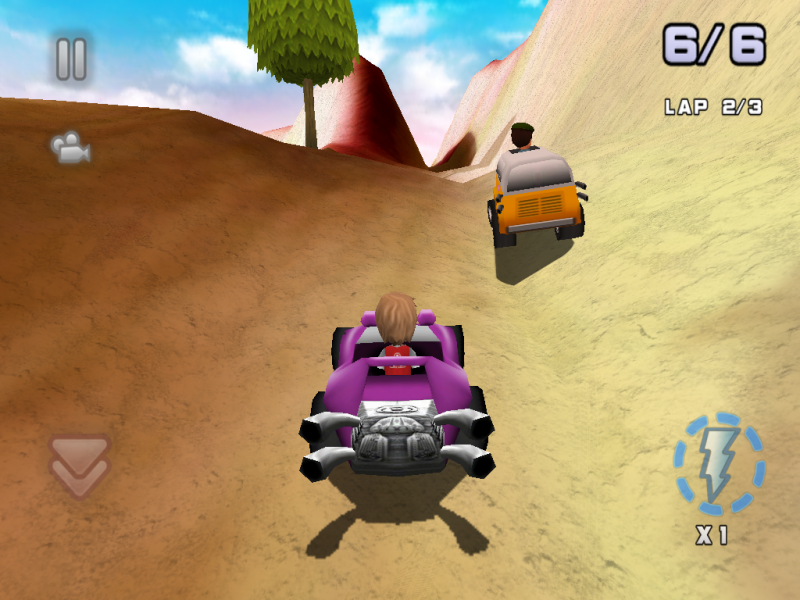 Kingdom Rush
Kingdom Rush for iPhone/iPod is Tower Defense on a tiny scale. If you like TD, KR has some cool aspects. One is the ability to add soldiers into the fight, which can be used to disrupt and split up enemy waves to give your towers time and space for better interlocking fields of fire. In typical TD fashion, your mission is to stop waves of advancing and varied enemy types from getting past your weaps emplacements (which are also upgradeable during the melee).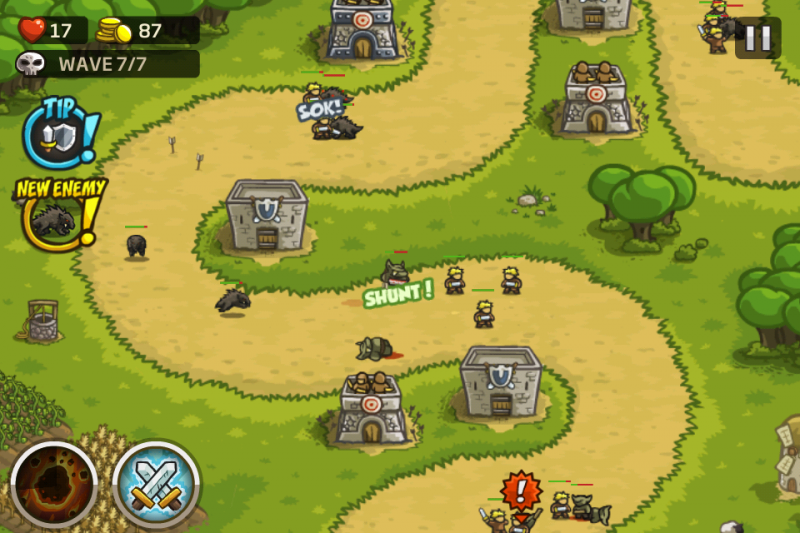 The game has an enjoyable mix of enemies (flying, running, marching, etc) and advanced power-ups; either get marginal upgrades or save your stars and buy a hero instead. I like the constant clang of swords, and rally cries of troops as they engage in battle. Warning... Kingdom Rush quickly becomes a challenge in terms of taking a break from the game and the game hardness itself after the first level.
Pearltrees
Pearltrees (the current app store version) is a mindmap application for browsing or sharing internet content. The updated beta, which I have not yet reviewed is taking on the more daunting social media functions of allowing you to share content like photos, notes and video. Being a systems engineer, I love mindmaps, but unfortunately they don't always apply perfectly to every application. For example, they are great for visualizing large and complex structures, especially when trying to determine relationships--for browsing or searching internet content, not always so much. I would probably rather perform a Google search much of the time, but then I (like many, I suspect) often never look past the page 1 results.  Here is where I think Pearltrees could and does flourish, but the built-in search and content structures created through the app are limited to only Pearltree user content. Much of that content lives in un-related islands (or "Pearls") which lack a defined category approach, except the whim of the user.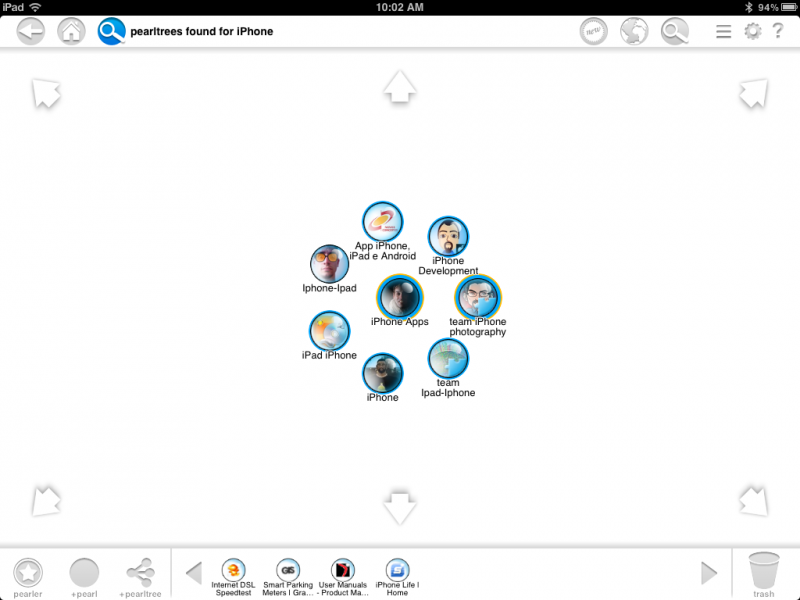 When looking for any broad-scale overview of related content, the result is often hit and miss, which usually means going down many rabbit holes. This is also a strength, in that you might find many hidden gems too. Pearltrees is built on the wisdom of crowd-sourcing, and though it isn't always going to quickly bring you to the nexus of a topic, it will certainly make browsing and sharing content more intriguing. To use the app, one simply download and install Pearltrees (after quick account configuration), and then enable the "pearler", which will allow you to create pearls directly from Safari web-sites that you visit.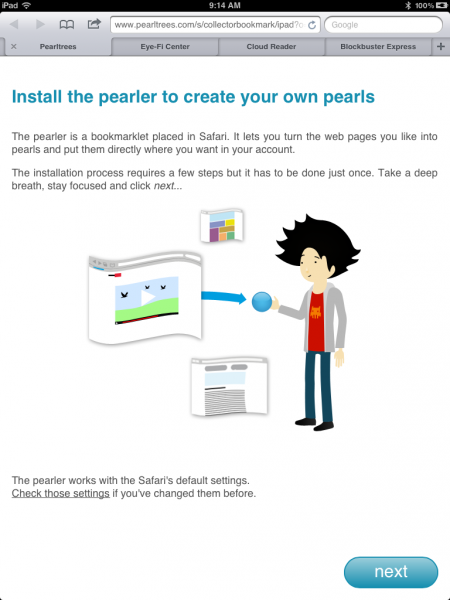 A "pearl" is simply a web site, or collection thereof, that you gather and link together (think of growing an internet tree of stuff you like). You can create them from web URLs, share them with your friends, and even collaborate on pearls with other PT members. Once you have selected a web-site to be "pearled" it will appear in your drop zone at the bottom of the UI. You can then drag and link these sites in a variety of ways, creating a kind of content taxonomy that will allow you and other PT members to find and benefit from.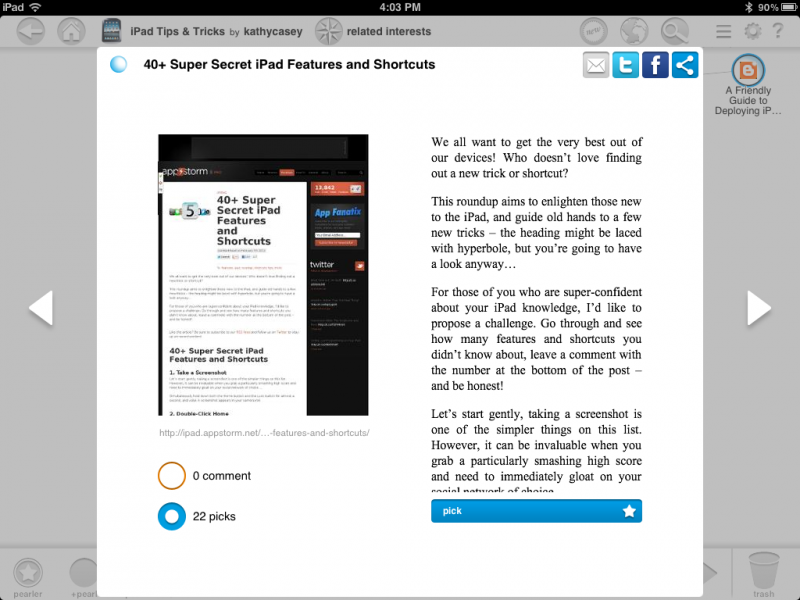 Ptrees also features a content viewer, which can be used to quickly view and share curated sites in your pearl groupings. I had a few minor glitches viewing some web-sites with it, but nothing to complain about really. PTrees is definitely an app I will try to use more, as the concept is a winner (IMO), but I have to say it has a bit of a raw and wild internet wilderness feel about it. Navigating the Pearlscape using the "similar interests" function can take you to often weird or totally unrelated connections and content. Also, my content selections didn't seem to update in a meaningful way when I return to the app. I look forward to trying out the new features in the beta, and will report back at a later date on this unique mobile navigation and sharing app.
Stitcher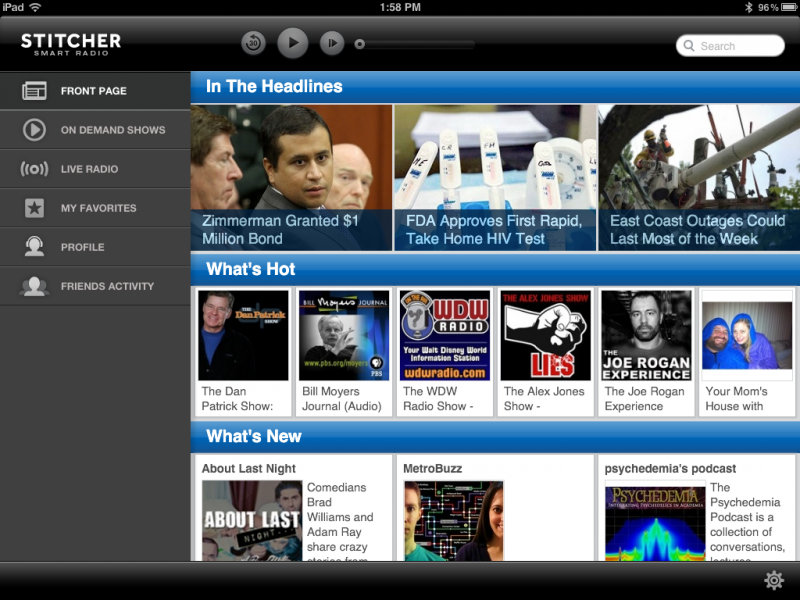 Stitcher is one of those apps been around for awhile, and does a few things really well, well enough to be recommended by the app store staff. The key to a successful app and often the best way to make one is finding a simple function that the native app space lacks. If it's easy to use and looks good, your chances are better than average of being the owner of an app store hit. Doesn't hurt to get the word out on sites like ours, which is why I give indie dev'd games and apps more attention. Anyway, Stitcher doesn't need my press, but this app is the best way I have seen to find and "stitch" together news/talk and similar radio and podcast content. Similar to sites like Pandora, the app helps you to easily create custom internet radio feeds.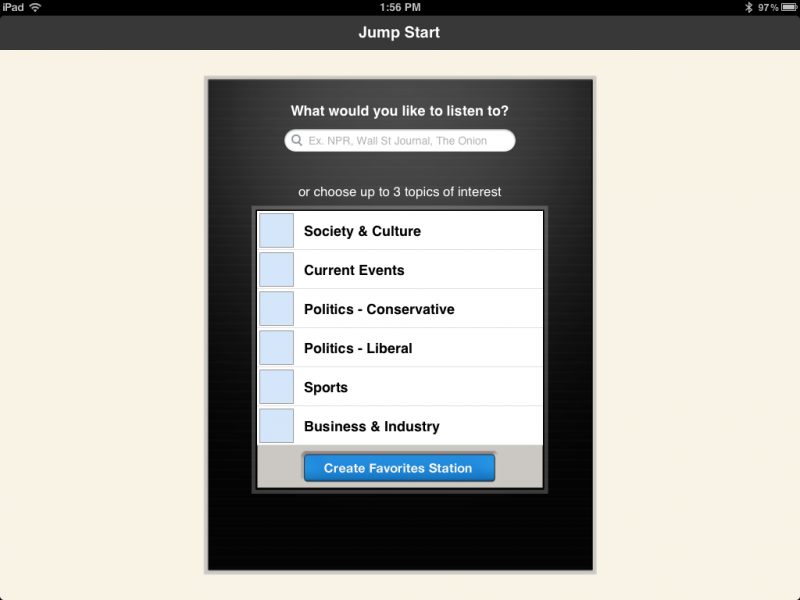 When you first configure your account (also with Facebook sign-in integration), the app allows you to select from categories of entertainment and news-related content. You can also easily browse and select stations or podcasts to listen to from the huge collection listed in the app's database. With Stitcher, you can easily find and listen to podcasts.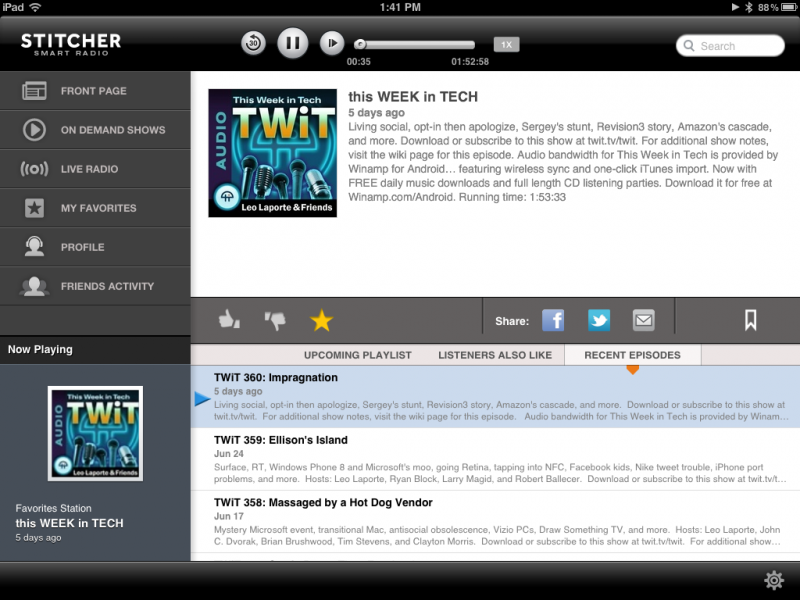 Though the app does not really store your favorite feeds for off-line listening, it will load up at least your current selection. In other words, if you don't navigate away from the currently selected podcast, you can listen to it in entirety after say putting your device in "Airplane" mode (though it will warn you when you re-open the app).
Finally, some News!
One Man Left studios (makers of the great Tilt To Live reviewed here) have released a new turn=based strategy game called Outwitters. The game was free last time I checked on the app store, in case you want to grab it. Double Jungle is releasing an update to their very odd game called Gua-Le-Ni, which is a dice game that involves feeding combination paper beasts (a Rhino - Man combo)?? Words don't really do the weirdness justice, so go check out the video here. App store link here.
That's all for this WIPTW update. You can grab any of the apps covered using the links above. Stay tuned to iPhonelife for the latest news, reviews and tips on all things iOS, and check back again in a week (or two?) for my next installment of "What I Played this Week"!