By Nate Adcock on Fri, 03/18/2011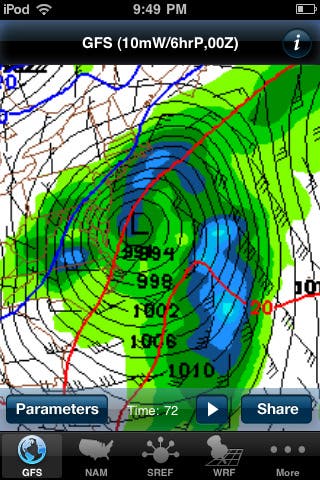 Back when I was a weather geek during the early Mesozoic, we used to hand analyze these charts and hang them on the wall. Now you can get them on your iPhone and loop them (WeatherGeek Pro is available in App store here). Of course, you don't need to spend $4.99 to check out these freely available NWS computer-generated products. They have been available here for years (the site is moving to a newer flash-based version here that likely won't work with iPhone). Course WeatherGeek saves you from pinching and squinting, and also nicely packages these excellent tools. Read on for more press info...
CINCINNATI, Ohio – Hurricane Baby, LLC today announces WeatherGeek Pro, a
first-of-its-kind app for those who think they can out-forecast their local
weather guesser.  Sick of your local weatherman always blowing the
forecast? They say sunshine – you get rain.  Oh, and you happened to leave
your convertible top down.  Now the inside of your car smells like your
Aunt Martha's house. You spend hundreds on getting the smell out while your
local weatherman keeps on making the big bucks and blowing the forecast.
The forecast from your local weatherman this time? Flurries. You get over
a foot of snow and end up spending six hours trying to get from the office
to your house – a trip which usually takes twenty minutes. You can't feel
anything from the waist down because you're frozen from digging your car
out of the snow.  All the while, your local weatherman has a smirk on his
face from the comfort of his warm TV studio. Wonder how he can keep his job
and always be wrong?  Ever wonder what exactly those weather guessers
thinking to come up with their forecast? Think you can do better? Now is
your chance to prove it!
Master your iPhone in one minute a day:
Sign up to iPhone Life's Tip of the Day Newsletter and we'll send you a tip each day to save time and get the most out of your iPhone or iPad.
For the first time ever on a mobile app, WeatherGeek Pro equips you with
the same numerical model data meteorologists use to develop their
forecasts. If you have always been curious how weather forecasts are
developed and about the kind of data which is used, this is the perfect app
for you. Unlike other weather apps on the market, WeatherGeek Pro is not
designed to give you a forecast, but rather provide you with the same
scientific tools meteorologists use so you can make your own forecast.
"We have been overwhelmed with the response to our app" says John Gumm,
Co-Founder and CEO of Hurricane Baby, LLC. "When I first came up with the
concept for this application, I thought it would mostly be useful for
professional meteorologists, meteorology students and serious weather
hobbyists. However, we have seen a large amount of downloads from people
who are just interested in getting more information about the weather than
what typical weather apps provide. These are the kind of people who want to
know how everything works, especially when it comes to matters of science
and technology."
WeatherGeek Pro Offers:
• Numerical weather model maps for the continental US, Canada and Alaska.
• GFS (Global Forecasting System), NAM (North American Mesoscale), WRF
(Weather Research and Forecasting), SREF (Short Range Ensemble Forecast)
and RUC (Rapid Update Cycle) models available.
• View multiple levels such as surface, 850mb, 700mb, 500mb, 300mb, 250mb,
200mb and many more.
• View multiple products such as precipitation forecasts, various
thickness maps, plus simulated radar.
• Zoom and scroll maps.
• Animate maps.
• Share maps on Facebook, Twitter and via Email.
• Access MOS (Model Output Statistics) tables.
Pricing and Availability:
WeatherGeek Pro is available for purchase of a price of $4.99 on the
iTunes App Store
It is also available for download in the Android Market for a purchase
price of $4.99 here

Additional Information:
For additional information about WeatherGeek Pro, including screen shots,
users' guides and even a guide to the types of data it displays go to the product home page here...