By Nate Adcock on Thu, 12/22/2011
The typical alarm clock will wake you in the morning by emanating a terrible pulsing screech or similarly upsetting noise. True that newer models offer better options than the 5AM screech, but wouldn't you rather your alarm clock do something smarter than that? Maybe tell you the weather, the latest news, your calendar events for the day followed by your favorite tunes (without commercials and other distractions)? Wake Smarter does all of those things. Oh yeah, I forgot to mention that it uses voice recognition so you can even yell at it!
Master your iPhone in one minute a day:
Sign up to iPhone Life's Tip of the Day Newsletter and we'll send you a tip each day to save time and get the most out of your iPhone or iPad.
If you already use Siri, you may not want more talking software on your phone, but if you have an iPod or Pad, Wake Smarter is a nice addition. Loaded it on both my iPod (4G) and iPad (1G), and didn't have any major problems running on either, though the sleep timer and internet connection (to play streams) did act a little wonky at times. I'll give TS a break on that mainly because it could have been a network problem. For an alarm clock app, it has a lot of bells-n-whistles.
If you are really particular about how your iDevice looks when it's sitting on a dock during the night while you sleep--admit it, you are--you will particularly enjoy all the customization options that Wake Smarter gives you. Not only can you tweak background with different scenes or patterns, you can flip between digital and analog clock types, and even dim the display with a quick finger swipe (or spoken command).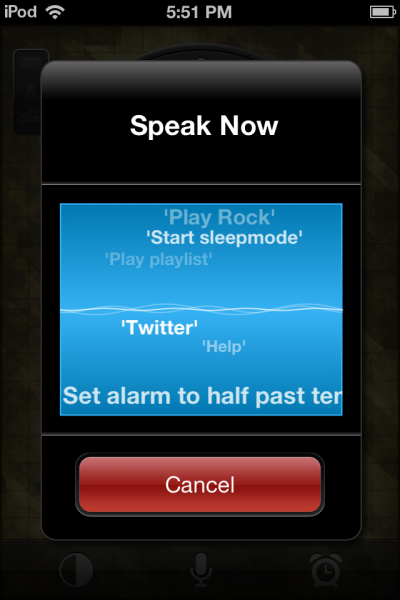 "Hey, Wake Smarter!"... yeah, if you want to talk to your alarm app, then better get used to saying the same alert phrase, though you can set this up to a different one. You may not want to leave this feature on all the time, as it drains battery. When active, the voice activation will trigger a tone and the above screen will appear. You can then give it some simple commands to execute ("play rock", "twitter", etc.). The vendor has a good demo video of this posted on YT...see below
VR worked ok, but I had to repeat phrases often, which was annoying. In practice, kind of distracting until you figure out the common phrases that you really need to use over and over (quicker to use traditional navigation input). After that, it is more useful, though still prone to mistakes when ambient noise around you is high. To use the full WS alarm features (like answering your vocal commands) also requires you to keep the app active all the time. Normal alarms will still occur, but the advanced alarm actions will not function. I think it would be superior to have the app activate instead and run the full alarm list if possible. You also have to stop the alarm of course to re-activate VR again, as it is not interactive.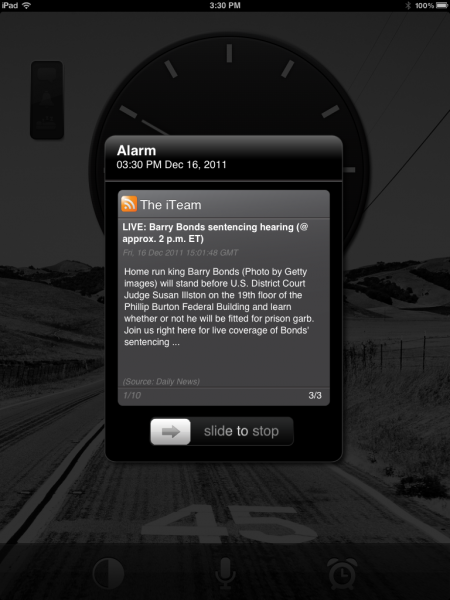 Wake Smarter has a varied list of alarm actions. You can have the program AI read the weather, play songs (local or internet), orate your favorite feeds and social media sites or announce the calendar events for the day. You could just configure a custom message, or select from a list of sounds as well. The sleep timer function similarly will let you set up a stream or sound (nature and ambient sounds included) and time setting to help you drift off. You can even yell at WS to dim the display for you (with voice activation enabled) or start the sleep timer mode.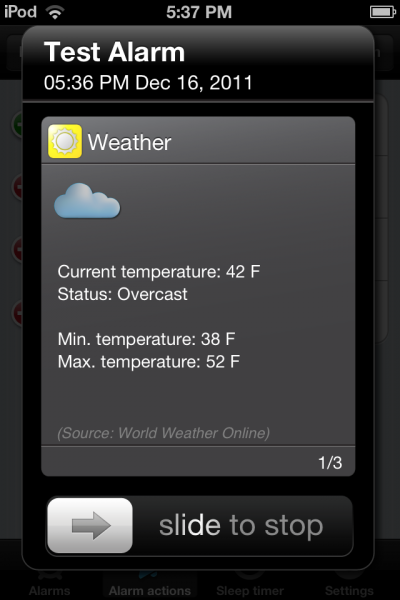 WS sounds like a computer voice, but enunciates most words rather well. Sometimes the voice seriously garbles pronunciation, however, particularly for news feeds with lots of names and technical terms to trip up the algorithm. It was neat, but I had to run over and squint at the screen several times to actually read the words (also printed in the alarm notification), because I often couldn't understand the computerized voice.
Wake Smarter is a great concept for an alarm app, and I like it overall. There are a few minor glitches I mentioned in the review which I know are being addressed by the vendor. It can handle relatively simple VR tasks well, and if you are patient for some basic use cases (like playing your favorite playlist), you likely won't have any gripes with it. If you want an alarm app that is much better than the standard buzzer/radio combo, you can grab it for $2.99 at the app store link here.