By Nate Adcock updated on 06/30/2014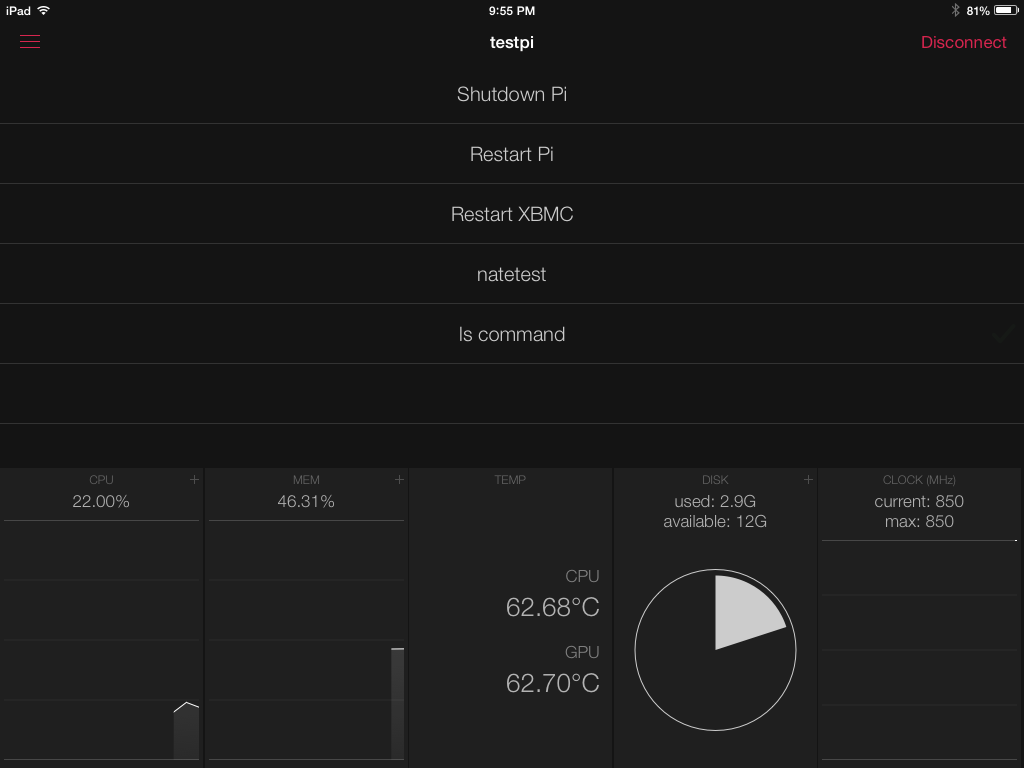 I'm always scanning for unique and hackable tech, and a news item caught my attention about an app called SimplePi ($1.99) for managing a Raspberry Pi from your iDevice. Since I have been eyeballing similarly geeky tech (for file sharing, etc.), I had to check it out. If you are a Raspberry Pi aficionado, and looking for a nice app experience to help you manage your Pi, today is your lucky day. Not sure what I'm talking about? Read on to learn how a Pi could help round up your stray media!
Master your iPhone in one minute a day:
Sign up to iPhone Life's Tip of the Day Newsletter and we'll send you a tip each day to save time and get the most out of your iPhone or iPad.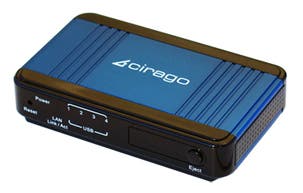 I geeked out a bit this past Father's Day when my kids bought me a Cirago NUS1000 for around $40 on Amazon. I was looking for a lightweight Linux gadget to share hard drives and a printer on my network, and though I was seriously going to go for a Pi, the NUS fit the bill, bringing media services and webdav connectivity along for the ride and only a minor setup effort. Now I can access files on my old hard drives from anywhere and from anything (even my Apple toys). But I digress... I was recently able to play with someone's Pi remotely (which admittedly sounds weird). The developer of SimplePi allowed me to connect to his XBMC-enabled Pi server. What's a Pi, you ask (or an XBMC for that matter)? Well, I was just getting to that.
You might be one of the those uber-cool Apple-connected people that should they desire a new media server for their home network, simply bellies up to the Genius Bar for an Apple TV. Perfectly understandable and not a bad choice. You bring it home, read a two-to-three step quick-start guide, and voila, you are streaming away Game of Thrones like a fiend (presuming you are tied into Apple's ecosystem, which you probably are). But what if I said you could exert a little more control over your media serving destiny?
You could buy a credit card sized computer circuit board with basic I/O, CPU, memory and peripheral device ports called a Raspberry Pi that sips power. You could then flash some pre-programmed software or build in your own custom hacks, and in like a few hours (or days or weeks depending on the scale of your geeky prowess) have your own totally bad-butted media server! Or maybe a Christmas light controller (what one of my colleagues is planning)! How about a zombie-killing-robot control module? The Pi puts all of these possibilities and more literally in the palm of you hand. But here is the catch. You have to work a little for it. You may have to run some command line commands for example, or learn a bit of code. Or, perish the thought, troubleshoot an SD disk mount problem. If you want to buy a practically ready-made XBMC/Pi media server, you can go that direction too. Wait, I still haven't explained about XBMC, have I?
XBMC is an open-source media player with software plug-ins and add-ons that can make it a powerhouse media center. A media center is really what Apple TV mostly is, though one that Apple tightly controls. A media center serves up content to your network attached devices, be they computer, smartphone, or tablet. I use XBMC on my computer to play DVDs, because Windows 8 can't, for example. I can also now use it to browse all the content shared out from the NUC1000 my kids gave me.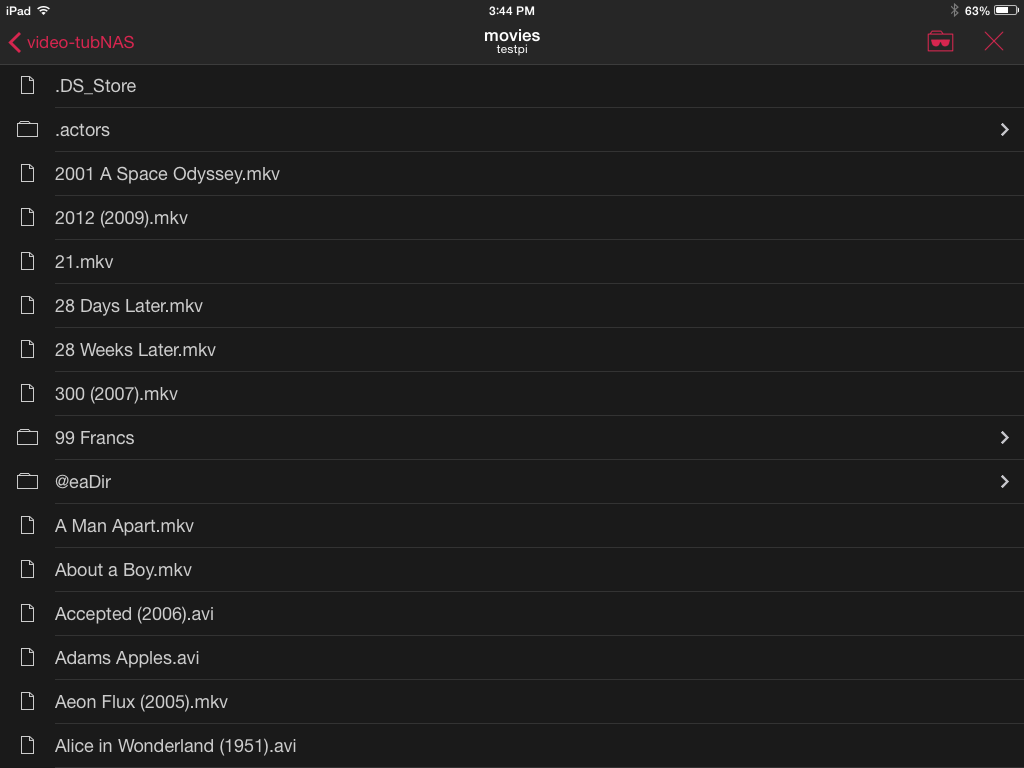 SimplePi let's you browse your media folders on your Pi media center..
An XBMC-shared system can include TV shows you have downloaded or on-demand content from the interwebs (through plug-ins), but the point is that your center (that you own and control) is doing the heavy lifting. If you already have movies and music stored on an external hard drive (and likely in a mix of formats), then XBMC-Pi could be a liberating choice for you, without tying your cart to Apple too tightly. Now you see the full picture, pun intended. Well then, what does SimplePi have to do with anything? Good question.
Pi is a minimalist piece of hardware made to be tinkered with. If you buy this thing at Fryes or online, what you pull out of the package (even with an XBMC bundle) might look like it fell out of the guts of C-3PO. It likes a little care and feeding, and since you are its new Daddy, it's your job. You might take a notion to try your hand at running some basic scripts or commands. Maybe do something insane like back up your Pi with a Cron job or something (which is possible and desirable if you just spent two days programming it). Simple Pi is the answer you were looking for.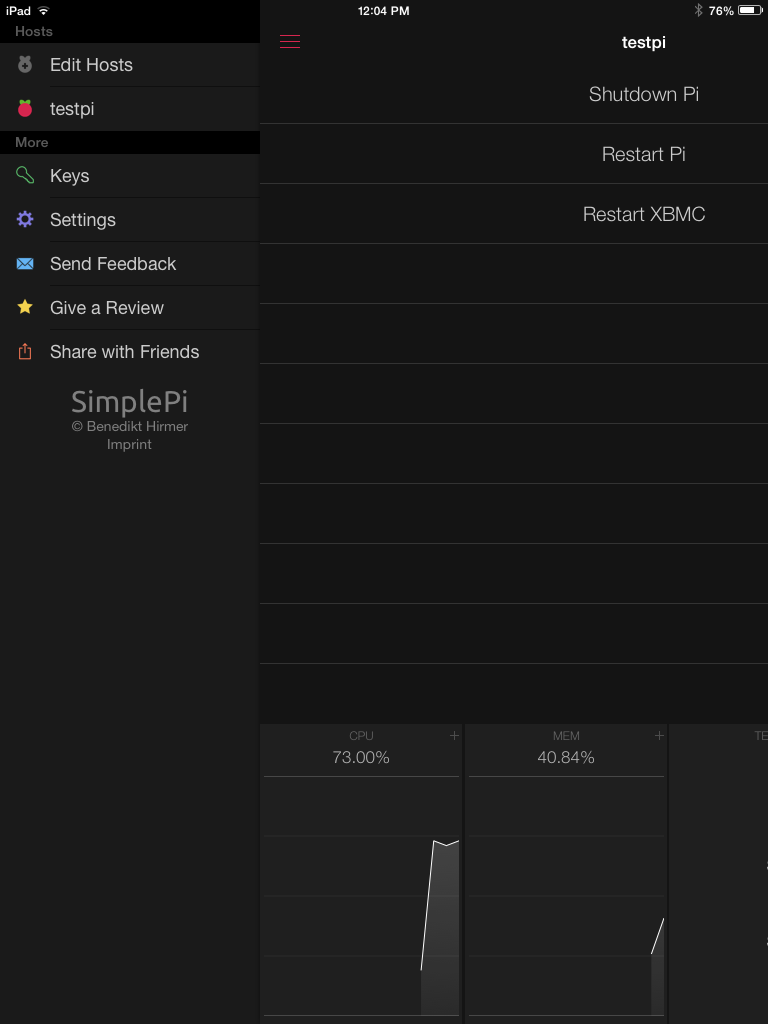 Once you input the connection information into SimplePi to control and monitor your Pi, the rest is academic. If all you wanted to do was sit and watch the undulating graph of your Pi controller, memory and disk activity, then enjoy! However, maybe you want to run a few commands, or (heaven forbid) execute a reboot! The Pi app gives you some generic control commands (shut, restart, etc.), and you can create your own custom ones too. An annoyance or two here for a paid app: You can't view commands that produce output to standard out (meaning the console shell, because there is no interactive shell) though you can redirect to a file. The app uses SSH, and to use a key pair (instead of password) requires some goofing around with emailing the keys, but the programmer is looking into these items for future updates, and he does offer a full SSH app if you prefer to go that route.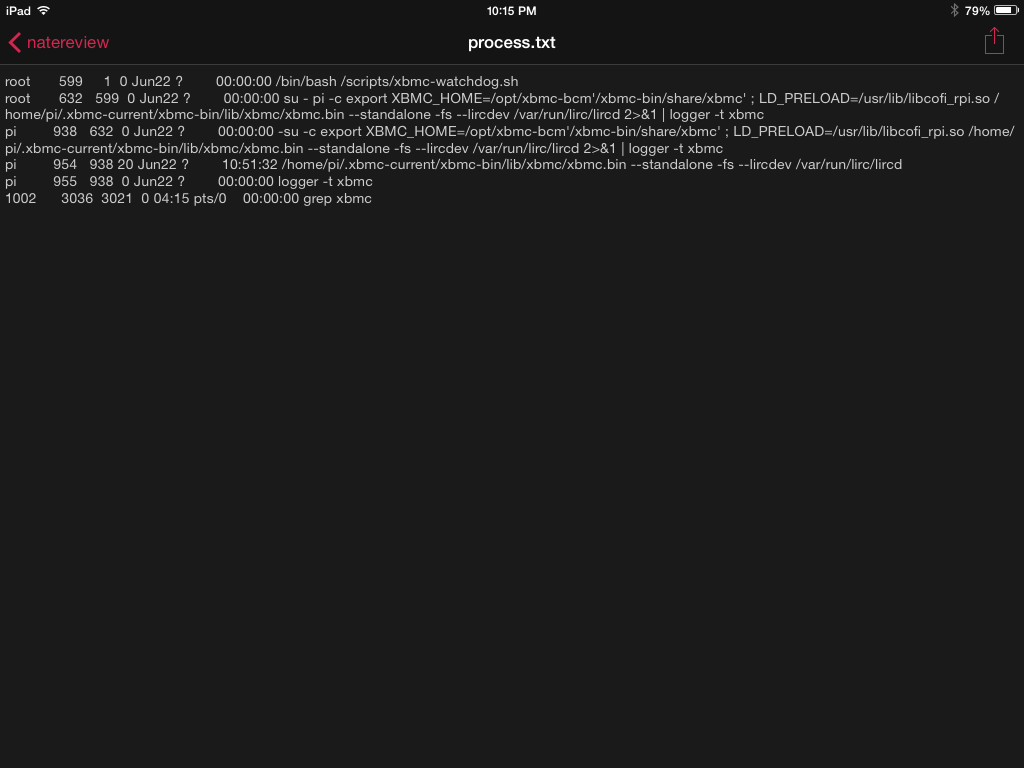 To demonstrate the custom commands I configured a few that redirected to text files (which can then be viewed in the in-app file explorer). The command output probably looks like gobbledygook if you aren't familiar with basic Linux. One command is a process list or ps that filters for any xbmc processes, and another a unix list command (with options to list all files at root with a long listing, and to sort by reverse order).
The overall app is well done and responsive. It also only crashed a couple of times (which could have honestly been the Pi itself locking up). You could add a whole army of Pi nodes here and get a quick view of them, monitor the temp, CPU clock speed, etc  on each. For multiple Pi monitoring it would be a nice addition to allow dockable views of each Pi in a tabbed format. Any Linux host that presumably has SSH enabled should mostly work with SimplePi, but I did not verify that.
Verdict
SimplePi does exactly what it says it does: monitor and control one or more Raspberry Pi devices from your iPad or iPhone. I give a hearty hacking seal of approval and recommend it to any and all Pi lovers who may have the need to keep a remote eye on their little computing pets. For $1.99 I might want a few extra skins to choose from (instead of just black), but that's just me. Grab the app at the links above, and to learn more or get your own Pi, go here.