By Nate Adcock on Sat, 10/12/2013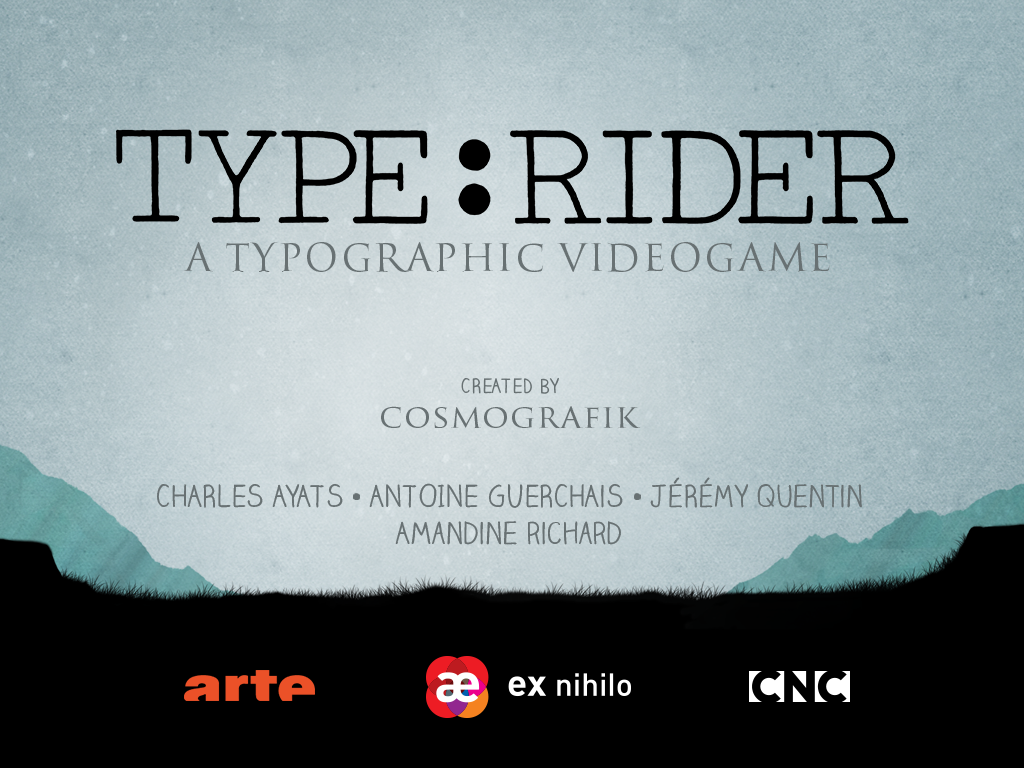 I guess after you play or review a few high-caliber 3D action games—particularly ones with fast, stunning graphics and sound—you sort of become numb to similarly fantastic, over-the-top games. You overdose on them, or at least I do. You need to cleanse the palette, as it were. Eventually along will come a simple game, completely out of nowhere. No fancy 3D engine, shaders, or blazing polygon models. Just clever use of lighting, and in-game ambience that is so darn good, it is like discovering the wonder of your iPad for the first time. Type:Rider ($2.99) is exactly that kind of game.
Master your iPhone in one minute a day:
Sign up to iPhone Life's Tip of the Day Newsletter and we'll send you a tip each day to save time and get the most out of your iPhone or iPad.
Warning: I am going to rave about this game for the next five paragraphs, so you may as well just go grab it now and see for yourself; and if you have kids old enough to learn about the history of written language, FORCE THEM to play it!
First, a question: Why does learning about anything new (or old) usually suck? Well, it might be the delivery or it might be the content itself, but I think it usually boils down to passion. People who have a passion for what they know somehow find an interesting way to pass that on to others. People who do not, do not! Every notable teacher I've had, had that special something that made me eager to learn. They worked hard to convince me that I needed to know whatever it was they were teaching, and therefore I paid attention and actually learned whatever it was they were teaching. Type:Rider also has this quality...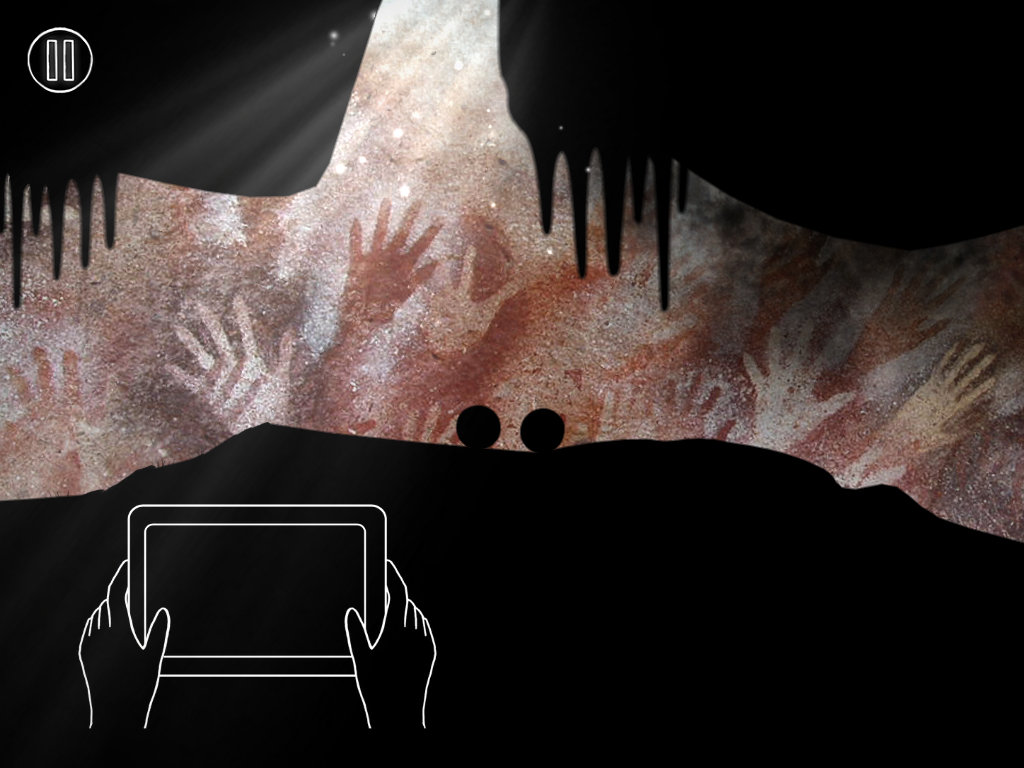 From the opening in-game scenes you are drawn into the ancient and mysterious beginnings of the first forms of typography—on cave walls, then stone tablets, and on to other mediums. You (meaning your game character) is represented by an onscreen ":" (colon or two dots depending on your perspective), which can move, jump and bounce across the ever-more difficult landscape of history. Each level of the game represents a different historical epoch in typography, and as you solve the various physics puzzles, you unlock historical facts about the period. As you complete each level, you move to more recent, and more challenging, historical chapters. On paper, this may seem like the lamest idea for a video game in the history of video games. I assure you that it really isn't.
Borrowing from other platform genres, T:R does a superb job of making the gameplay and puzzles enjoyable and interesting. I was riveted by the silky smooth way the forms are rendered; and the overall physics, timing, and motion of the game are spot on. The game area and your colon avatar are all almost completely rendered in black, but the beautiful backgrounds are perfectly lighted to offset this gloominess, making you feel like you are actually becoming illuminated as you progress. It is astounding how well this game draws you in with simply ambience; the visuals and audio are both cinema quality!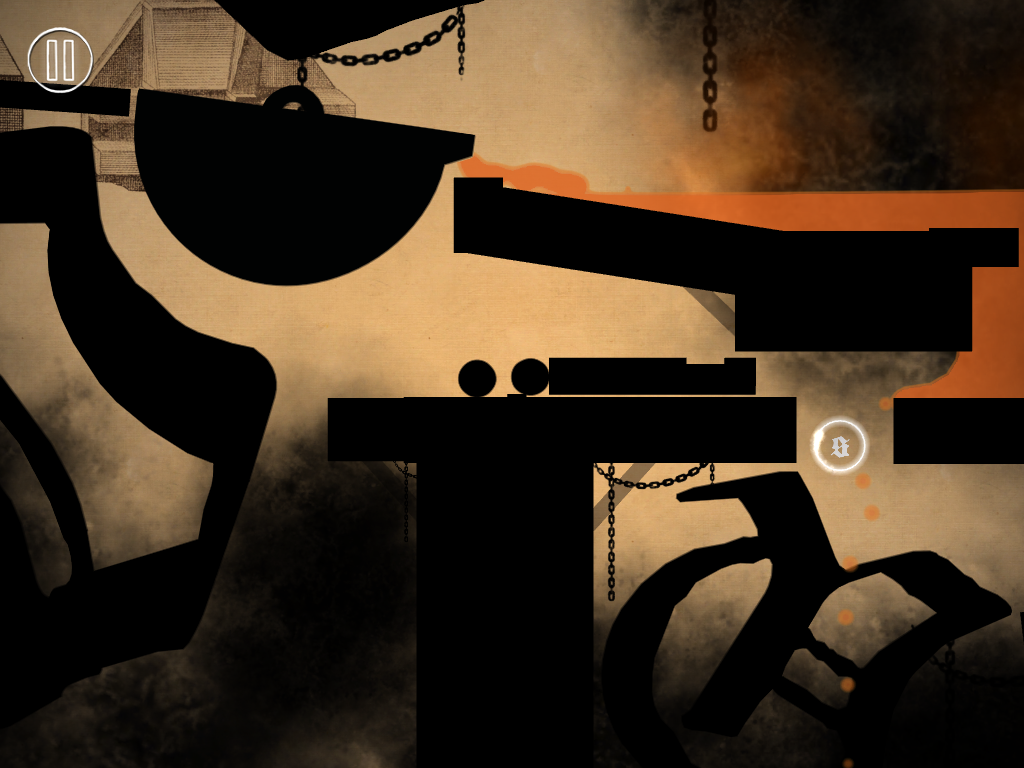 I admit that I didn't read the accompanying "book" sections of each and every chapter. (So I have some homework to do, gimme a break, will you?) I was more drawn to completing each puzzle challenge. But I intend to diligently return and read them, really! I never imagined that a 2D platform game would inspire me to wonder something like, "How did Gutenberg create a special printing ink that would not soak through paper, thus allowing books to be printed on both sides of the pages?" I ended up researching it further on the Internet.
The game supports Game Center, and like any traditional platform game, you pick up bonus items along your way. You can unlock special achievements for executing certain moves, just like any other platformer. (Silly low-brow nonsense like flipping around a bunch of times...sniff.)
The Verdict
This is likely to be the shortest and easiest verdict I have ever written on a game; and since I found no cons worth mentioning, I won't even post a Pro/Con section. Here is really the only pro needed: This is one of the best games I have experienced this year. It ran flawlessly on my iPad mini. Everything about the game makes you want to keep playing it. Grab it at the links above.
Update: I do have to post up one minor con, though I can't corroborate the cause. I didn't note it on the early levels, but in some later chapters, I observed some animation jerkiness, and the game did exit at least once. It didn't detract from my overall experience, and still feel this is an amazing game, but others have commented on it in the App store. I admit I didn't try the game on other devices or iOS versions to isolate the cause.