By Nate Adcock on Tue, 11/23/2010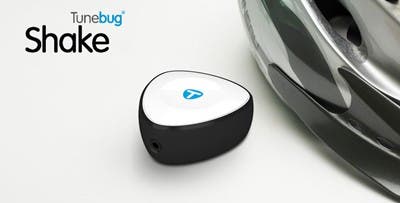 You can bike, skateboard, rollor derby--or a ton of other things requiring a helmet--with headphones, but that's dangerous! Headphones significantly dampen environmental sound that you should hear (like someone yelling "look out!"). Get quality tunes to accompany that smooth kickflip (insert related slang of preference) without shutting out important sounds around you with the Tunebug Shake...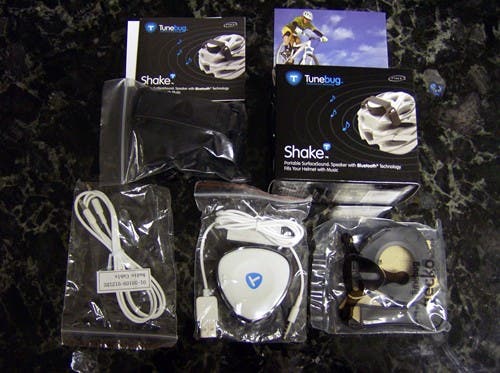 Master your iPhone in one minute a day:
Sign up to iPhone Life's Tip of the Day Newsletter and we'll send you a tip each day to save time and get the most out of your iPhone or iPad.
The package comes with everything you need to connect the TB Shake to your protected noggin including 2 types of strap, a USB charging cable, a 3.5mmm audio cable (in case you have to wire up, old-school like), a user manual and the Shake itself. It feels and looks more or less like a sturdy palm-sized speaker. I tested TB Shake with my 2G iPod touch, and had very little difficulty using either the audio cable or Bluetooth. It should work with just about any portable player that features either BT audio, or has a 3.5mm out jack.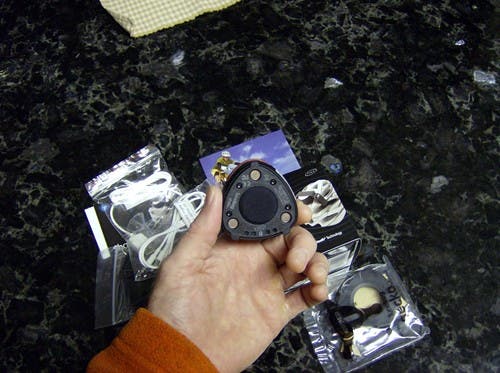 So, the deal with TB is they make little speakers that turn practically any surface into a medium through which sound waves are amplified. It works amazingly well, though not so good on our kitchen granite top counter (the medium should probably not be solid or dense), as shown above. The best objects are hollow inside; like an empty milk carton (which will also focus sound). Not that I'm an audio sound engineer or anything, but a bike helmet is a great applications of this. It's kind of like a milk carton for your head, after all (though a bit more sturdy of course).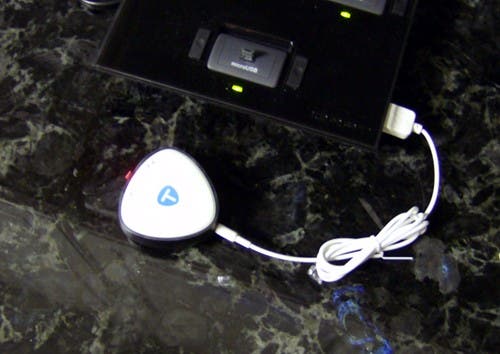 A standout bit of design work in the Shake is the easy to use touch-sensitive controls. At first I was annoyed, because I kept turning the thing on by accident, or turning the volume waaay up. Once it is in place on top of your head, the controls allow you to easily turn on/off or adjust TB volume with a finger touch. When charging it will flash status color indicating how much charge the battery contains, and when connected via bluetooth will flash blue. The 450mAH LiPoly battery should give you around 5 hours of play (though I did not confirm this).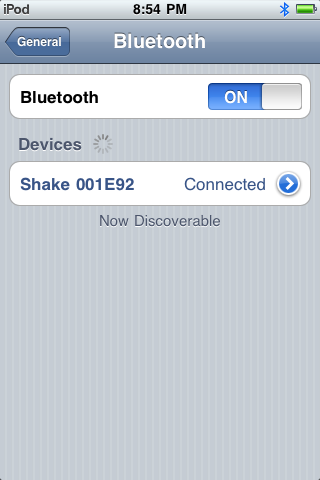 To BT pair the Shake with your iPod/iPhone, you simply hold down the 2 touch-control nubs simultaneously for about 4 seconds, and then run the BT discovery setup under the general settings menu on your device. On my 2G touch, it connected without even needing a passkey.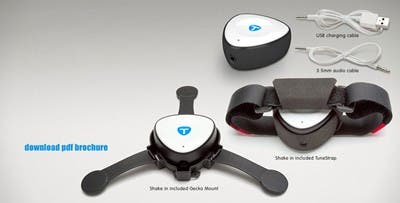 There are 2 different strap types to afix the Shake to your helmet, designed for either a conventional bicyclist style helmet (like shown below), or the skater style helments that lack large airholes. Either way, you can probably find a way to attach it with what is included in the kit, but feel free to improvise. Once attached, you just start up your tunes and touch the 2 nubs for about 3 seconds. Be ready to be amazed at the sound it produces around your head, and without the dangerous isolating quality of headphones or earbuds. Definitely a safer alternative!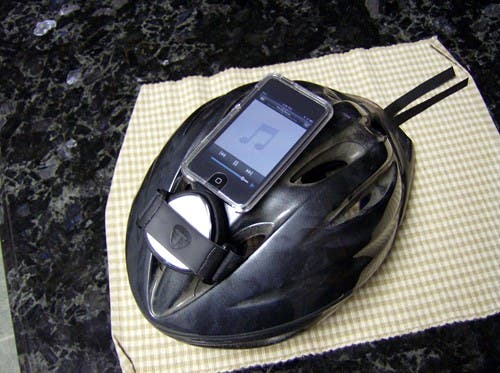 Probably the coolest thing you can do is to walk up to a sliding glass window and lay the Shake firmly against it with your tunes going. The sound it produces is pretty awesome. The better contact it has with a surface, the better the sound level and quality. A Tunebug is a perfect stocking stuffer and unique audio gadget this holiday season for your insane skater or bike-riding friends and family. It will definitely be high on my recommended list of cool and useful accessory devices. You can grab the Shake here for around $99, or check out the Vibe for the indoor geeks on your list!