By Nate Adcock on Sat, 02/26/2011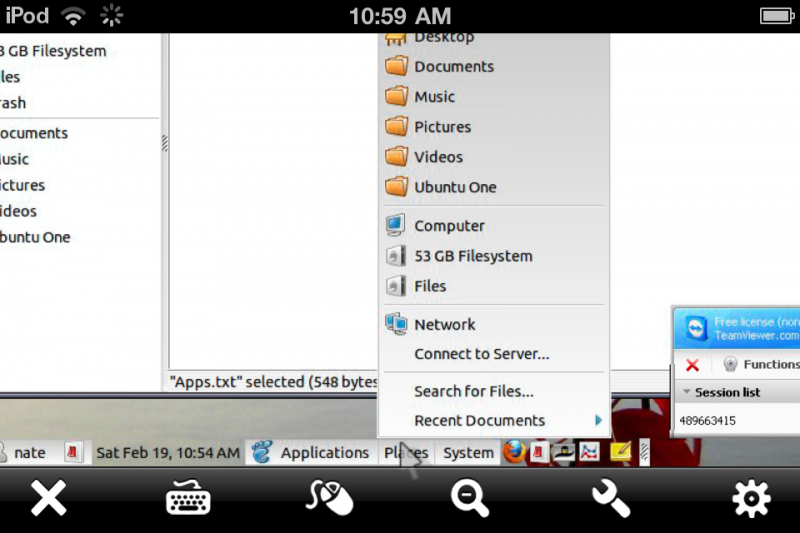 If you are looking for a secure, very easy to configure and use, remote desktop app (and I am happy to report it works well with Linux), check out TeamViewer. If you don't mind the app reminding you to upgrade it--and the lack of a few features--it is completely free. You can grab everything you need here (DLs available for Mac, PC, and Linux), and the app store link above. The config for Ubuntu geeks is pretty simple (download the debian package, run the desktop app, and perform similar actions on iPhone to connect). Read on for more PR info...
Goeppingen, Germany – Over 6,000 flights were cancelled this February when the snow and ice storm hit the Midwest, and government officials warned the public to stay off the streets completely. For business, this can result in a devastating loss in revenue. TeamViewer offers an easy to use solution which allows people to access and control their office computer from wherever they may be, through a home computer, public workstation, iPhone, iPad or Android device.

With winter weather taking a toll on everything from air traffic to daily commutes, getting into the office can be mission impossible with hours and even days lost in the shuffle. Client requests and pending projects mean pressure is high to maintain business as usual and companies strive to continue to meet important deadlines. TeamViewer remote control and online presentation software offers a proactive approach to winter weather management. The secure solution enables 24/7 access to business or home computers for fast collaboration from anywhere in the world.

Connecting with TeamViewer is easy. First, TeamViewer can be downloaded in about a minute at www.teamviewer.com. Then, simply click on the TeamViewer icon and enter the ID and password of the computer to connect with. TeamViewer partner lists can also be used to save the ID and password of trusted collaborators for single-click connection. Once connected, users view the screen of the remote computer and move the mouse for total control. Business people stranded at home or on the road are able to access everything they need to continue their normal rhythm of work from wherever they may be.

Versions for the iPhone, iPad and Android are also available, meaning users can connect and control a computer directly from their mobile device. This flexible solution means zero downtime for people stranded at home, on the road or in the airport. Free for non-commercial use, business licenses are available on the TeamViewer website.

"The competitive business environment means efficiency is everything," begins Holger Felgner, General Manager of TeamViewer GmbH. "With snow storms stopping traffic and cancelling flights, hours and sometimes days are lost in productivity. And there is nothing more frustrating than watching your list of things to do grow, and knowing there is nothing you can do about it. TeamViewer is designed to enable complete 24/7 access to home and office computers, meaning business can continue as usual, even if travel plans come to a complete halt."

About TeamViewer GmbH

TeamViewer GmbH, founded in 2005, is fully focused on the development and distribution of high-end solutions for online communication and collaboration. Available in 33 languages, TeamViewer boasts 100 million installations in over 200 countries. TeamViewer GmbH is privately held and has been profitable from the first day of operations.