By Nate Adcock on Wed, 01/04/2012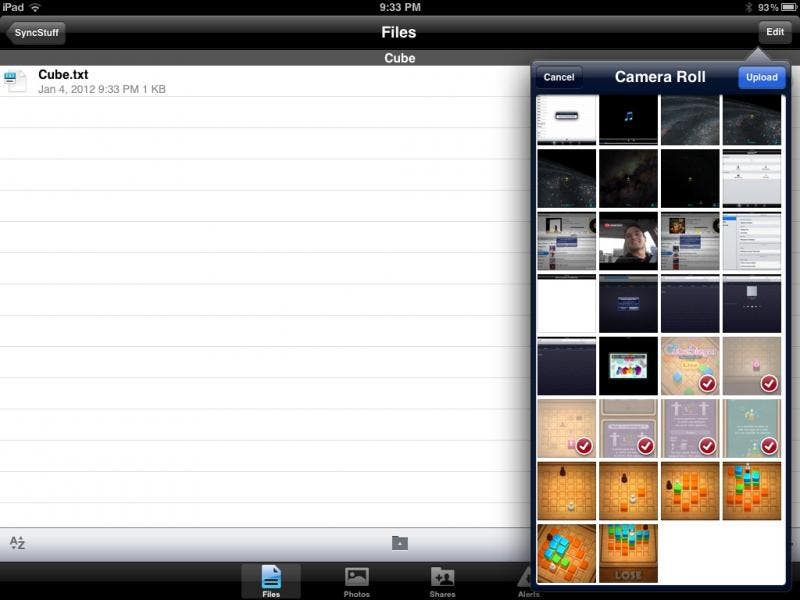 Every once in a while I post a review, and soon after the vendor responds with fixes for some of the minor issues or updates to features in the app. I'm sure the fixes were probably already in the pipeline, but I still like feeling maybe the review helped (I'm a deluded blogger, I know). Recently I reviewed SugarSync as part of an ongoing evaluation of products--a quest, you see, to find the perfect iPad-PC editing and syncronization app, and an excuse for writing more drivel in my blog here. SugarSync is a great cloud storage service, but I found some of the features of the iPad app a little light in a few areas, especially the photo uploading ability. Well, they went and enhanced it... Read on for the full press scoop...
Master your iPhone in one minute a day:
Sign up to iPhone Life's Tip of the Day Newsletter and we'll send you a tip each day to save time and get the most out of your iPhone or iPad.
"SAN MATEO, CALIF., Jan. 4, 2012 – SugarSync , a free service that actively syncs your files across all your computers and devices, today announced a new release of its free app that makes it easier than ever to sync your mobile photos and videos from your iPhone, iPad and iPod Touch to your computers. The new SugarSync for iOS app  gives you the ability to sync all of your mobile photos and videos to your computers at once, control over photo and video compression and quality, and an updated photo album gallery for a better viewing and sharing experience.



"Our mobile devices have become our primary point-and-shoot cameras, which means we have an increasing amount of photos and videos on our phones and devices that need to be synced with our computers at any given time," said Laura Yecies, CEO of SugarSync. "Our new app not only makes it easier than ever to sync your mobile photos and videos with your computers, but it also gives you more control over the quality and speed of media backups."



Your Mobile Media Synced, With Fewer Clicks



SugarSync has always enabled you to automatically sync photos and videos that are taken from within the SugarSync app, so that all your photos and videos are available on your computer as you take them. But for existing photos and videos that are in your camera roll (or photos/videos not taken from within the SugarSync app), you previously had to upload one image at a time to SugarSync to sync them to your computers.



With the new app, you can easily upload lots of photos and videos at once – whichever ones you select – so that your existing media are synced to any folder on your computer in just a couple of clicks. We also made it so that

SugarSync will continue to upload all of your photos in the background, so that you can leave the SugarSync app and keep using your device while everything uploads.



Quality, Upload Speed, or Both?



When it comes to photo and video uploads, there are usually two camps. The first wants to optimize their photos and videos for fast upload and use less bandwidth, and the second would rather have their images in full-resolution, even if that means the upload may take longer. With the new SugarSync app, the choice is yours – just choose between Best, Good, or Medium upload quality. Best quality results in the highest image quality, but takes the longest to upload since the files are largest. Medium applies more compression to your media, which results in much faster uploads.



New Photo Tab for a Better Viewing Experience



The new app features a completely re-designed photos tab, which gives you a complete view of all of your photo albums, not just your recent albums. All of the sharing options are still there, but we've presented the albums with larger preview images and included additional sorting options to make things easier to find. The result is a lot fewer clicks to get to the images and albums you want to view and share.



We also optimized the photo viewing experience to make it faster than ever to swipe between photos. And we no longer default the images to low-resolution, so viewing your high-resolution photos has never been easier or faster.

The new SugarSync for iOS app is available today for your iPhone, iPad and iPod Touch. Download it now in the iTunes App Store , or from the SugarSync site [at links posted above].