By Nate Adcock on Mon, 11/15/2010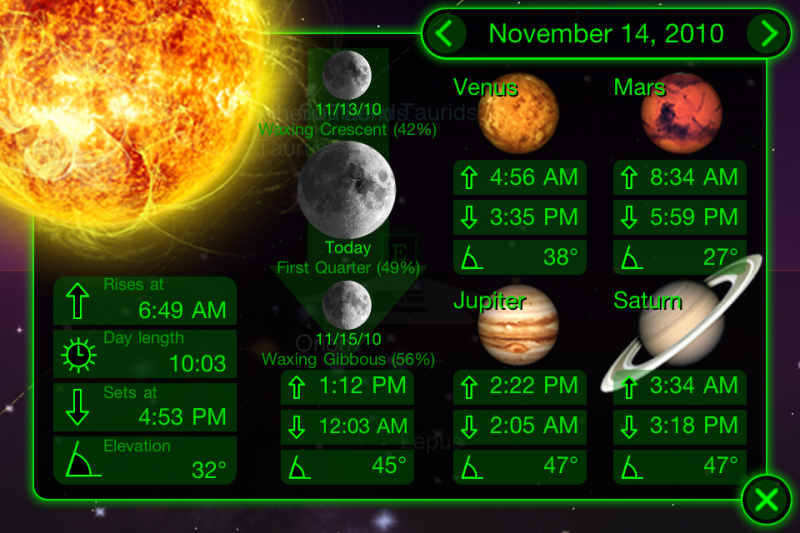 Who doesn't remember the planetarium? I thought it was the best school field-trip that was ever conceived, way back when I was a kid (besides the Smithsonian Institute), but I digress. Star Walk version 5 (which is the point of this post) is a pocket-sized planetarium that brings the cosmos to you, adding a ton of cool stuff to this already great educational app.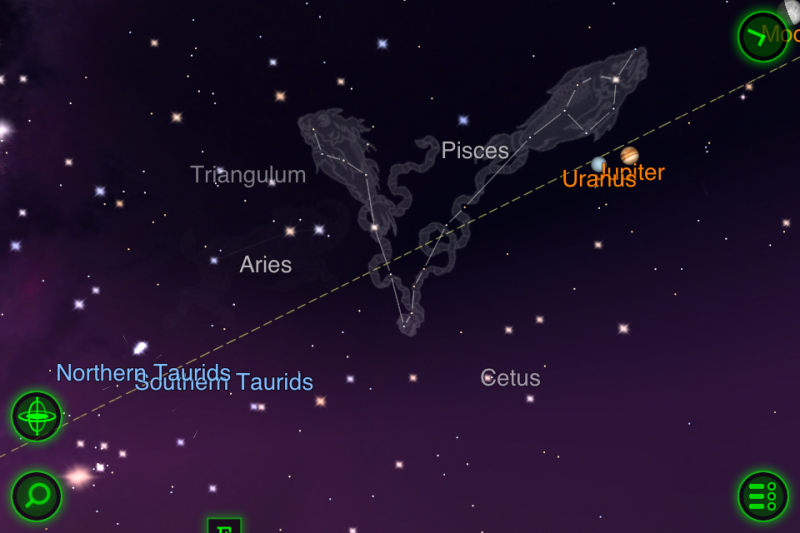 This will be a mini-review of the new updated version of SW (see my original post here)--mostly the newer features. SW has certainly grown in the app store (Winner of an Apple design award), but also in size (the app is a pretty hefty 100+ MB download). I imagine the better graphics and retina support account for much of that. I simply updated my version via iTunes on my computer, and then synced to my 4G iPod touch (running 4.1 iOS).
Master your iPhone in one minute a day:
Sign up to iPhone Life's Tip of the Day Newsletter and we'll send you a tip each day to save time and get the most out of your iPhone or iPad.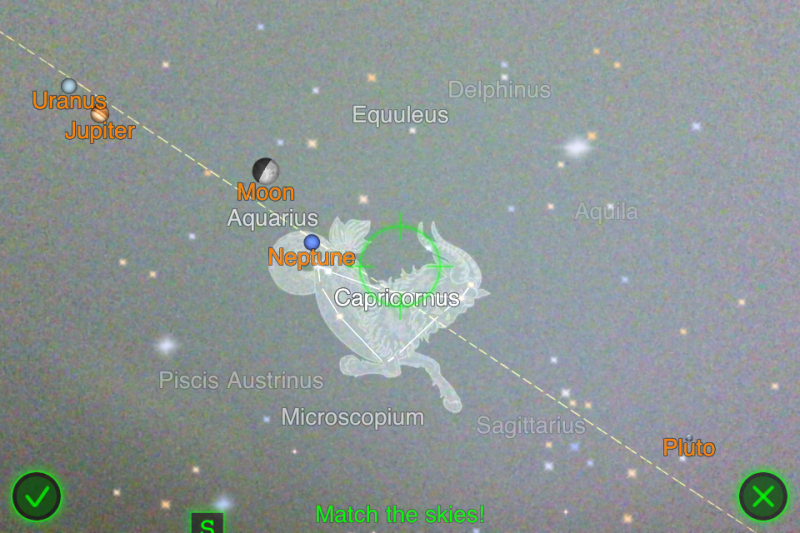 In previous versions of the app, you could try tilting (the iPod) up, and while it would rotate the display accordingly, you could not rotate through various points of the compass (no GPS). Actually it was annoying, and I promptly turned it off. On the iPod touch 4G, you can now use the camera to calibrate this feature to the real night sky (using an Augmented Reality view through the rear camera). Once you have set this feature up, the tilting works much better than it ever did in the previous releases. By turning the unit around the points of the compass (while holding it overhead), the Star Walk view also turns accordingly. It is very cool, but of course if you do it inside, you get a nice view of your ceiling (screenshot above)...;)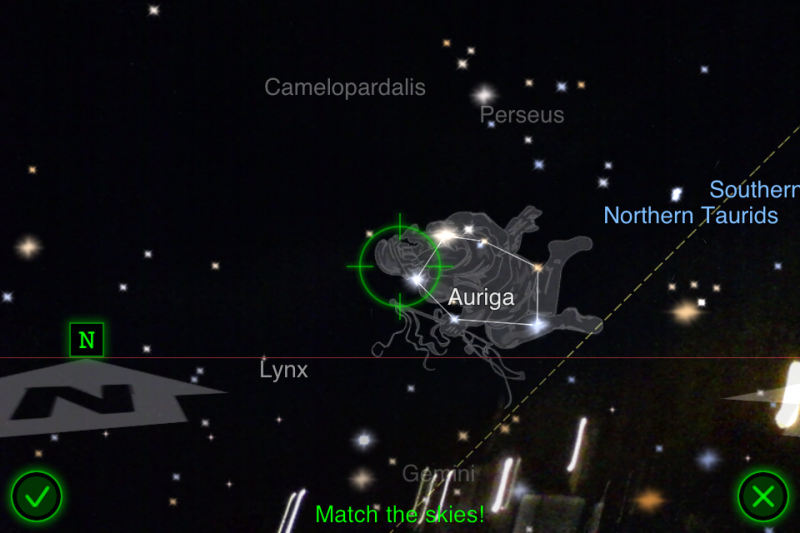 My only complaint is that there seems to be no way of setting this calibration permanently (you have to set it each time you use SW). In reality, it was also kind of hard to accurately overlay the background stars (as they aren't very bright off my back porch due to lot's of city light pollution nearby), so instead I suggest picking a point on the horizon of a well-known landmark (say a building or structure on the horizon in a known direction), or use a very bright object like the moon. Once Star Walk has a reasonable fix, it will more accurately reflect the real aerodrome overhead. To do this, you simply tap the checkmark in the lower left when in calibrate mode.
Another couple of features worthy of note are the ability to track satellites, and to mensurate angles of declination between sky objects (a set of concentric circles at measured arc distances). The tracking ability is handy for getting a general sat fix or simply staying up-to-date on the location of more terrestrial objects (like ISS). I cannot vouch how effective the mensuration feature is, not having a more precise instrument to gauge it against however.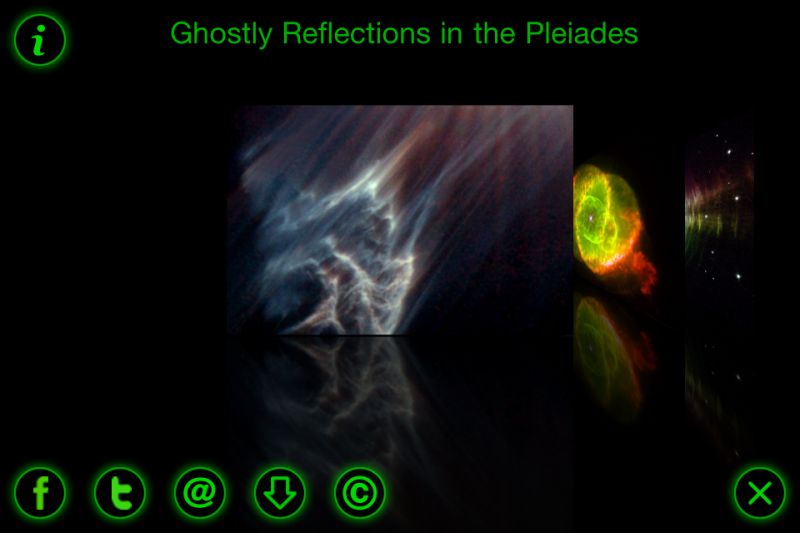 One of my favorite features in Star Walk is the picture of the day (not brand new, but very cool).  Supplied via feed from NASA and other imagery observing sources, the images can be scrolled through using the same cover flow UI as your iTunes library. You can also send images in email, download them to your camera roll, or post them to Facebook. SW will also send you notifications through the home screen icon of new images.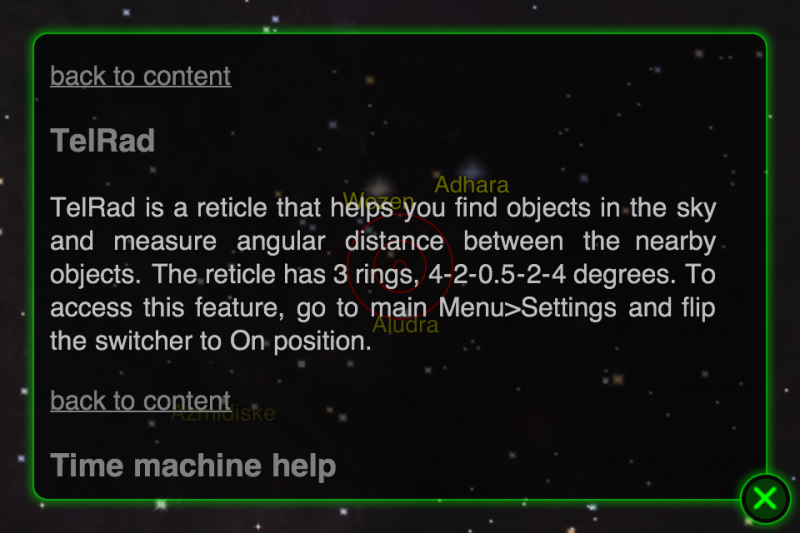 I did have a few issues with the newly minted version 5 (so suspect a few bug tweaks will be forthcoming). The display sometimes starts to lag noticeably, and I did have to re-calibrate the Star Spotter function more than once during use. Not sure what causes the app to start lagging, but I had to kill it a couple times--hold down sleep button until red slider appears, and then hold down home until the app stops. Even with a few minor issues though, this is still one of my all-time favorite apps, and I love the music that now accompanies the star gazing. I included a full list of features in version 5 below, as well as a link to grab it here.
SATELLITES - find out where exactly the ISS is right now! (and over 150 satellites more)
AUGMENTED REALITY for new iPod Touch - So you don't have a digital compass in your new gen iPod Touch, but you can now enjoy Star Walk augmented reality anyway! (see Help for how-to instructions)
Superior PRECISION for iPhone: calibrate your compass by matching Star Walk sky with the view acquired from your camera.
TELRAD: advanced feature to help you measure angular distance between nearby stars. Can be turned on/off in Settings menu.
BIG SCREEN - connect a second display to your iPad and view the sky on it!
New General Catalogue added (this means MORE deep sky objects, galaxies and nebulae!)
New constellations' pictures.
Share your Bookmarks on Facebook!
Sharing Picture of the Day via Twitter bug fixed.
Main Features:
Gyro support, Arrow Guides

Star Spotter Function (for devices with Digital Compass)
Time machine
Moon phases
Night mode
3D Earth View for manual selection of location
Deep sky objects (Messier) and Meteor showers
Wikipedia links
Multitasking