By Nate Adcock on Fri, 01/07/2011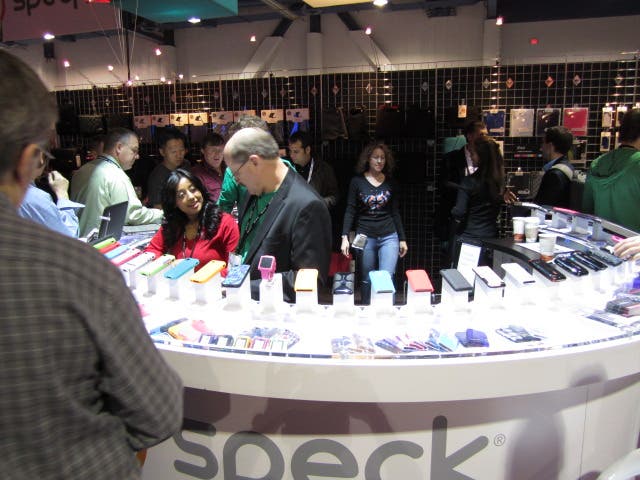 Wow, did I get a hookup at Speck today in South Hall (booth 31546)! Samples galore, and all the latest CandyShells one can stand! Speck's shtik with the CandyShell line is "Hard shell, soft center...", which means the case has a hard polycarb outside and rubber interior. Their cases are well made and shock resistant. I got the grand tour, including iPad bags and Android cases. Even scored a CorePack Fly carrying bag for my netbook (which I desperately needed)...
I been trying to get Speck samples for months, so made sure to get to their booth this year. If it's possible to get excited over a case or cover, I am excited about Speck cases. The Pixel Skin HD (shown above) is amongst my top picks for simple rubberized protection, and perfect feel and look.
Master your iPhone in one minute a day:
Sign up to iPhone Life's Tip of the Day Newsletter and we'll send you a tip each day to save time and get the most out of your iPhone or iPad.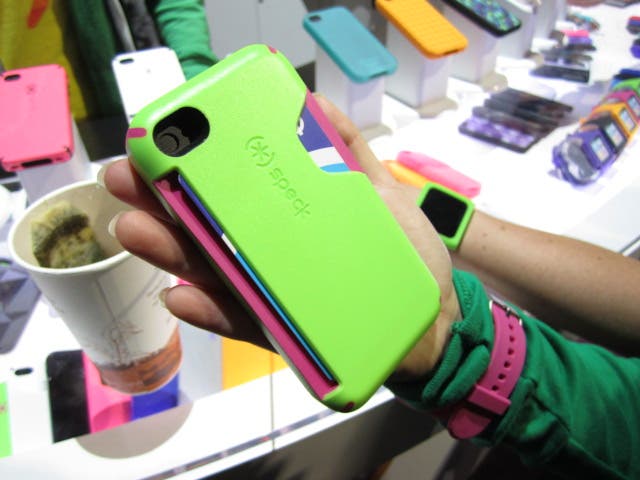 The latest shells include a slot in the back that allows you to shove credit cards, and license etc., so you can chuck the wallet completely. The Candy Shell Card shown above is a colorful example. The case comes in a black outside finish/orange interior combo as well. The View is much the same, sans the card inserts, but featuring a pop-out stand.
The Tough Skin includes a hard plastic shell, thick rubberized interior and a belt clip, and is geek's delight (or just someone who wants a really menacing-looking contraption wrapped around their phone).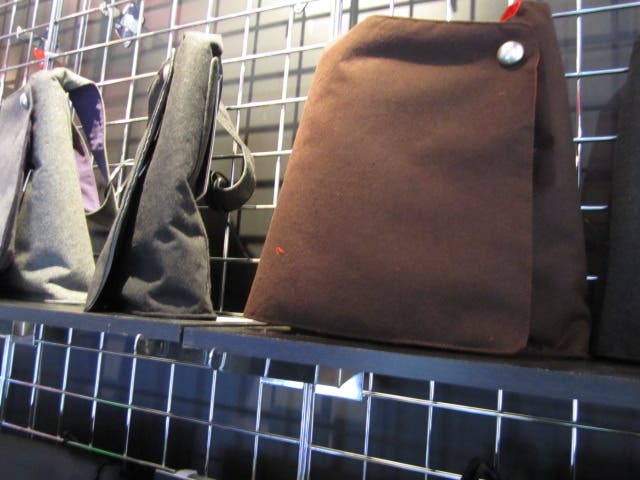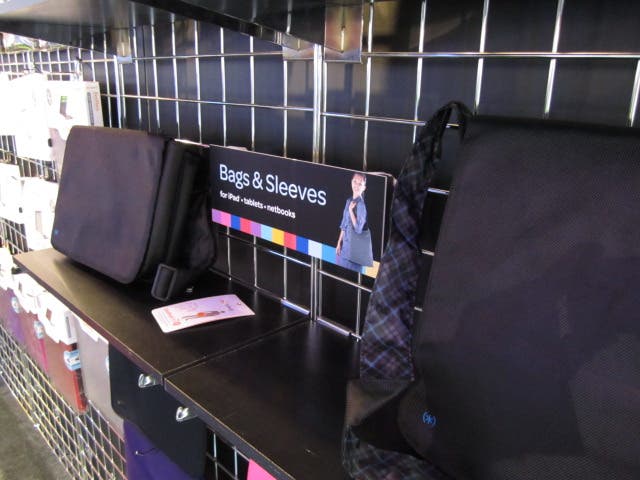 Speck has laptop bags/sleeves, and more fashionable iPad carry bags as well. The one on the left above (CorePack Fly), I am now using for my netbook which fits like it was made for it. The Speck bags I saw are all made of high-quality materials and feature expansion or foldout options and padded protection. Speck even has a case for the new Samsung Galaxy tablet (of which I also scored a sample--below), and a line of cases for Android devices as well...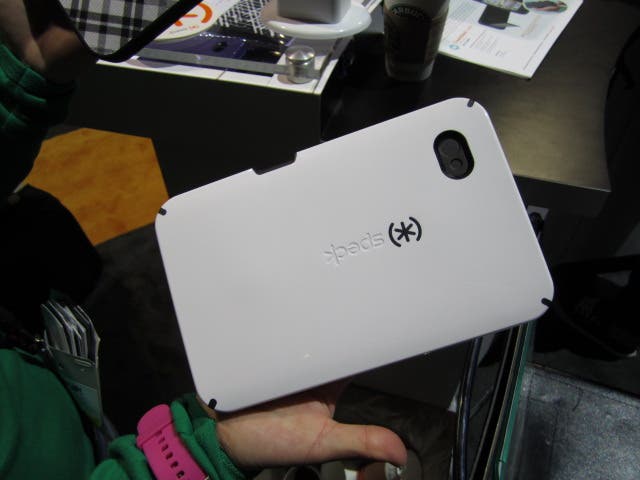 Of course, I was able to finally get a good case or 2 for my iPod touch 4G as well. The Speck Fitted Burton is a beautiful custom case design, and has a real cloth print exterior...see below. Very artsy, and yes I will use that case regardless of who makes fun of me for doing it. I have an artsy side...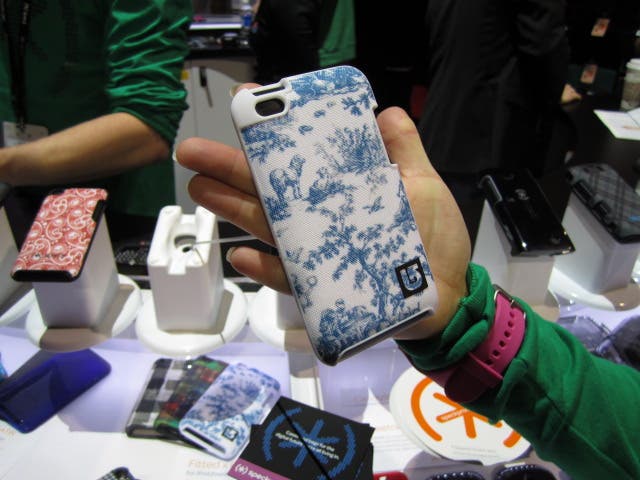 The Grip is perfect for the game nut who can't stop fragging long enough to bathe regularly... The case includes ridged and rubberized inserts on the back of the candy shell to help prevent spazzed-out drops (during battle, of course).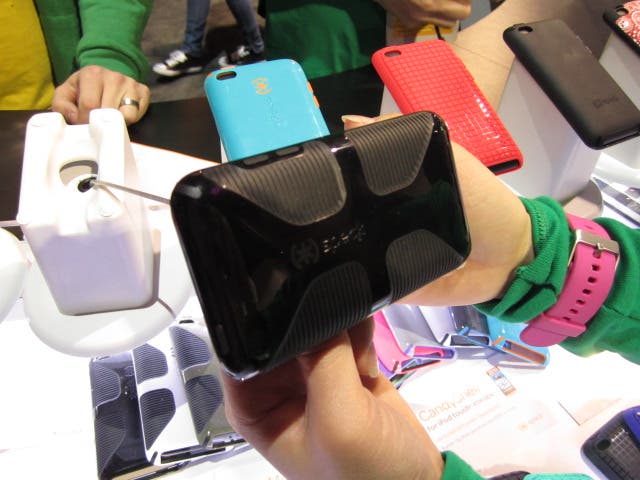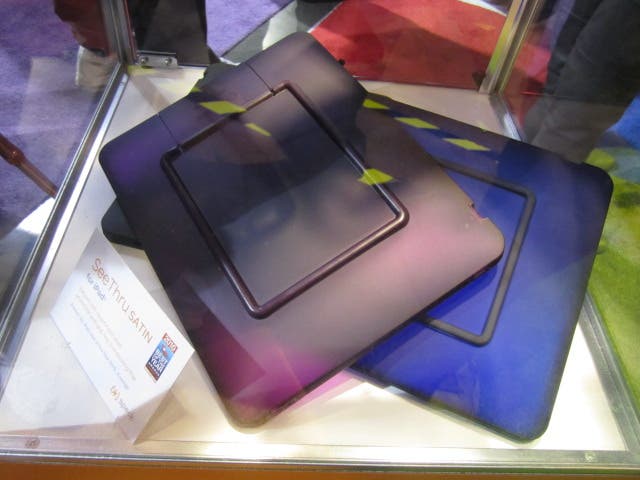 Macbook, and iPad case styles that mirror the Candy Shell for iPhone and iPad were out in force, but also a design that flips around like a James Bond gadget to double as a display/typing prop.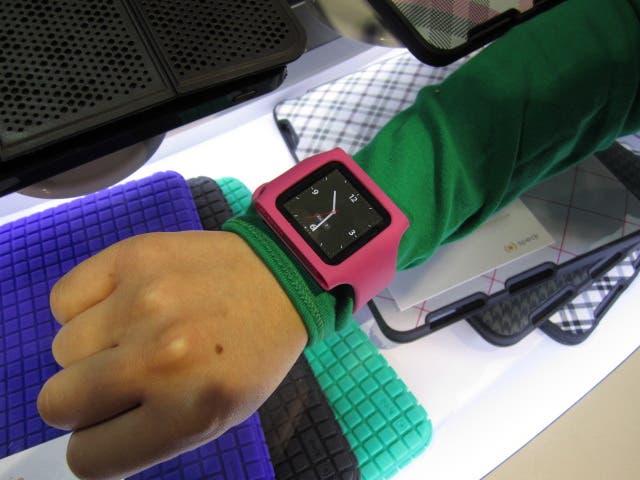 Finally, the new iPod 6G Nano also can be sportily worn like a watch with the new "TimeToRock" wriststrap... Party over here!
Speck cases run in the $20-$60 range, and offer a case design for every flavor of iOS device out there, and a huge number of color and design options. You can check out their products here, and if you happen to get out to CES this weekend, they are located in South Hall (booth 31546)...
Stay tuned to our blogs for more great CES coverage here at iphonelife.com!